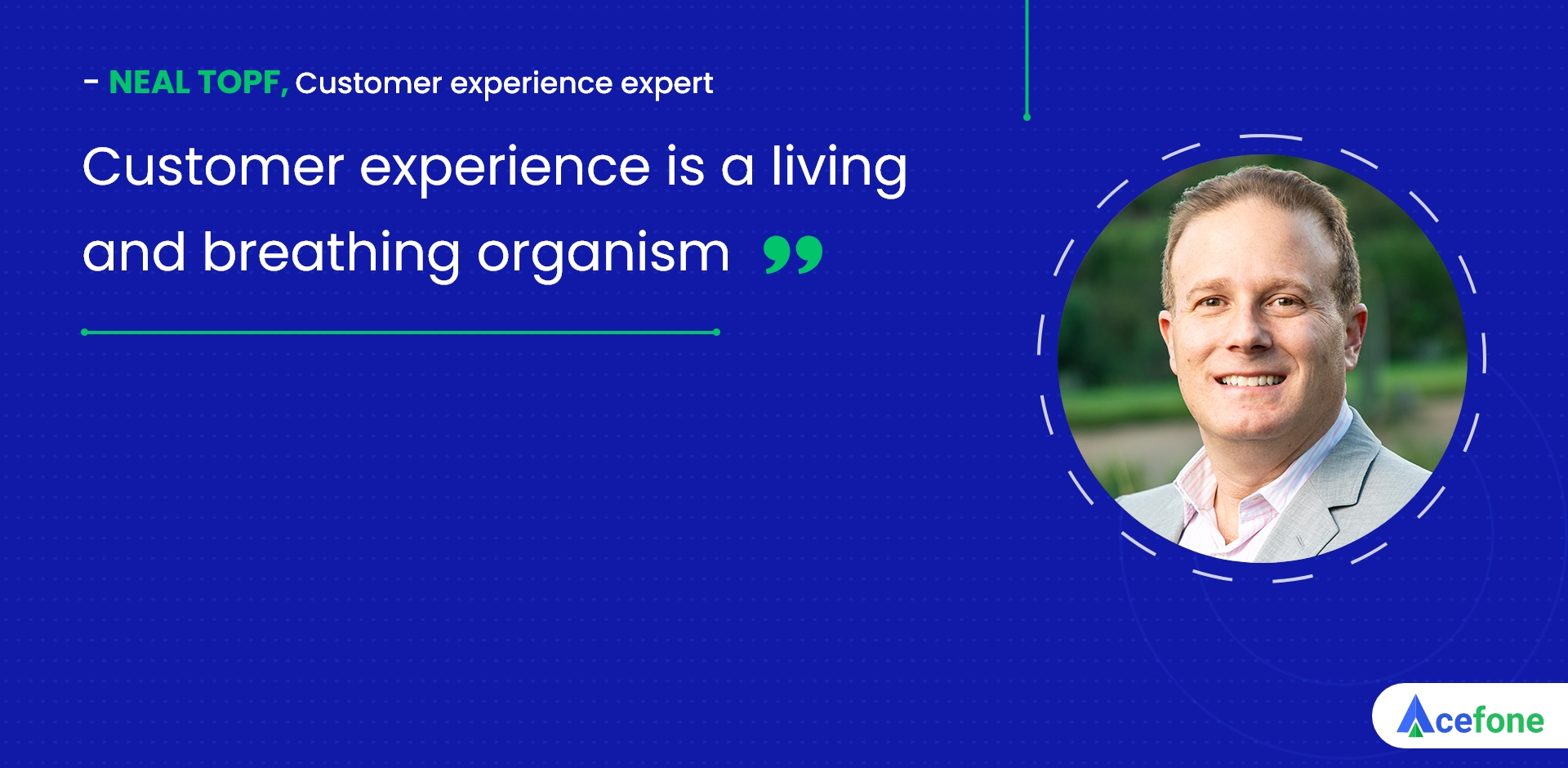 How would you define customer service? Is it 'the practice of helping customers with service and support'?
Well, that's the short answer. The long answer, however, is where real customer success lies. 
Neal Topf, president of an award-winning call centre, and honoured as one of the top 25 thought leaders by the International Customer Management Institute, believes that customer service is constantly evolving.  
He calls it a "living and breathing organism" that can and must adapt to its surroundings. 
As part of our 'Expert Opinion' series, we sat down with him to discuss all things call centre—best practices, management, and tips to achieve maximum productivity and efficiency. Here are his insights. 
Defining a culture
For Topf, "proper recruiting, hiring, onboarding, training, oversight, compensation models, and career pathing" are the building blocks of a call centre. Having a strong foundation in these areas is guaranteed to elevate the performance culture of the entire operation.
The next important aspect is management style. Topf argues that the management mustn't only manage their team members but should rather "lead by example". This encourages team members to improve their output and efficiency. But, there is a caveat. 
Topf urges the management to take steps to identically align objectives for all team members. This, he believes, allows employees to understand that the objectives of one business unit must be the same as those of the team members in other groups. 
Trust tech, but maintain standards
It is no secret that the world of customer experience and support has been dramatically redesigned owing to the new inventions in data tracking and management. Not only are support agents able to view the exact customer journey, but also identify key points in their day to improve conversion rates.
Journey mapping helps to understand where, why, and how customers interact with brands. But Topf also encourages creating unique customer profiles. He believes, "An understanding of customer profiles is important to make decisions around the communication channels offered, the tools made available on websites and apps, and the ability to opt out of these to resort to phone calls or chats." 
Within this realm, Topf asserts, an analysis must be made about the viability of automation and conversational tools. 
Many buyer personas and journeys are appropriate for these while others are not. Cost reduction is an important consideration but cannot be the only thing driving customers towards self-help or automation-based solutions. "The ability to resolve in a low effort way, in my view, must be the ultimate objective of digital customer service," Topf continues.
The CX expert, however, also brings forth the other side of the coin calling data "important, but not the only tool in an effective CX strategy." In his view, customer experience should be strategised with a combination of three objectives—speed of response, active listening, and resolution. If these three objectives can be achieved, the likelihood to achieve customer satisfaction increases. 
Topf agrees that utilising data in certain circumstances can absolutely help. But, the basic building blocks are the three components he mentions. 
He expands, "Data, for example, can be used to tailor offers to customers, or to identify trends and problems in overall journey and experience. However, the key is always to have the people that are trained to compile, analyse, and leverage the data in ways that are beneficial to the customer and to the business' bottom line." 
Topf argues that data alone cannot result in an enhanced customer experience strategy. Without the help of trained individuals who can make sense of the data, and find ways to best utilise it to the business' advantage, the vast collection of data might turn into a redundant and expensive exercise. 
Customer experience and employee efficiency
Topf, like many in the industry, agrees that employees are the "key hub to any customer experience focused organisation." Their roles and responsibilities must be clearly defined and they must be trained to best utilise the tools at their disposal. 
He argues that customer experience and employee efficiency cannot be made to be opposites in an organisation, adding that "leadership and management responsibility must ensure that employee efficiency exists in favour of customer experience, not against or in lieu of it." 
He takes the conversation further, sharing a personal experience on the "art and science" of vendor management. "We have seen vendor management professionals and teams that are highly skilled, trained, and prepared to manage relationships with vendors. That synergy translates into a partner relationship where each party has equal strength and say. In contrast, there are relationships of dominance where the vendor is a third-class citizen. Those kinds of relationships are typically dysfunctional and not long lasting." 
Topf suggests that the buyer of contact centre services must study and complete coursework in vendor management. He also expects the leader of a vendor management team to have "experience viewing and building partnership style relationships rather than those that are adversarial." He ends his point and the story with a quip, "A vendor must be allowed to win."
Topf also brings about the cost-benefit analysis of customer experience objectives. He says, "Organisations that want to acquire and retain customers must understand the math behind the cost of acquisition and cost to serve those customers. If it makes financial sense to retain customers, and it is viable and scalable, and customer lifetime value calculations prove it is a worthwhile exercise to retain customers, then it makes sense to construct strategies to do so around allowable budgets." 
Conclusion
The discussion with Neal Topf reveals the interdependence of man and machine in a contact centre. Rather than merely collecting data, Topf argues that management must take an approach to hire skilled agents to maximise operational efficiency. 
"Customer satisfaction is typically the objective of a customer care and customer experience operation. What is unique, however, are the drivers of customer satisfaction. CSat doesn't exist in a vacuum. We must understand why and how to achieve it and the root causes when we achieve or when we don't achieve it," he concludes.
At Acefone, we provide solutions specific to your concern. Whether it be retaining existing customers or scouting for new ones, we are here to give you a tailor-made communication solution that takes care of all your needs. We cater to all budgets. Check out our website for a solution that suits both your needs and budget.

Olivia is an outgoing person who enjoys writing, is an SEO enthusiast, and often interacts with others in intellectual conversations. She enjoys listening to music in her free time. Connect with her on Linkedin
https://www.acefone.com/blog/wp-content/uploads/2022/07/MicrosoftTeams-image-9.jpg
940
1920
Olivia Trott
https://www.acefone.com/blog/images_acefone/logo.png
Olivia Trott
2022-07-19 06:01:02
2023-01-30 12:57:03
Expert Opinion: Maximising Employee Efficiency in a Contact Centre with Neal Topf