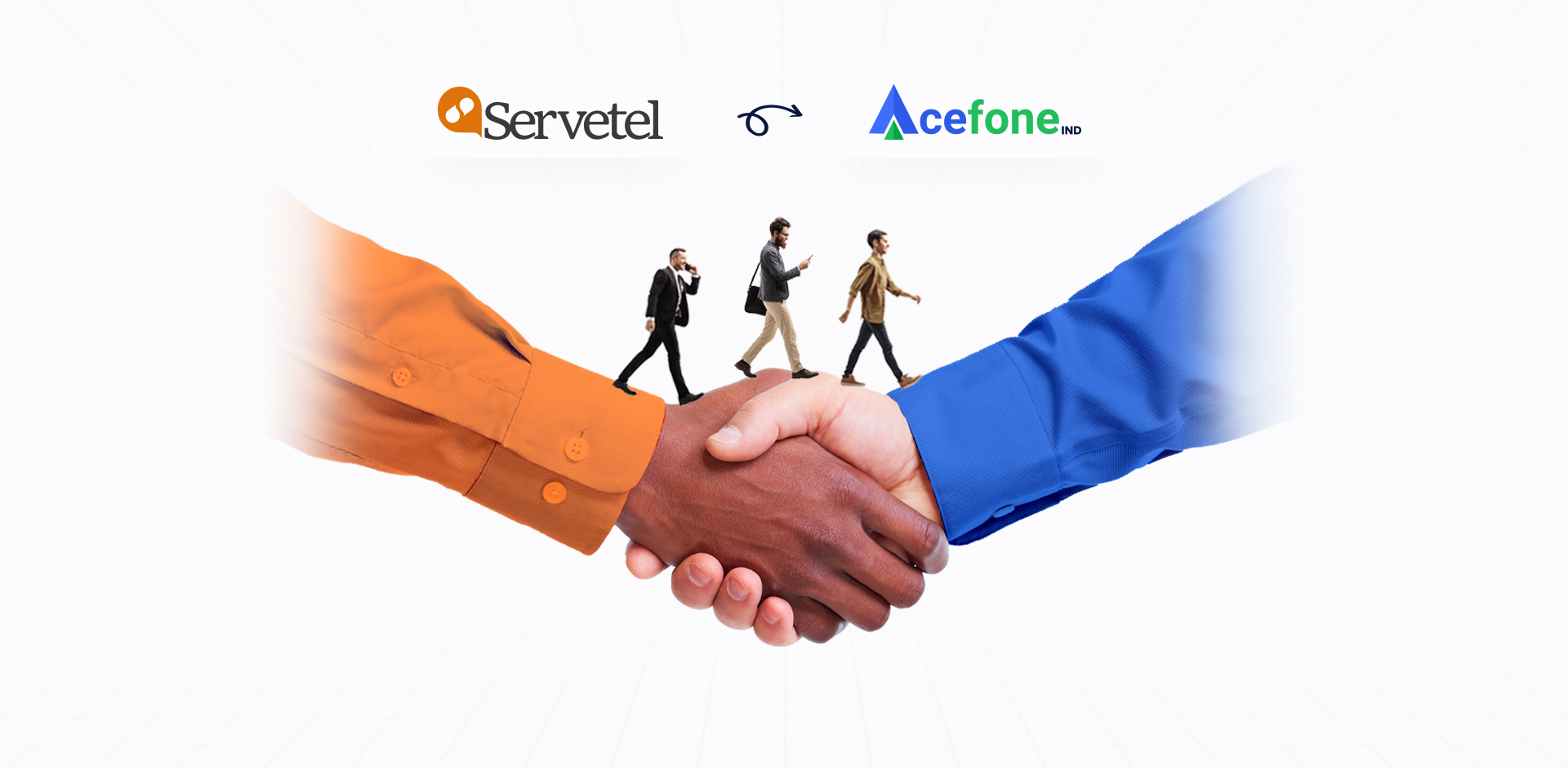 Servetel is now Acefone.
That's right, we've changed. But only in name. Our services will continue to be the same if not better. We hope to still enjoy your companionship as we step further into our journey. Read on to learn more about this transition. 
The Backstory
We started out in 2004, when we established Real Time Data Services, our parent company. Our aim was to offer hosted cloud services to a world going through a digital renaissance. We grew and expanded into the cloud telephony space in 2012, with TheRealPBX, which we launched to cater to the global market. Servetel, on the other hand, was started in 2018, officially bringing our cloud telephony services to the Indian subcontinent. 
With a diverse product portfolio including Hosted PBX, IVR systems, Bulk SMS services, Callback Options, Voice Broadcasting, Toll Free Numbers, Virtual Numbers and more, Servetel has built a name for itself among startups, SMEs, as well as large enterprises. 
Servetel has since grown to serve nearly 10,000 clients with almost 250 employees working to ensure stellar service. Our clients portfolio has boasted prestigious brands such as Uber, Ola, Cipla, Michelin and others, over the years.
What about Acefone?
While TheRealPBX continued to build its brand in the global market, in 2019, our focus shifted to the launch of Acefone, which too was envisioned as a global player. However, the latter is more tech-forward and innovation-driven. Additionally, Acefone focusses on unified communications and presents itself as a solution for modern businesses. 
Based in Snodland, UK, Acefone's feature-rich VoIP platform enables steady and high-quality communications. Catering to a rising cloud telephony market based in the UK and in the US, we have received recognition for the superlative customer experience we offer. 
Servetel —> Acefone
Servetel will now be known as Acefone India. Nothing has changed: The product portfolio, helpline numbers, the portal you use, and even in the office things are no different. Our pricing plans remain unchanged <click here to view> too. 
Customer experience and feedback was and will always be one of the most important things to the company. We plan on maintaining, if not improving, our high product standards. This was one of the main reasons why we chose to unify our brands and bring them under a single umbrella. This way, we hope to provide seamless service to all our customers. 
We hope to continue to enjoy your support and that you will join us in this journey as we move forward and serve you better. Please feel free to reach out to us for anything at all at 1800-120-3100 or write to us at [email protected].
You are already familiar with the Servetel website. Take a look at Acefone's website for a glimpse into the future and to learn more.
Shrishti Mathew is Acefone's assistant content editor. After three degrees and a year in journalism, she moved into tech marketing. When she isn't writing, you can find her reading, sleeping or trying out a new recipe.
https://www.acefone.com/blog/wp-content/uploads/2022/09/MicrosoftTeams-image-4.jpg
940
1920
Shrishti Mathew
https://www.acefone.com/blog/images_acefone/logo.png
Shrishti Mathew
2022-09-08 11:52:05
2023-01-30 12:48:58
Servetel goes global with Acefone this festive season