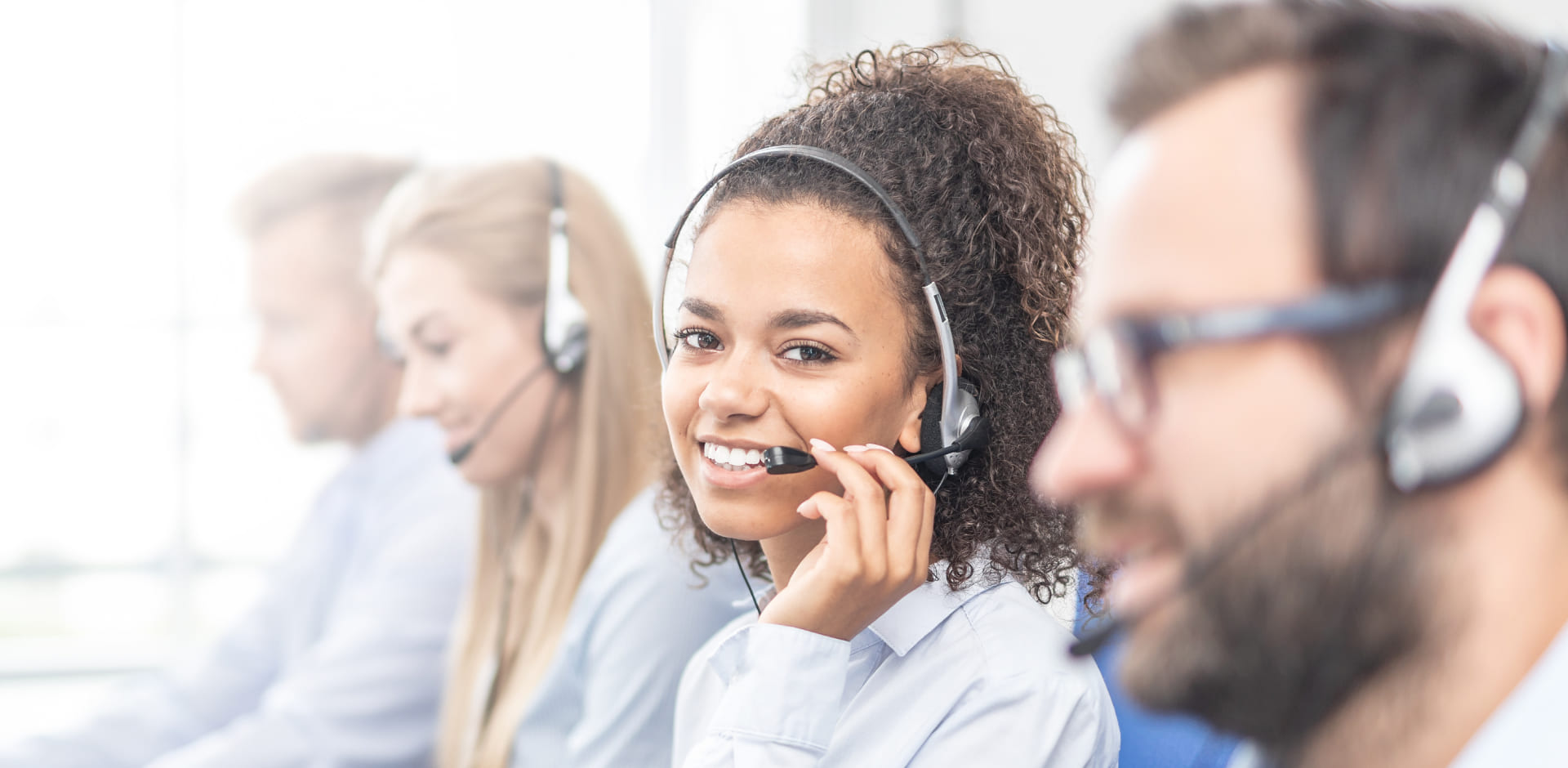 Remember the 2006 Hollywood film Outsourced? The protagonist Todd flew all the way from the US to a small town in India to set up a call centre for his company.
This was pretty much how things worked back in the early 2000s—while globalisation had enabled multinational corporations to take advantage of lower wages in countries like India, a sizeable managerial workforce had to be shipped out as expats to get the job done. From setting up the infrastructure to training agents, there was no real remote alternative.
Today's Todds, however, needn't even leave their desks: digital-era technology lets you set up and run modern-day call centres remotely from anywhere on the globe. Bye-bye, expat culture. Hello, VoIP-enabled contact centres.
It makes sense for businesses of all sizes to switch to a cloud-based contact centre given the popularity they have gained recently. The global contact centre market is valued at $339.4 billion and is expected to reach a whopping $496 billion by 2027.
From call centres to contact centres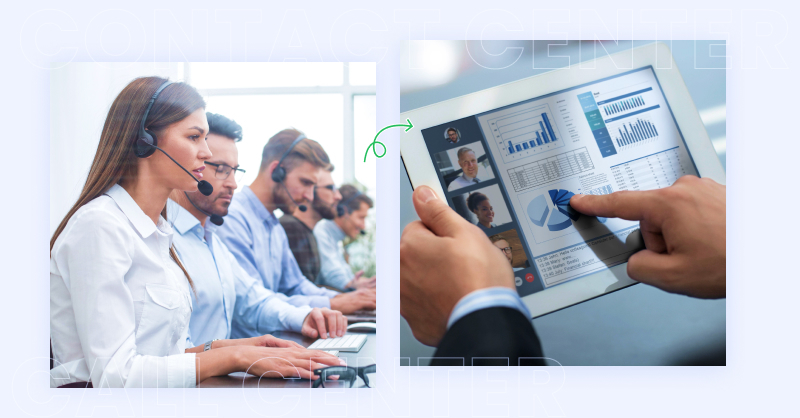 Call centres have existed since the 1900s. During their heyday, telephone operators had only one goal: to sell. These operators or 'early' agents were given a list of numbers to cold-call, hoping to strike a deal.
Thus, the earliest call centres were strictly outbound. Things however changed with the invention of the toll-free number. These numbers were programmed to not cost the caller a penny, inviting more inbound calls. With this, the scope of call centres expanded beyond outbound sales to include support and inbound sales.
Things remained this way until the Internet revolution, when for the first time call centres faced obsoletion. Traditional centres were limited to on-premise operations and defined by heavy infrastructure.
They could in no way keep up with the pace at which companies were expanding in the new world. Offices had to multiply fast. People were shifting to smartphones and laptops, which traditional centres didn't directly support.
This gave rise to modern-day call centres that existed entirely on the cloud, ran on any device, and could be easily operated via a portal: contact centres.
Soon enough, contact centres become the preferred customer support and sales apparatus for businesses. The pandemic was the final step in this transition.
Today's contact centres provide omnichannel communication to customers, empowering them to reach out to businesses using email, chat, SMS, calls, social media, etc. Businesses, similarly, benefit from the large number of features contact centres offer at a cost-effective rate.
Learn more: Why contact centres are so important for today's businesses
Different types of contact centres
Inbound & outbound 

 
Inbound contact centres are designed to receive incoming communications from customers and potential leads. They mainly provide support to individuals who engage with your business, i.e., those who have purchased a product or service from your company.
At the same time, they can be used as an effective inbound sales tool. For instance, companies can promote offers on different channels such as their website or landing page, and list a toll-free number for lead inquiries.
Furthermore, inbound contact centres are equipped to handle all sorts of customer queries, ranging from setting up the product to issues arising through daily usage.

Outbound contact centres focus on reaching out to customers—both current and prospective—via numerous channels. These can include promotional calls for deals and offers, broadcast SMSs for announcements and survey links, chat support, etc.
With the increased use of data analytics to drive business decisions, outbound centres are also now using their services for feedback and customer surveys. Agents ask customers about their experience, where they got to know about the product, and whether they're living up to the market standards or not.
Finally, outbound contact centres are tailor-made to handle outbound marketing campaigns. 62% of marketers say their company's outbound marketing efforts are effective. This is achieved by launching systematic campaigns that use a mix of mediums to reach customers, give them relevant offers, and reduce steps for them to respond to us.
Multichannel & omnichannel
Multichannel contact centres, as the name suggests, use a flurry of mediums to;
Get in touch with customers
Let your customers get in touch with you
With customers using an average of 3-4 channels to interact with companies, a multichannel centre is a must. Multichannel contact centres provide support via calls, SMS, social media, mobile apps, website portals, chatbots, and more.
If you're new in the market and looking to establish a presence, we suggest investing in a multichannel contact centre. Your competitors may not exploit multiple mediums right from the start, so you can gain quite the advantage through this endeavour.
Omnichannel contact centres are similar to multichannel contact centres. They, however, have managed to combine all communication channels into a unified platform. This unification makes it easier for contact centres to make customer experiences more personalised. This helps immensely with customer retention.
Learn more: How an omnichannel contact centre provides better customer services to SMBs & large enterprises?
The case against traditional call centres
We've spoken in brief about the advantages of modern contact centres over traditional call centres, but many companies continue to operate with a traditional setup mainly due to these reasons:
Traditional contact centres keep infrastructure and employees in one place. This assures better control.
These centres don't rely on the Internet, so they are not prone to security and data breaches.
They have negligible call lags and offer higher quality calls.
With the advancement in modern contact centres, however, many of these issues have been addressed. For instance, modern centres let supervisors, managers, and agents access the same portal for operations and analytics. This assures great control, as everything has one digital address.
At the same time, to operate traditional centres, you have to start from scratch—assembling a team, buying the technology, training the agents, etc.
Modern virtual contact centres are equipped with all the security provisions you need, be it 256-bit industry-grade security or antivirus protection at all levels. There are even multiple data centres where your data is backed up. At a traditional call centre, on the other hand, all your data is present in one place and any calamity can result in its destruction.
Most modern contact centres promise a minimum of 99.99% uptime and can transport the highest quality calls via VoIP.
Put simply, cloud contact centres are the go-to solution for SMBs. Not only do you save costs, your systems will always be up-to-date with the latest software and technologies.
Learn more: On-Premise Contact Centre Vs Cloud Contact Centre—Here's What Works Best For You
Why does your business need contact centres?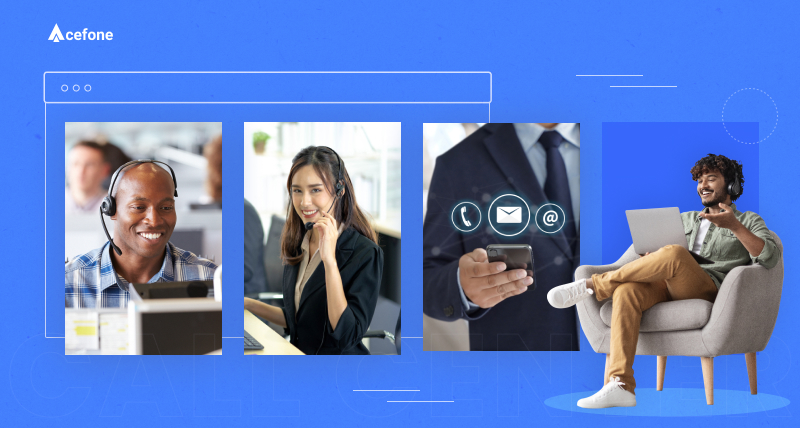 Every mid-sized business that has a product or service to sell needs a contact centre. Let's look into why you should consider getting one for your business.
Your customer service can be better
While IVRs pre-date modern contact centres, only contact centres allow you to easily build and modify them online, usually through a simple 'IVR builder' present in your portal.
Intelligent IVRs aren't the only way contact centres assure better customer service: From supervisors being able to easily whisper information to agents mid-customer-call, to call recordings that a manager can access anytime, there are no roadblocks to better customer care.
The tools used in contact centres allow you to store customer information that equips you with all you need to boost conversations. As per Zippia,  77% customers appreciate a business that takes customer service seriously—contact centres will ensure you do that.
Which is why Acefone's cloud contact centre can be a perfect fit for your business. Apart from the above-mentioned benefits, you get enterprise-grade encryption, affordable plans, and 70+ industry-leading and customisable features that you can handpick for your business.
You can save costs
We've already established how contact centres today only require a stable Internet connection and a device, such as a computer or phone, to work. This makes them independent of the complex machinery, physical servers, and hardphones that traditional call centres require. So you needn't invest much in infrastructure and hardware set-up.
In fact, the onboarding experience simply implies remote installation of the software on your device and aligning your current tools and hardware with the contact centre. Together, these processes make contact centres affordable for all business sizes.
You can build a global presence
Remember the Outsourced example we gave above? Now imagine this: You could be a company located in the US that wants to build a presence in India. So, you hire a group of agents and a manager in India, all of whom are equipped with laptops. Then, give you them a contact centre solution and a 'softphone' app that they can easily set up on their devices.
The softphone will let them make calls anywhere in the world. Thereon, you forward support calls and ensure that your customers are always looked after.
You can repeat this process and set up a contact centre anywhere in the world, complete with local numbers that give you a local presence.
You can boost customer loyalty
With better and more intuitive customer care, expect your customers to stay. Did you know 94% customers are willing to buy from you again if they have a positive experience with your brand?
A business with better customer experience will retain clients for longer and build a high degree of customer loyalty.
Read what a customer experience expert we interviewed had to say about this.
You can stay updated with the latest technology
Contact centres are based on cloud technology. This means any upgrade or change in technology will simply require a software update. The technology improves day-by-day, without any charges for the updates.
Contact centres, due to their digital nature, can easily be integrated with other SaaS tools such as CRMs and helpdesk apps. Some of these include  Pipedrive, Zendesk, ZohoCRM, and Hubspot. Acefone supports them and many more integrations.
Top 6 features every contact centre needs
Every contact centre provider will offer you many features with your solution—but how will you prioritise these? Hence, we have gathered a list of must-have features for contact centres that SMBs can benefit from.
Interactive voice response
An interactive voice response system or IVR is critical to all inbound processes. It refers to a pre-recorded calling menu that a user can interact with as soon as they call you. This menu helps them link to different departments with ease, access self-service queries, and even make requests. No inbound contact centre is complete without a calling menu.
Here's how it works: You open the IVR builder tool that most contact centre providers include with their portal. You then upload a script, complete with recordings and instructions. For instance, press '1' to get latest product information, '2' to connect with the billing department, and 3 to talk to a support agent directly. You can even add on-hold music.
Multi-device support
Portability is critical these days, even for sales and support agents, many of whom are constantly on the move. With most companies introducing hybrid work for their employees, agents need to be able to work as efficiently from their homes as they do in the office.
The best contact centre providers will always have apps that support calling and other features across devices such as smartphones, tablets and desktops. Equally important are custom apps catered to each device and the possibility to shift between devices even during live calls via features such as call flipping.
Call features
As per this article, 59% callers prefer to discuss their concerns over live calls over other mediums. Therefore, ensure that your contact centre solution offers sufficient calling tools and features to make your callers' experience better. Some relevant features include call recording, live call transfer, call whispering, call barging, and skill-based routing.
Call recording lets you re-listen to key points from customer conversations, gauge how your agents performed and strategise improvements accordingly. Live call transfer allows agents to transfer calls to supervisors and other agents. Call whispering is a vital feature that lets managers make suggestions to agents during live calls without the caller being aware of it.
Predictive dialers
Predictive dialers ensure you do not have to waste time calling clients and potential leads manually.
You simply upload a contact list to the dialer tool and wait as the tool calls multiple numbers for you, as per your configuration. The dialer is programmed to identify genuine calls and avoid missed, spam, and busy calls. Only when a genuine connection has been made, will the call be forwarded to the agent.
Dialers also monitor operator availability and route calls accordingly. They help you minimise call drop rates.
At Acefone, we offer two types of predictive dialers—ratio dialers and preview dialers. To know more about them, get in touch with our experts.
Automatic call distribution
This feature lets you route calls to the appropriate department or agent, which reduces your customer wait time and encourages first-call resolution. Top contact centre providers have various ACD strategies and techniques in place for you to exploit.
For instance, if a customer calls to complain about a product, they get directed to an agent in the product support department. If callers have billing issues, they're routed to the accounts department, and waiting calls are connected to idle agents.
Reporting and analytics
While many provide analytics and data reporting, the best providers let you customise data and present it as convenient graphs and tables. They also provide a vast array of performance indicators for your supervisors to access.
Your managers and stakeholders can monitor agent performance, evaluate call quality, identify hiccups, and contribute towards the overall improvement of processes via reporting and analytics.
You will also find a list of key performance indicators that Acefone provides later on in this article.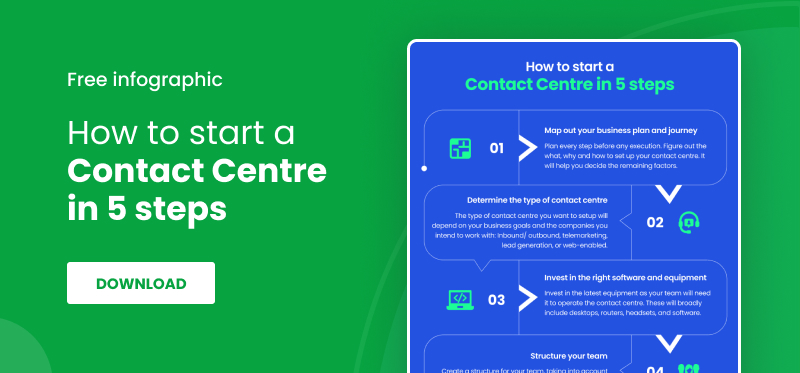 Top 6 factors that constitute a successful contact centre
It's one thing to have a contact centre, and another to run it successfully. Therefore, we came up with a list of factors that are critical for the success of your contact centre.
Always. Stay. Updated.
Empower your agents with the latest software and tools, but do not be resistant to new updates and technology changes. Thanks to VoIP, keeping up with upgrades and the latest software becomes easy, and these updates will always help your agents communicate better. You can update every tool and extension with only a few clicks, or enable auto-updates.
Unified communication
Unified communication allows agents to manage and switch between multiple channels through a single cloud-based platform. This way, customers can get in touch with your company easily, and you can reply to them there and then.
Learn more: Why you should integrate UCaaS and Contact Center as a Service (CCaaS) into your business
Customer centricity
Customer centricity is all about putting your customers first. Use analytics, tools, integrations, and the various features your contact centre provides to constantly improve services for your customers.  Gather customer insight and feedback, and use them to understand their pain points and design processes accordingly.
Better trained agents
Your agents form the bridge between you and your customers, and a contact centre is only as successful as its agents. You must ensure they have enough training so that they can service clients better and convert more leads.
Great management
Teams can work more efficiently with optimal supervision and goals in sight. Use the live dashboard to keep track of your contact centre. See what your agents are up to by accessing call recordings, and be present for them via features like whisper, barge, and call tracking.
Setting goals
Contact centres offer plenty of reports and analytical features that let you keep track of performance on all levels. You can set goals using those analytical inputs, which are important for agents as they provide them a plan of action.
By setting goals, you can also reward agents and give them something to work towards. Some of the more agent-centric indicators include first-call resolution, average handling time, and customer satisfaction score.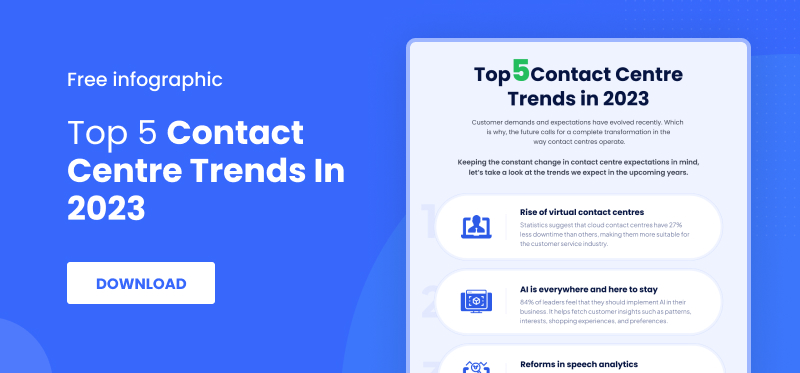 How to recruit the right contact centre agents
There is no magic to contact centres. They are as much susceptible to failure as other solutions are, so it is critical to have the right team working towards the right goal. Here are some things to keep in mind while hiring your agents.
Ideal agent profile
Begin with creating an ideal agent profile, consisting of key skills and attributes that your contact centre needs. To identify those, you can study your current top-performing agents and note their best skills and attributes.
Communication skills
Your agents should be able to communicate well with customers over every channel—be it voice, chat, or SMS. This is irrespective of whichever channel your centre deals with. Some of the key communication skills that agents must possess are active listening, empathy, compassion, and confidence.
Pre-employment Assessments
Once you know which skills you're looking for, adequately assess those skills by including relevant questionnaires and tests in your recruitment process. These assessments can include tests that evaluate the candidates' technical skills, temperament, and social skills.
How to measure your agents' performance
Today's cloud contact centres present an array of key performance indicators and analytics that managers can use to track and improve their contact centre's performance. These metrics help businesses define and stick to Key Performance Indicators (KPIs). Keep in mind the below mentioned indicators; over 65% of our clients use these for their benefit:
First-Call Resolution (FCR)

 
Customers don't like to call multiple times for the same query. Hence, a high fist-call resolution rate is a great indicator for the efficiency of your contact centre.
Abandoned call rates
Customer calls that disconnect before being answered are always a bad sign for a contact centre. This can mean your centre has an inefficient call management system, leading to long queues and hold times for customers.
Average handling Time (AHT)
Customers like quick resolution to their issues. But, call centre agents can take a long time to assist them. Thus, tracking the call time of individual agents can help improve overall efficiency.
Call transfer rate
Customers can get frustrated repeating the same issues to different service agents. More than 80% customers prefer to speak to a single agent to resolve their issues. Thus, contact centre agents must be trained to handle queries efficiently and transfer calls only when needed.
Customer satisfaction score (CSAT)
A good CSAT score can help you get great word-of-mouth from existing customers. It lets customers rate their experience and contact centres to improve their services using these metrics.
What is the future of contact centres?
The COVID-19 pandemic changed a lot of business operations. What was done merely three years ago is now seen as the older way of doing things. This is true in the case of contact centres too.
Contact centres are going virtual
Thanks to the cloud, businesses could quickly get back on track after the world had gone into strict quarantine. And despite being confined indoors for over a year, they did not lose out on productivity.
In fact, studies have now listed several jobs that can completely go remote, while the others can opt for hybrid working. One such is the role of contact centre agents.
As traditional communication methods fall flat when compared to the cloud, businesses are beginning to take note. Rather than setting up clunky, traditional offices, the future represents a more ergonomic space for these agents.
Moreover, with cloud services becoming industry standards, switching to a virtual contact centre is only a matter of time.
Self-service will continue to rise
A study in the Harvard Business Review discovered that "across industries, 81% of all customers attempt to take care of matters themselves before reaching out to a live representative."
This continues to align with the increasing demand of self-service options by customers. These include AI-enabled chatbots for quick FAQs, IVR systems with voice recognition software to assist in all sorts of customer queries, and many more.
Man-machine-mix
While automation has swept across almost every industry, contact centres have always been wary of complete automation. This is because, when it comes to quality service, the human touch still reigns supreme. But, the advantages and benefits of automated tools cannot be ignored.  Thus, while automation is 'in' right now, the hybrid model of man and machine for contact centres is gaining popularity too.
In conclusion
With this guide, we covered the fundamentals of contact centres to help you set up your first contact centre with ease. It covers their evolution from traditional call centres to contact centres, their importance for today's businesses, features, ability to track performance, and plenty more.
The bottom-line is, to be able to run a contact centre successfully, you must focus on three key aspects: your team, the service, and customer experience. If these things are central to your process, there is no way a contact centre will fail you.
If you have any further questions, you can always connect with our experts by clicking here.
Ritwik is a fitness enthusiast with a bachelor's degree in computer applications. He discovered his passion for storytelling while writing articles for his fitness blog. After which, he decided to switch to full-time writing, exploring his capabilities as a professional writer. He is now practicing his skills as a senior content writer at Acefone Software pvt ltd. to bring words to life.
https://www.acefone.com/blog/wp-content/uploads/2022/11/9.jpg
940
1920
Ritwik Raj
https://www.acefone.com/blog/images_acefone/logo.png
Ritwik Raj
2022-11-15 11:31:40
2023-01-30 12:48:12
A Complete Guide to Contact Centres and Running Them Successfully