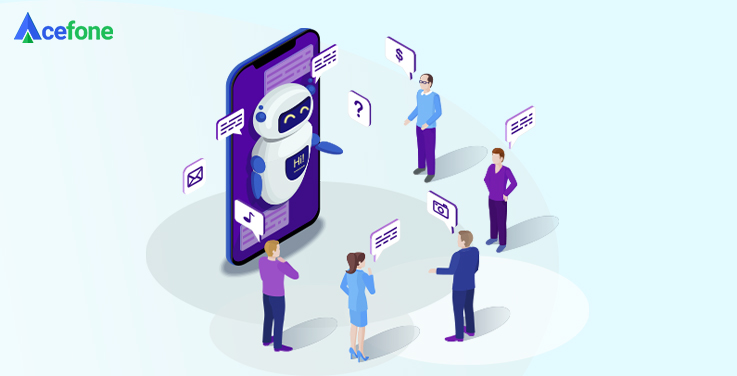 Conversational AI has seamlessly become an integral part of our lives over the last few years. Devices like Alexa and Google Home are used by most people alongside voice-activated systems in cars and smartphones. 
As artificial intelligence becomes more common in our day to day routines, it's inevitable that technology will also become a vital part of our business interactions. Customers today want quick and easy conversations with agents. This is where conversational AI comes in––it can be a great way to provide excellent service to customers at minimal cost and effort to a business!
In this article, we will explore some of the many ways conversational AI is changing customer service for businesses.
Customer service teams are becoming more efficient
One way in which conversational AI is already impacting customer interactions is that it is making customer service delivery much more efficient. Leveraged correctly, technology allows you to automate the processes that your customers go through. This frees up your support team to focus on their product knowledge and deliver amazing service to customers with more complex needs.
You also have the option of using the IVR (Integrated Voice Response) feature with your Acefone hosted phone system. The IVR system allows customers to communicate their queries to AI, through either speech or using their keypad to select options. 
This eliminates the chances of callers getting routed to the wrong agent or department.  Thus, neither do you agents spend unnecessary time on transferring calls to the right destination, nor do your customers have to wait too long for a resolution––a win-win situation!
Conversational AI bots also speed up the resolution process by analysing transcripts from previous interactions and offering appropriate suggestions. No more do agents need to spend time going through customer history to get themselves up to speed before engaging in a support conversation.
Not only does this elevate customer experience, it also helps businesses retain customers who may have had a bad experience and are already short on patience.
After all, your staff can achieve peak efficiency only when the processes are efficient. When their time is utilised appropriately, agents deliver better support and also have enough time to upsell products or build better customer relationships.  
Access to more analytics than ever before
Using conversational AI in your business can give you access to the analytics you've not had before. You are better informed about frequently asked questions and can accordingly plan your website and marketing collaterals to clear these doubts even before your customer picks up the phone. 
You can also see the language your customers prefer to use, and create marketing strategies that speak to your audience on their level rather than using professional and formal language to attract them.
Correct use of conversational AI can open up plenty of opportunities for your business. You can personalise marketing campaigns and create a great relationship with customers based on what they are actually saying to your business.
Drive sales with personalisation
When you have access to more data insights, you can customise your AI to cater to the needs of your customers better. This is called conversational commerce.
Conversational commerce uses data from customer interactions with conversational AI software to make personalised recommendations that may benefit the customer. It also helps businesses forge meaningful relationships with customers on a larger scale.
All this can take place on a platform most convenient for customers––their smartphones. By taking these personalised recommendations from your AI analytics to the customer wherever they are online, you can drive sales without your agents even having to pick up the phone and call prospects.
When you drive sales in this manner, you only get calls from already warm leads. Thus, your customer support or sales team can simply pick up where the AI left off.
Reduce contact centre waiting times
We all know from experience that being made to wait during a support call can be highly frustrating. Your customers don't feel confident that they will be able to reach you instantly should they encounter any issues. Reports of such long wait times lead to negative word of mouth and, ultimately, adversely affect your sales.  
This can be combated by using conversational AI. The technology will help solve many customer issues before they need to speak to someone from your team. According to Cloudtask, chatbots are able to meet the expectations of the customers, deliver immediate response, and successfully resolve 80% of issues. 
This is a great way to lower waiting times and handle large call volumes. It also ensures that customers are impressed by the speed with which you resolve their queries. And happy customers are likely to spread the word to other potential clients too. So, by doing something simple, you could open up your business to many more referrals.
Not only will customers be happy, but your team will also be pleased. Satisfied agents deliver better customer service and are less likely to handle calls uninterestedly. Staff can take their time with each customer without having to worry about backlog or rushing through the call, leaving less room for error.
Provide 24/7 customer service
With online shopping becoming more and more prevalent, clients expect you to be available at all times. Having customer service teams available 24/7 can be costly and may be impossible for smaller businesses to manage. A simple way to ensure that someone is always there when your customers need information is to deploy conversational AI.
Whether a client is browsing and has a question or needs some support with a product––conversational AI can be used to ensure that all no questions go unanswered. And while artificial intelligence may not be able to answer more complex queries, it can still be used to register customer queries and record call back information. 
This allows your customer service team to follow up at the earliest convenience and takes away all the effort the customer has to make. As a result, your business comes across as much more professional. This is sure to leave a great impression of your company and allow for a fantastic customer experience.
Conversational AI is great when it comes to delivering exceptional customer service at scale. It frees your customer service team up and makes them much more efficient and less stressed than if they were working without the AI backing them up. More often than not, several enquiries can be solved without the customer having to speak to a live agent. 
Conversational AI also ensures that questions are answered quickly and customers still feel like they have had a great and personalised interaction with your business.
To find out more about conversational AI and how it can help your business, call our team today on 0800-084-3663 or send us an email at [email protected].

Acefone provides a broad range of cloud communication services to businesses of all sizes, which includes Hosted Phone Systems, Free Phone Numbers, and Cloud Contact Center Solutions. Being the UK's leading provider of VoIP service provider, we always strive to provide excellent customer service and high-quality custom solutions to our customers.
https://www.acefone.com/blog/wp-content/uploads/2021/01/conversational-ai-for-better-customer-service.jpg
376
737
Acefone Editor
https://www.acefone.com/blog/images_acefone/logo.png
Acefone Editor
2021-01-18 07:23:09
2023-03-23 11:27:42
Conversational AI - 5 Ways Its Changing Customer Service