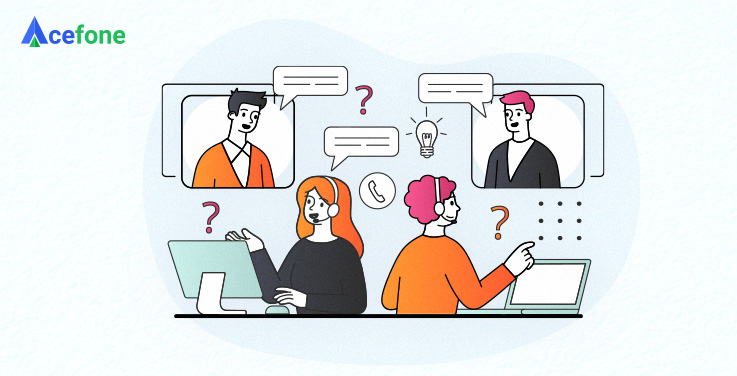 The relationship between brands and customers has evolved rapidly over the past few years. With this new digital era, the introduction of social media, as well as improving communication technology, has brought the entire world much closer. 
This is also reflected in the dynamics between customers and companies. Businesses today are constantly on the lookout for new channels to fulfil customers' need for instant communication and gratification.  
This need was exacerbated during the COVID-19 pandemic, which ravaged worldwide for most of 2020-21. The pandemic and lockdown pushed the general masses into a state of panic and paranoia. Consequently, customers started demanding instant and efficient customer service to solve their problems—whether it was to fix their broken washing machine, or for simply ordering a gift for someone's birthday. 
Personalised interactions became the buzz as companies began exploring possible new channels. This is where video-enabled services were introduced to provide effective customer support. 
In recent years, video chat has emerged as a preferred choice of channel for people to talk to each other and stay connected. It rose in prominence especially during the lockdowns and were used regularly to stay in touch with friends and family.
Video-based customer service
All of us are familiar with mobile applications which are capable of providing video-based calls and conferencing—Whatsapp, FaceTime, Google Meet, and Zoom. Using video chat for customer service is simply extending the capabilities of such platforms to provide customer-centric services. While this is not a new practice altogether(~100 out of 500 largest global businesses introduced this service in 2018), its mass adoption is still yet to be desired. 
The pandemic served as the watershed moment for the prompt adoption of video customer services by businesses worldwide. These systems allowed the companies to connect directly with their clients and solve their issues in real time. Here we discuss the major benefits brought on by the video chat technology in delivering excellent CX: 
Decrease resolution time by solving issues faster
The time taken to resolve an issue is invariably dependent on the number of touchpoints between the customer and the relevant support agent. Video chat ensures that this time is minimised by replacing all of these touchpoints in one fell swoop. Video chat provides a visual aid to the agent, which enables a greater understanding of complex technical problems, quick diagnosis and immediate prognosis in real-time.

Do away with long customer queues
Long waiting hours owing to overflowing customer queues is one of the most popular reasons for customer dissatisfaction. It is estimated that 34% of customers who hang up do not return. 
With the assistance of video chats, companies can negate long queues by identifying the exact problem in real life, providing immediate help and thus, decreasing the chances of follow-up requests.

Providing customer support on multiple channels can add up to huge costs. Therefore, it becomes critical to strategically choose and invest from amongst the multiple options. Video service tools are usually much cheaper in terms of their support costs as compared to other channels. Furthermore, the ability to close tickets on video without requiring further follow-ups means lower costs for infrastructure. 
Drive customer satisfaction rate
Video conferencing stands out from other channels by introducing the element of empathy and personalisation to provide direct and real-time customer engagement. Agents can guide customers through issues with relative ease and comfort. This speedy resolution translates into an increased customer satisfaction rate.

Build brand loyalty and improve retention
Personalised customer engagement through video conferencing delivers a positive experience, which in turn drives brand loyalty and ensures customer retention. Positive customer experience also contributes towards revenue; as per surveys, 80% of customers tend to buy more products or services if they find the customer service engaging and effective.
If implemented strategically, video customer services can develop strong relationships between the brand and the customers by inducing a feeling of trust and care. There are multiple ways to approach the implementation of voice and video call resources.
Here, we discuss some practices which promise to deliver the maximum potential of these tools:
Building a knowledge base
The use of video service tools can be extended beyond real-time engagement by creating an extensive knowledge repository of informative videos. These videos can replace the long textual guides and FAQs by instructing the customer through visual aids. It would also drive customer experience by making the process more interactive and engaging.

The creation of an informative knowledge base would serve no purpose if it does not reach the right audience. Businesses can use SEO optimisation tools to relay information using targeted keywords, specific descriptions, and other relevant tags. Search engines are trained to highlight web results with high-quality content and large traffic. SEO optimisation is an important strategy to maximise the reach of your published content. 

Creative use of videos to speed ticket resolution
The most important metric for any customer support agent is the number of query tickets closed each day. While a video interface would allow the agents to solve issues quickly through visual diagnosis, one should always utilise the capabilities of these tools in the form of interactive walkthroughs and pre-recorded tutorials which can be consulted during live customer support.

Integration of the video chat with the in-house CRM software would greatly increase the efficiency of the entire customer support infrastructure. By implementing this integration, you can send targeted video tutorials to a specific audience in order to solve their most frequent issues. Agents can also utilise the information gleaned from the CRM during their live engagement for further personalisation.

Video analytics to optimise support
Plugging in video analytical systems can generate actionable insights to optimise and improve the level of customer support. These analytic tools can work on pre-recorded videos as well as live customer support. It gathers data to track the degree of customer engagement—such as how much of a video did a user view, or where did they pause to ask questions.

Streamlining of video customer service protocols
An important aspect of providing video-based customer service is to ensure a standardised and uniform level of decorum and proficiency across centres. In simpler terms, you would want your agents to provide the same standard of service, be it a metropolitan or a small village town. Therefore, streamlining these protocols and organising training sessions is critical to ensure a homogenous quality. 
Conclusion
The importance of a great customer experience is known worldwide. In this context, video customer service tools emerge as a strong contender for driving a positive customer experience. Building credible relationships with the customers through engaging video conversations would also go a long way into building brand loyalty.
To know more about this, get on-call with our cloud experts at 0800-084-3663  or drop an email at [email protected]!

Acefone provides a broad range of cloud communication services to businesses of all sizes, which includes Hosted Phone Systems, Free Phone Numbers, and Cloud Contact Center Solutions. Being the UK's leading provider of VoIP service provider, we always strive to provide excellent customer service and high-quality custom solutions to our customers.
https://www.acefone.com/blog/wp-content/uploads/2021/10/driving-exceptional-customer-service-through-video-calling.jpg
376
737
Acefone Editor
https://www.acefone.com/blog/images_acefone/logo.png
Acefone Editor
2021-10-13 11:23:22
2023-02-20 07:47:53
Driving Exceptional Customer Service through Video Calling!