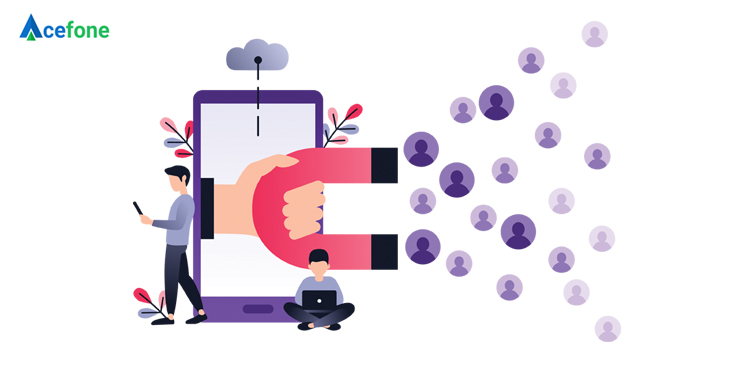 Customer engagement and clear communications are key to running a successful business.
Whether you're in finance or retail, getting customers to engage with your product, service or brand is an integral part of increasing your sales and customer loyalty.
There are many things that can help towards enhancing your customer engagement, from your phone system to your marketing strategies, so we have put together four ways in which to enhance both your communications and customer engagement. 
Most people are now on social media, so creating a well thought out social media strategy is a great way to ensure that you are reaching your target audience; whether that be existing customers or new potential leads.
A well thought out social media strategy can help customers engage with your brand on a more personal level.
By providing thought-provoking posts or just genuinely useful information that your target audience is looking to hear, you can become a thought leader in your industry and ensure that customers engage with your brand online before they look at competitors.
A social media strategy will give your brand a more human voice and can bridge the gap between customer and company.
It gives you a chance to get more insights into what customers like and dislike and how they interact online and opens up a whole new area of advertising.
To ensure customers remain engaged with your business, you should ensure that you are available to them and are present where they expect you to be, so social media can further open the lines of communication between you and your customers.
If your social media strategy is working, you should get more calls, so you must make sure that your phone system is up to the job.
With a hosted phone system you can track customers coming from social media through Acefone's easy to use online portal and can measure the impact of your social strategy simply.
Your hosted phone system will also be robust enough to handle more calls coming into your business, with the ability to add and remove telephone extensions as and when you need to.
Optimise Your IVR
With a hosted phone system, you can add on a personalised IVR system to ensure that communications with customers go as smoothly as possible.
The Interactive Voice Response allows customers to self select the department they want to speak to, based on their issue.
This saves both your business and customers' time and effort when communicating with each other; ensuring customers end every communication with you happy and satisfied that their query was dealt with efficiently.
If your IVR is optimised, then even when you are closed for business you are able to communicate with customers – by ensuring important messages relevant to your customers are communicated as soon as they call.
IVR systems help clear up communication and increase the likelihood of customers engaging with you again and again.
If they have had a good experience when calling you once, they are likely to do so again and this could lead to repeat business or recommendations to other potential customers.
Have Agents All Over The World
Having agents to answer calls based all over the world allows you to be open 24/7.
You can also ensure that customers do not face a language barrier when they call your business, and you can, therefore, make your business global in just a few simple steps.
With a hosted phone system, agents are able to connect to your phone system from anywhere in the world with an internet connection.
They can make and receive calls as if they were sat in your office, with the same crystal clear communications no matter which device they choose.
So, your small business can become global with a few clicks on Acefone's online portal.
Simply add the agent onto your phone system and they can start right away, you can even monitor remote agents performance within the online portal to check they are working effectively and access call recordings to help manage and train new staff members.
Global customers will be impressed by the lengths that your business has taken to accommodate them and will be able to communicate freely with someone both in their time zone and speaking their language; giving them more reasons to engage with your brand.
Customise Your Phone Number
If you are wanting to increase engagement and open lines of communication between you and your customers, a free phone number can help break down any barriers to communication.
If a customer is researching products or services and comes across your business with a free phone number, they have nothing to lose by calling you and finding out more.
This gives your sales team more opportunities to get customers on board and sell your products.
A free phone number also suggests to a customer that you are dedicated to engaging with them and are investing in your customer service by keeping these communication channels open.
You could also consider setting up local numbers, which connect to your agents across the world.
This helps you engage with customers in certain areas and communities with ease and can help increase the trust in your brand if customers have a local number to call.
Finally, you can employ a customised number to help customers remember your business number; this can be branded and used across your marketing campaigns to help enhance customer engagement and make it that much easier for customers to communicate with your business.
Whichever phone number suits your business' needs, be it a customised phone number or a vanity number, you can add it to your hosted phone system with ease.
Each number will be connected to your agents, and the customer will see no difference. They will just enjoy crystal clear communications with your business time after time.
With a hosted phone it is simple to add phone numbers to suit your customers and ensure that customers everywhere are able to engage with your brand.
If you'd like to find out more about how a hosted phone system can help enhance your customer engagement and communications, call us today on 0800-084-3663 and speak to our expert team.

Acefone provides a broad range of cloud communication services to businesses of all sizes, which includes Hosted Phone Systems, Free Phone Numbers, and Cloud Contact Center Solutions. Being the UK's leading provider of VoIP service provider, we always strive to provide excellent customer service and high-quality custom solutions to our customers.
https://www.acefone.com/blog/wp-content/uploads/2020/06/enhance-customer-engagement-and-communication.jpg
376
737
Acefone Editor
https://www.acefone.com/blog/images_acefone/logo.png
Acefone Editor
2020-06-12 14:44:43
2023-01-23 05:52:02
4 Ways To Enhance Customer Engagement And Communication