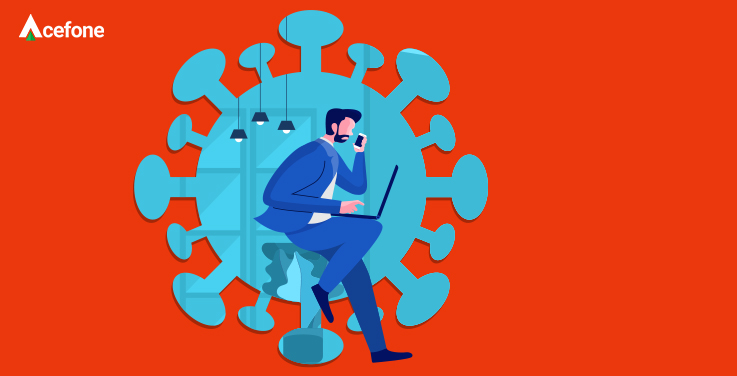 Coronavirus has wreaked havoc on the business world, but your business can still remain just as productive with the right equipment.
Some businesses have unfortunately been forced to close as they do not have the infrastructure to support home workers.
However, with a hosted phone system your staff can connect to your phone system with all its data from anywhere in the world where they have an internet connection – so your business can keep running productively until the restrictions are lifted.
Hosted Contact Centres
If you run a contact centre, then you may think you can not continue serving customers now social distancing rules are in place.
If your staff are not classed as key workers, then you will not be able to have them come into the office, so what can you do to keep running?
With a hosted phone system, your staff can work from their homes securely and easily in just a few clicks.
Your staff can access all the amazing features of your phone system from their own devices; still being able to add detailed notes to customers accounts, make and receive calls, transfer calls between other staff and more all from their compatible device.
Staff have access to Acefone's online portal so they have all the information they need to deliver great customer service wherever they are based.
So, they can safely isolate themselves and serve your customers at the same time.
In addition to your staff having access to everything they need, as a manager, you too will be able to access everything you need to ensure your staff are adapting well to home working as being as productive as possible.
With detailed call logs, agent waiting time and access to call recordings you can offer help with any difficult queries.
Hire Remotely
A hosted phone system breaks down barriers, so you can hire talent anywhere in the world.
Ideal if some of your staff have unfortunately had to take sick leave due to Coronavirus, you can hire temporary staff to take their place while they recover so your customers are not affected by a high number of absent staff.
Customers will understand if they experience higher waiting times, but if they do not experience this with your company they will certainly remember this when this pandemic is over.
Good customer experience now could help you win business in the future as consumers are taking note on how each company is reacting and how it is treating its staff and customer base.
Remote staff can be based anywhere in the world, so you can help the economy and help keep people in work across the globe.
There have, unfortunately, been a high number of job losses caused by Coronavirus so to be able to offer work to some of these people affected this is a great way for your company to help in what is a very difficult time across the world.
Virtual Receptionist
During the Coronavirus, it is understandable that you may be short-staffed and could potentially miss a few calls.
This does not mean you need to miss out on leads though, a virtual receptionist can take messages for you and forward to your email address.
So you can access your messages wherever you are on the go.
Virtual receptionists give a very professional impression of your business and can encourage potential customers to leave a message as they will see that you have invested in a professional answering system and will have more confidence in you getting back to them.
Virtual receptionists are perfect for sole traders who are not able to answer calls while they are working on a job, so whatever business you are in you can stay on top of all of your calls even during challenging times.
Conference Calling
Your staff will be more productive when they can work together effectively, so during the Coronavirus pandemic it is more important than ever to keep up strong relationships between your staff as they work separately at home.
With a hosted phone system your staff can use conference calls to keep up to date with everything going on in the business, completely free of charge.
This is a difficult time for everyone and workers can start to suffer from anxiety if they feel too isolated, so conference calling is a great way to keep your staff connected and motivated to work together.
If your staff were office-based, important meetings may be missed due to staff working remotely.
This is not a problem with a hosted phone system, as staff can conduct meetings over the phone or video call so the business can continue moving forwards and important information can be shared quickly and easily while everyone adapts to this new way of working.
Divert Calls To Mobile
With a hosted phone system, customer calls can be diverted to mobile so you can still pick up calls and leads while you are on the go.
If your staff need to travel for business, you do not want them to be tied down to their desks at home waiting for calls to come in, they can accept calls on their mobile and customers will not see a difference, as they will just call the central number.
As the hosted phone system works over an internet connection, staff are free to go where they are needed to ensure your business is as productive as possible at this trying time.
Calls can be flipped from device to device seamlessly, so you can rest assured that your calls will be answered and leads will be followed, while not compromising on call quality.
There are plenty of ways in which a hosted phone system can keep your staff communicating, productive and keep business moving and these phone systems will give you the flexibility you need to carry on doing business no matter what situation is thrown at you.
If you would like to find out more about hosted phone systems and their uses during Coronavirus, call our expert team on 0800-084-3663.

Acefone provides a broad range of cloud communication services to businesses of all sizes, which includes Hosted Phone Systems, Free Phone Numbers, and Cloud Contact Center Solutions. Being the UK's leading provider of VoIP service provider, we always strive to provide excellent customer service and high-quality custom solutions to our customers.
https://www.acefone.com/blog/wp-content/uploads/2020/04/how-hosted-phone-solutions-helps-maintain-productivity-during-coronavirus.jpg
376
737
Acefone Editor
https://www.acefone.com/blog/images_acefone/logo.png
Acefone Editor
2020-04-13 06:38:38
2021-08-03 13:58:02
How Hosted Phone Solutions Can Help You Maintain Productivity During Outbreaks like Coronavirus