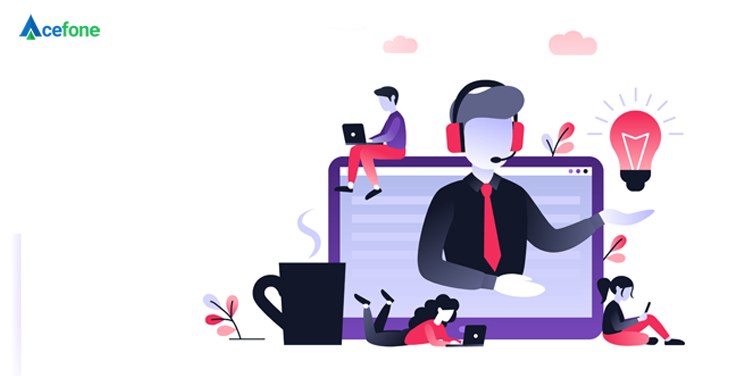 A business runs through its customers. Customers must be the top priority of any business organisation. Customer service helps in achieving customer's trust by filling the communication gap between the business organisations and its customers.
Customer service has evolved over the last decade by the introduction of various technologies like contact centre software, IVR, and features like auto attendant, call transfer, and voicemail to email. If you are running on outdated trends and technology, then you might soon lose your potential customers.
It may lead customers to look for products or services from your competitors who are providing better customer service. No business would ever want that. Quality customer service is the one that respects and values the time of its customers.
Customers nowadays consider the quality of customer service as one of the factors to choose their services from a business. Your product or price is not the only deciding factor for the final purchase from your customers. Customers look for before and after-sales support as well.
It's almost 2020 in about a month, and if you are still practising the traditional methods of customer service, then It's the right time to adopt new technologies and ways to improve the quality of your service.
In this blog, you will find the techniques that will help your business to stand out from the rest. After all, seamless customer service leads to excellent customer experience.
Here are ten strategies for you to improve your customer service in 2020.
1. Shift To Cloud
Cloud contact centre has minimised the need for maintaining a technical infrastructure of office space. Agents can connect with customers from anywhere.
Cloud contact centres support remote login and agents can deal with customer queries on the move. It improves the agent's productivity. Such facility helps them to work from home during bad weather days or during other unfavourable situations.
You can also ensure 24/7 support for your customers if your business is spread across different countries. With the help of remote login, there is always an agent available for the customers with different business hours.
"You can use social media to turn strangers into friends, friends into customers, and customers into salespeople." – Seth Godin
With the increasing popularity of social media and the power that it holds, business is also taking a step ahead in connecting with customers through it.
According to a report by ValueWalk, 95% of customers' complaints on social media don't reach companies. It clearly suggests that the companies are not able to respond to the customers efficiently. Any company that responds to the customers is undoubtedly ahead of others.
Consumers share their reviews or experience with the company on different social media platforms. Some of these are complaints regarding how the business's customer service has treated them and have not solved or fixed their problems.
The company needs to address them by apologising to them and solving their problems or queries without any further delay.
3. Provide Excellent User Experience
A user-friendly experience is way more result-oriented than a complex one. Your website should be as user-friendly as it can be. Visitors won't like it if they have to invest time and effort in finding a click-to-call button due to slow page loading.
Bad user experience may make them unwilling to visit your website again; also, there are high chances of conversions from an excellent user experience.
4. Invest In Self Service Tools
Customers expect an immediate response. Some of the frequent problems do not really require human intervention. Self -Service tools such as chatbots and IVR not only save money but also minimise human effort and time.  
These AI-based tools provide customers with faster and round the clock support. As per the CNBC report, chatbots are expected to cut business costs by $8 billion by 2022.
5. Include Real-time Assistance
Live chat is one of the most preferred channels to communicate with customers. It helps to guide and provide the customers with the required information. Agents can resolve any confusion or queries of the customers right away.
It also increases the chances of conversion of sales. Co-browsing is another option that offers live support. Through it, agents can access the customer's screen and solve their problems in real-time. Customers can only enable the pages that they want to share with agents. Hence, it is safe and secure.
6. Observe Customer Feedback
Do not fear to provide your customers to share their feedback. In fact, feedbacks if carefully observed and implemented can help your business for the better. It helps you to know the area which requires improvement.
It develops trust in customers by making them feel that you want to resolve their problems. Take negative comments positively. Address them right away.
7. Refer & Earn
"If you want more customers, then be so good that your current customers tell others."
– Shep Hyken
You can earn more customers through referrals. Your existing customers will earn a reward through it by referring it to their friends and family. It is a tried and tested method of getting new customers.
Loyal customers are likely to refer in return for the reward. Also, people do believe in word-of-mouth, especially getting the reference from people they trust. The customers earned from referrals are more likely to be loyal, just like your existing customers.
8. Cross-Sell Wherever Possible
Cross-Sell is the best way to increase your sales without spending costs on disinterested people. It is an act of encouraging customers to purchase related items or services along with the product of their interest.
It is better to market your products through cross-selling as it is relevant than to make calls randomly to people who are not the target customers. Make sure to do this practice in a healthy manner. Agents should have the right skills and information for it.
9. Make Use Of CRM Software
Customer Relationship Management (CRM) is a software that helps to manage interactions and maintain relationships between a company and its customers. It is helpful in many ways, like tracking leads and provides insights into the customer's journey.
You can efficiently use this information to understand their needs and adopt the right measures to accelerate sales. It stores customer details in a database and is accessible from anywhere and anytime. It boosts agent productivity as it eliminates manual tasks, and the saved time can be spent on other important activities.
10. Do Not Afraid To Experiment
Try and test every trend & technology and then implement the one which works for your business. Innovate, experiment, and do not afraid to take risks.
You might make mistakes, but it will help you to learn and grow. Keep track of your competitors and see what they are doing differently from you. Plan how you can stand out from them and what more can you offer to your customers.
We hope that the above ten tips will improve your customer service in 2020. Keep your customers happy and lead your business to success.
Do you have anything to add here? Please share in the comments section below.

Swastika Dhakal is working with the Digital Marketing team at Acefone. She is interested in technology and likes to write on it. She loves to explore historical places, as well.
https://www.acefone.com/blog/wp-content/uploads/2020/01/improve-customer-service-in-2020.jpg
376
737
Swastika Dhakal
https://www.acefone.com/blog/images_acefone/logo.png
Swastika Dhakal
2019-11-18 14:25:49
2021-07-28 11:00:15
How To Improve Customer Service In 2020: 10 Easy Ways