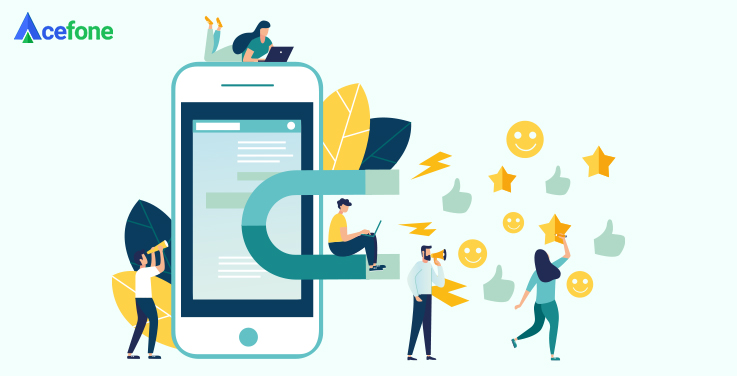 You might not have considered a vanity number as part of your marketing campaign, but this could provide a perfect opportunity for you to split test, monitor leads and really see your return on investment and the effectiveness of your marketing efforts.
There are different types of vanity number to choose from, each having a different effect on your marketing, so take a look below at the different numbers to choose from with a VoIP system and find out which will help you achieve your desired results.
Free Phone Numbers
A free phone number can work in a number of ways for your marketing campaigns. Firstly, a free phone number gives the impression to customers that a business is large and established.
A free phone number is very professional, so if your marketing is getting across to customers that you run a trustworthy, professional and well-established business then a free phone number is the perfect way to back up these claims.
On seeing a free phone number a customer will assume that your business may be larger than it is too, as generally bigger corporations are the ones with free phone numbers – so if you are competing with larger companies when marketing your business, one way to stand out, or just keep up with them would be to deploy a free phone number for marketing purposes.
Customers will call it as normal, and it will come straight through to your staff who are waiting to take the call; you can even add an IVR system so customers can choose the department they are looking for to add to the professional image even after they have called you.
Another way a free phone number can boost your marketing campaign is that it breaks down any barriers to customers contacting you.
With your marketing campaigns, often the aim is to get customers to pick up the phone and make contact, so deploying a free phone number takes away any barriers to customers doing so and your sales team can take over from there.
Your company will appear much more customer focussed with a freephone number, as customers will see that you are actively encouraging them to make contact and will not shy away from keeping lines of communications open, this means that from your marketing customers will gather that you are a trustworthy company and they will want to do business with you because of this.
Personalised, Branded Numbers
On average, it can take a customer seeing your marketing campaigns seven times before they will take action so ensuring that your marketing is memorable is key to winning more business.
A vanity number can be used for exactly this reason; to create a number which is memorable and easy for a customer to call when they need your services.
They might not need your product or service now, but if you use your phone system to market your business correctly, a customer should remember a branded number and be able to call you when they need it.
Tests have concluded that ads with personalised vanity numbers perform 33% better than those without, so if you do not include these in your marketing strategy then you could really be missing out on a great opportunity to increase recall in your target audience.
You want your marketing to really stick with customers so they choose you over a competitor, so making sure your number is memorable is just another way of taking down anything which is standing in the way of a customer making contact with your business.
A customer who makes contact with you is generally a warm lead, so why not make it even easier for more customers to do the same with a branded number?
Local Numbers
If you're looking to increase your roots in a certain community, a local number is a great way to do this.
If a customer is looking for a product or service and sees a business with a local number offering exactly what they need then they are much more likely to call that number than if the area code is of a different city or country.
Local numbers increase trust in customers and can also help increase ties to the local community, giving local customers more reason to contact you and support your business as it shows you are proud to be associated with that community.
Even with a local number, your staff can be based anywhere in the world and can answer calls to local numbers as if they are based in that area.
This means that you can increase your local community ties without sacrificing on hiring talented staff from wherever you want to.
In terms of marketing, local numbers give you a unique opportunity to appeal directly to your target audience based in a specific geographical location – for example, you may offer training in a city in the UK, but your business' head office is somewhere else, you can deal with all queries in your head office while your marketing reflects the locality of your training.
If you have multiple branches, you can market these separately and gain fantastic results with local numbers.
You can set up many local numbers in different cities to capture traffic from each one, ensuring that your business is seen in as many localities as possible.
Analyse Your Vanity Numbers
Overall, a vanity number can really boost your marketing campaigns in a number of ways depending on the phone number you choose.
To really see the effect though, your marketing team will want to see detailed analytics of what is working and what is not working; so they can reflect and make changes throughout a campaign.
This is easy to access with Acefone's online portal, where you can see a detailed log of all calls, and with its connection to your CRM system your marketing team can follow these calls through the pipeline and see how many converted into sales.
This gives you the opportunity to see exactly which numbers have been successful in your marketing and which ones you can switch off; so you can make sure you are getting the most from your marketing budget – all from changing your telephone number!
If you'd like to find out more about vanity numbers and your hosted phone system, call our team on 0800-084-3663.

Acefone provides a broad range of cloud communication services to businesses of all sizes, which includes Hosted Phone Systems, Free Phone Numbers, and Cloud Contact Center Solutions. Being the UK's leading provider of VoIP service provider, we always strive to provide excellent customer service and high-quality custom solutions to our customers.
https://www.acefone.com/blog/wp-content/uploads/2020/04/vanity-number-boosts-marketing-campaign.jpg
376
737
Acefone Editor
https://www.acefone.com/blog/images_acefone/logo.png
Acefone Editor
2020-04-07 10:39:10
2021-08-03 13:52:30
How Vanity Numbers Boost Marketing Campaigns