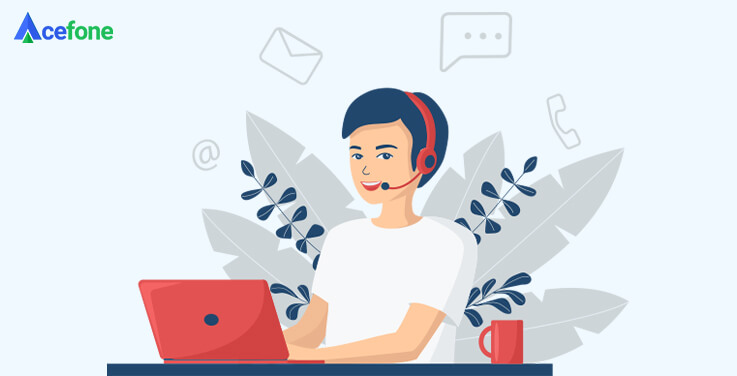 The quality of customer service your business delivers depends not only on how seamlessly your agents can resolve issues but also on the availability and precision of the services you offer.
During this COVID-19 pandemic, businesses have been pushed to create a smooth remote environment for their employees. Therefore, it has become difficult to have a dedicated on-premise contact centre. Moreover, stakeholders have been forced to explore options to facilitate work from home.
Though there are several tools and software that support remote work, one of the most prevalent is the use of voice APIs.
Let us delve deeper to understand them. 
What are voice APIs?
As the name suggests, voice APIs are applications or a software connection that enables making and receiving voice calls. Voice APIs come with significant advantages as they can be easily embedded into the organisation's applications, software, and network over the Internet without depending on a PSTN (Public Switched Telephone Network) connection.
So how does voice APIs help businesses to set up a remote ecosystem? Here's all it is capable of: 
1. Effective call controlling and recording capabilities
Call monitoring is important for customer service. Tracking and monitoring help gauge agent performances and also keep a hold on key performance indicators such as average call handling time and rate of customer satisfaction.
This may be difficult in a remote or distributed environment and the absence of tools and software used on-premise. With the use of voice APIs, businesses can easily monitor calls even in a remote ecosystem.
Call escalation and transfer may seem simple when working on-premise. Agents even have the option to clarify doubts in person and transfer calls based on agent availability. Voice APIs ensure that agents are provided full control over the transfer of calls, including information about the availability of agents in a remote setup.
2. Allows voice broadcasts
Keeping your customers informed is pivotal. In a typical call centre setup, one thing customers dread is waiting in call queues indefinitely. This may result in a higher rate of abandoned calls that hits the performance of your call centre.
One effective way to tackle this is to inform your customers about the average wait time based on the call queue. These voice broadcasts can be easily created in your office facility. Voice APIs support voice broadcasts, enabling you to inform customers about key announcements.
Furthermore, the broadcasts can include information or updates about your products and services. You may also utilise this medium to keep your customers engaged while they wait to get connected, feeding them with inputs about your brand.
3. Enables responsive IVR
Yes, you heard that right! Voice APIs let you create a responsive and customised IVR system. Instead of a press-1 campaign, you can use voice APIs to deliver highly interactive responses that sound real.
This system can be used to resolve simple issues of the customers, for example, if a customer visits your website then the IVR can handle the request without any interference. This helps agents focus on other core tasks and more complex issues. 
In a remote environment, your business may face difficulties due to an insufficient workforce. Engaging your customers with smaller issues may lead to a bigger loss with complex, more urgent queries. Voice APIs help you over this challenge proactively. 
4. Supports comprehensive analytics
Voice APIs come with comprehensive reporting capabilities that may otherwise be difficult to obtain in a remote working environment. The call tracking capabilities develop interactive reports while recording and capturing critical business performance data.
These reports provide intuitive insights about the type of customers who have called, call duration, and customer feedback if any. This data can be used to identify glitches in process workflows and ways to rectify them promptly.
You can also try and advertise your virtual numbers in marketing campaigns even though your team works in a remote set up. This factor may help you earn a competitive edge in the industry. It also helps to showcase your brand as a reliable and responsible one.
5. Aids intelligent agent routing
Voice APIs understand the importance of being available to customers. In a remote setup, agents may be available across the globe. Voice APIs identify the availability of agents and route calls accordingly. Again, calls transferred to particular agents by this API purely based on their skills and expertise.
Consider a scenario where the customer has an issue with accessing his account and needs to contact the technical team. The customer will get agitated if he is routed to the wrong department. There are higher chances of this kind of error in a remote setup due to a lack of communication.
However, incorporation of voice APIs eliminates the possibilities of these errors. Your calls are not misdirected, resulting in higher customer satisfaction.
Furthermore, voice APIs ensure that customer information, the fuel for businesses remains confidential. Information including contact numbers and the chat details are not exposed and are masked to maintain security.  
Wrap Up
Streamlining workflows in a remote work setup is a critical and challenging task. Voice APIs deal with these challenges effortlessly. The above-mentioned points on-call monitoring capabilities, developing an IVR system, and creating comprehensive analytics are key competencies of voice APIs. These features of voice APIs will help businesses perform seamlessly in a remote ecosystem.
To know more about Voice API and how it can work for you, contact our sales team at Acefone today.

Olivia is an outgoing person who enjoys writing, is an SEO enthusiast, and often interacts with others in intellectual conversations. She enjoys listening to music in her free time. Connect with her on Linkedin
https://www.acefone.com/blog/wp-content/uploads/2020/10/remote-work-with-advanced-voice-api-solutions.jpg
376
737
Olivia Trott
https://www.acefone.com/blog/images_acefone/logo.png
Olivia Trott
2020-10-13 08:29:09
2022-04-25 10:54:18
Reimagine Remote Work With Advanced Voice API Solutions