Stay productive every step of the way
For the work-from-anywhere model
Work remotely with calls optimised for low bandwidth
Stay connected on a device or platform of choice
Keep in touch with your clients and colleagues 24x7
Truly built for your convenience
Tailor your dashboard to only see important metrics
Select features to suit your goals, budget and needs
Manage extensions as per the scale of your business
Trustworthy and secure
Safeguard conversions with end-to-end encryption
Keep sensitive data safe with role-based access
No more cyber threats with two-factor authentication
For the work-from-anywhere model
Work remotely with calls optimised for low bandwidth
Stay connected on a device or platform of choice
Keep in touch with your clients and colleagues 24×7
Truly built for your convenience
Tailor your dashboard to only see important metrics
Select features to suit your goals, budget and needs
Manage extensions as per the scale of your business
Trustworthy and secure
Safeguard conversions with end-to-end encryption
Keep sensitive data safe with role-based access
No more cyber threats with two-factor authentication
Works for any industry, anytime, anywhere
Accounting
Keep note of everything
Recall important details and resolve disputes with call recordings.
Jot down crucial customer information with real-time call notes.
Track business performance with detailed reports and analytics.
Advertising and PR
Plan for the better
Gather feedback on your services with SMS or voice IVR.
Enhance outreach with predictive and progressive
auto-diallers.
Track your campaign metrics with detailed call and SMS analytics.
Architecture and engineering
Quick. Convenient. Conversational.
Send quick updates to stakeholders with voice and SMS broadcasts.
Leverage local numbers to expand reach to newer geographies.
Blacklist unwanted callers to engage only in productive conversations.
Legal and recruitment
Get it right every time
Communicate personalised information via automated calls and SMSes.
Deliver the latest recruitment or legal updates with custom message-on-hold.
Handle client and candidate queries better with call monitoring, whisper and barge.
All your favourite apps, together
Flexible integrations with powerful tools. Look after every business need on one platform.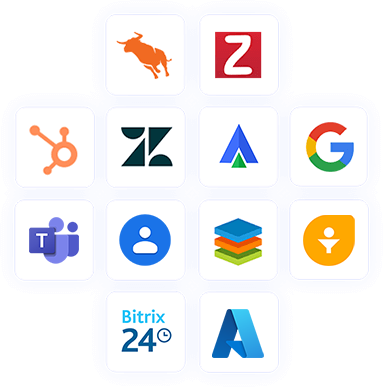 Office 365

Salesforce

Microsoft Teams

Google Contacts

Dynamics 365

G-Suite

Freshdesk

Sugar CRM

Vtiger CRM

Zoho CRM

Bullhorn

Acefone

Bitrix24

HubSpot CRM

Pipedrive

Freshsales

Google Sheets

Zendesk

LeadSquared CRM

Microsoft Azure
Plans & pricing
Choose the plan that's right for your company. All plans include a 30 day free trial.
Bill Monthly
Standard
Best for indivisuals
user/month*
Popular
Business
Best for growing teams
user/month*
Premium
Best for large teams or enterprises
user/month*
Standard
Best for Indivisuals

Business
Best for growing teams

Premium
Best for large teams

Standard
Best for Indivisuals

Business
Best for growing teams

Premium
Best for large teams

Frequently asked questions
Let's address all your queries before you take the plunge
Can Acefone's solutions meet the changing needs of my business?
Yes, the beauty of hosted business solutions is that you can change your plans anytime to suit your business needs.
Are there any hardware requirements to start using hosted telephony services?
There are no hardware requirements to get started. You only need an Internet connection and a communication device to serve your customers.
Can I use hosted contact centre services with my existing business phone system?
Yes, you do not need any new hardware. You can connect your existing devices with the cloud system and start off without any delay.
What else does Acefone offer my business?
We deliver advanced solutions including, but not limited to, call monitoring, real-time analytics, scheduled reports, call twinning, and call flipping, as well as automation solutions like IVR and chatbots that make your work processes so much easier.
How easy is it to get started with Acefone business solutions?
Just share your business requirements with our team of experts and you can get started with Acefone's cloud telephony services right away.
You can connect with us anytime at 0800-084-3663 or just drop an email at [email protected] and we'll reach out to you.
How much can I save with Acefone solutions?
We offer cloud telephony services at the best-in-market prices. Opt for a customised plan and save money—only pay for the features you really need. Additionally, there are no contracts or long-term commitments. So, you can discontinue the services whenever you wish to.
What benefits do Acefone's business solutions offer?
You will experience clear and effective communication with Acefone business solutions. Moreover, management is made easier with our online portal, deep data insights and intuitive automation.
How can I use my mobile app to make business calls?
Log in to your mobile app. On the dashboard itself, you will see the option to make calls.
How is your hosted phone system different from other providers?
We offer a full suite of cloud phone system features that help you deliver excellent customer experience. Furthermore, you can start operating from anywhere, anytime.
Our round-the-clock service and customised features set us apart from others.
Still in doubt? Please drop you question
Still in doubt? Drop your query down below and we'll get right back to you.