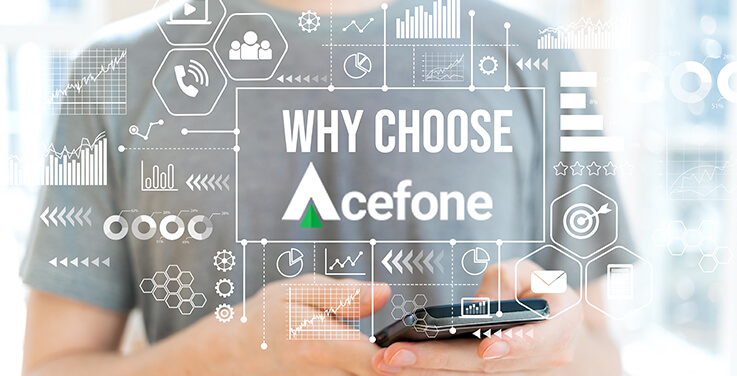 Every business has some core values that guide its plans and progress. 
Here at Acefone, we believe in innovation and strive to provide the best service to all of our customers. With the use of the best tools of the trade, and our willingness to constantly learn and develop—we pass on the benefits of the latest technology to you, our customers. 
Undeniably, a cloud phone system is a big investment for your business, which is why our team is available 24/7 to answer all your queries. Each member of our team is passionate about technology and is experienced in the cloud services domain. Therefore, you can always expect top-notch expert advice regarding any qualms. 
Whether you're on-board with the idea of migrating to the cloud or are just considering your options; here are 5 reasons why you should choose Acefone for your cloud phone system.
1. Our systems are user-friendly
Not everyone is an expert in hosted phone systems. We've designed our online portal so that you don't even have to be! Our customers value our powerful and versatile phone systems that they can simply plug it in and play.
 No technical jargon. At Acefone, we keep it simple.
The online portal is accessible through all our VoIP phone systems and is completely customisable. Everything you need is a click away. This user-friendly portal gives you unrestricted access to call logs, agent activity, call recordings, costs, and much more. Since it is simply an extension of your phone system, no extra expenses are incurred. 
That's not all though. You can also access detailed notes about customer accounts and share them with relevant members of your team to smoothen the customer service. Seamless integrations with your CRM system will ensure that the information is accurate and updated while saving on admin time.
Acefone aims to empower clients to take the helm of their phone system operations. Therefore,  the online portal is designed to allow easy control over your communications.
2. Our VoIP systems come with powerful features
Our services come packed with powerful features designed to make your life easier. From virtual receptionists to call conferencing, Acefone's cloud phone systems have enhanced features to help improve work efficiency and customer experience. 
You can overcome the limitations of your traditional phone by adding as many or as little features as you need. This scalable option allows you to only pick the features that satisfy your current needs. If you work alone, a virtual receptionist is a godsend. It helps you keep track of all the calls, takes messages and even forwards voicemails to your inbox, so you are never out of the loop. 
Meanwhile, if your business has a larger team, the call conferencing feature would be of immense help to you, with its ability to host team meetings from around the globe. 
Acefone works closely with customers to provide completely bespoke solutions—in line with their business goals. For example, if you want to appear larger scale and more professional, you can create a free phone number. If you'd like to increase your ties to the local community, you may opt for a local number.
There are many more features that can help save your business time and money, and even open up new opportunities. Whatever your firm's goals, we are equipped to help you achieve them. 
3. Competitive pricing
Our pricing plans are completely transparent. Through the online portal, you'll have complete control over your expenses and can set limits and caps if need be. 
You can easily monitor call costs, and upgrade your plan according to changing needs. Similarly, if you aren't using anywhere near your allotted limit, you can shift to a plan better suited to your needs.
Internet calls dramatically reduce your costs since you don't have to pay a connection fee. Therefore, no matter what plan you choose, you can be guaranteed economical rates and a definite cost reduction. Our team is always ready to discuss pricing with you and can tailor the plans to suit your business needs. We're just one phone call away.  
4. Access real-time reports
Management made easy. Pull up real-time reports in just a few seconds through your online portal. These reports give in-depth call analytics and allow easy call monitoring to refine your customer experience. 
Real-time reports are a great way to check on the smooth functioning of your operations. You can see exactly which representatives are on calls, their waiting times and the time they've spent on each call. Thus, you're provided with unique insights into agent performance. You can determine the pain points and address them specifically through extra training.
Additionally, analytics allow you to assess manpower needs, in case you need to hire extra hands for busy periods. 
5. Round-the-clock support
We want your experience with us to be as smooth-sailing as possible. Therefore, we're at your beck and call 24/7, 365 days—to address your problems and alleviate your stress. Our support team consists of  experts in the field who can quickly resolve all issues for you to enjoy uninterrupted communications. 
No query is too small. If you're not sure how a feature works, we can explain it to you in layman's terms; so you don't need to be an expert to understand.
With our round-the-clock availability, you need not worry about missing important work in case of serious issues or outages. We'll have you up and running in no time. All your data is stored remotely as a backup, which addresses any concerns of losing crucial data. 
Acefone is dedicated to helping customers get the most from their cloud phone systems, and we pride ourselves on providing the most innovative telephony solutions for our customers. Customer service is at the heart of everything we do, and we understand that the same applies to our customers and their businesses too. 
This focus is the reason we ensure flowing communications between you and your customers, and enable your phone system to work with you, rather than hold you back.
To find out more about our hosted phone systems, call our expert team at 0800-084-3663 now!

Olivia is an outgoing person who enjoys writing, is an SEO enthusiast, and often interacts with others in intellectual conversations. She enjoys listening to music in her free time. Connect with her on Linkedin
https://www.acefone.com/blog/wp-content/uploads/2020/09/reasons-to-choose-acefone-for-cloud-phone-system.jpg
376
737
Olivia Trott
https://www.acefone.com/blog/images_acefone/logo.png
Olivia Trott
2020-10-01 05:41:09
2020-10-08 04:14:08
5 Reasons To Choose Acefone For Your Cloud Phone System