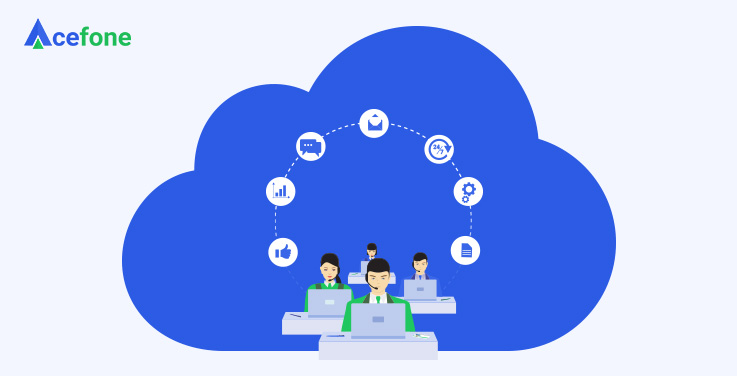 Managers are the eyes and ears of a business. They are responsible not just for their team, but for moving the business ahead. 
With their tight schedules, managers are unable to give real-time feedback constantly to their employees. But, feedback is crucial to improve the workings of a team. So, when managers are too busy, how do you provide real-time feedback to your employees? 
The answer: new technology! 
With a hosted phone system your business can do much more than just communicate. Apart from enabling collaboration between teams, you can run a hosted solution that gives real-time data and information on the running of your contact centre. From call information to recordings, everything you could need is right at your fingertips with your online portal. 
Here, we will explore how contact centre solutions can help you with feedback for your employees. 
Access feedback for each agent
With a hosted contact centre, business owners can help support agents by viewing their individual statistics. You can access detailed analytics on each agent's call waiting time, the number of calls they make per shift and get an insight into their overall productivity and performance. This ensures that each agent is performing to the best of their ability. 
Alongside this, your hosted phone system's online portal gives you access to call recordings. This gives you a unique opportunity to hear how your agents are dealing with customers, and praise any great customer interactions. You can also use these recordings for training purposes. Similarly, if an agent is struggling, you can pinpoint exactly what the problem is and work with them to rectify it.
This data can also be accessed in real-time, enabling you to better manage the flow of calls. Real-time data on an agent's work can also help you track their progress and identify what tasks they have been doing to the best of their abilities.   
These contact centre solutions help managers to keep their employees in check and even give them the option of training. Having data on agent performance also lets managers maintain the overall quality of the call centre, while allowing them to focus on more priority tasks. 
Access detailed call analytics in seconds
With a hosted contact centre it is easy to access detailed call analytics. By simply connecting to your hosted phone system's online portal, you can bring up real-time data on all aspects of your contact centre – so you're always on top of any changes.
Having call analytics at your fingertips means that you are able to identify possible issues well in time. This can help you make changes to your staffing or procedures accordingly. 
For example, you might find that there is a certain time of call surges everyday. Then, all you need to do is rotate more staff to be on the phones during this busy period. This prevents long wait times and enhances the customer experience. 
Detailed call records for each customer
With a hosted contact centre, you can access detailed call records for each customer. This means that, in the event of any query or complaint, you can retrace the call history. 
This can help you see detailed information on when each call took place and who took the call. Additionally, you can use call recordings to help sort issues out quickly and efficiently.
The best thing about this is that all this data can be accessed from anywhere in the world, provided you have an internet connection. Having access to this information in real time means that you can take immediate action if something isn't working as it should. 
Access reports on each of your business numbers
You might choose to add a custom number to your hosted contact centre or have a specific number on a new marketing campaign. In such cases, accessing real-time feedback is important to monitor the effectiveness of your campaigns and see which numbers customers are more likely to contact. 
By having access to this feedback from your online portal, it is easy to keep track of the days and times when you receive the highest number of calls. This information can then be used to make business decisions on when to schedule your advertising to have the most impact.
Similarly, if one number is bringing in significantly more calls than the others, you can invest more money in that marketing campaign with the number. As a business owner, it is important to know when and where are the callers coming from. 
A hosted contact centre makes this information easily accessible. 
You can also get real-time feedback on each extension number in your business. This will help you see which teams are getting the most enquiries, or which agents are making the most calls. 
Having this feedback in real-time means that you get an accurate view of the productivity and can implement any changes that might be needed to ensure your business continues to run efficiently.
Access call queue reports
Hosted contact centres can also give you access to call queue reports. This information goes a long way in finding out how your business, and more importantly your agents, are performing. 
You can use this particular report to identify trends in call queues. This enables you to know about not only wasted resources but also ensure that you have enough manpower during busy hours. 
By analysing these reports, you can increase staff satisfaction and ensure better management and workflow. Additionally, these reports can also help you understand how you can save money by removing redundancies. 
Monitoring and making changes based on call queue reports is also a great way to boost customer service. Call centres can do this by taking steps to ensure customers aren't left waiting for a long time to speak to a member of staff, or that agents have enough time to provide quality customer service. 
Schedule email reports while you're on the go
With reports delivered directly to you, you can keep track of everything going on in your business. With all the information you need on the go, you can stay on top of the daily work of your managers and agents. Automating email reports can also give you a detailed analysis of the workings of your call centres. 
Get real-time feedback, wherever you need it 
Hosted contact centres provide a great way to run a business. 
By automating several metrics, you can focus entirely on delivering great customer service. Monitoring and acting on data and feedback from your cloud system is an important way to ensure that everything is running as efficiently as possible and that your staff have all the tools and training they need to be a success. 
To find out more about how your organisation can benefit from cloud contact centres and accessing real-time data, call us today at 0800-084-3663 or drop an email at [email protected]

Olivia is an outgoing person who enjoys writing, is an SEO enthusiast, and often interacts with others in intellectual conversations. She enjoys listening to music in her free time. Connect with her on Linkedin
https://www.acefone.com/blog/wp-content/uploads/2021/08/real-time-feedback-with-cloud-centre-solutions.jpg
376
737
Olivia Trott
https://www.acefone.com/blog/images_acefone/logo.png
Olivia Trott
2021-08-02 10:43:20
2023-02-27 11:14:21
Your Managers aren't the Only Ones That Can Give You Real-Time Feedback. Here's How Your Contact Centre Solution Can Do It Better