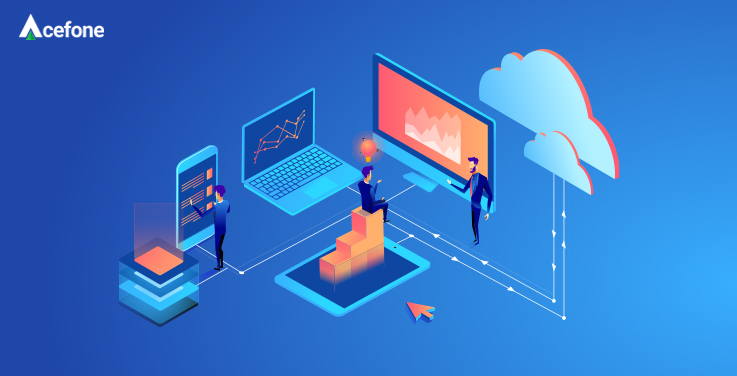 Cloud telephony systems can not only open up new avenues of business to small businesses, but it can also save them money in a range of ways.
In this article we will go through the top ways small businesses can save money by switching to a cloud telephony system and show you how making this investment could save your business in the long run, leaving you to focus on making a profit and growing your business to its full potential.
Call Costs
Firstly, making calls over your internet connection is highly cost-effective. No matter where in the world you are calling, you will benefit from the same low prices without costly charges.
Depending on your provider, you might have calls factored into the monthly cost, or you may pay as you make calls; either way, compared to a traditional phone system you will find your business saving money daily.
Not only will calls be cheaper, but they will also be clear in quality too so you can save money without compromising on your business' professionalism.
With Acefone, you can keep an eye on your call costs through our easy to use online portal, which gives you access to detailed costings, records of how many minutes you have used and the cost of each call so you can make sure you are getting the best possible return on your investment and that you are continuing to make savings.
Maintenance Costs
Traditional phone systems are extremely costly to keep maintained, with the need for regular work to keep everything working as it should and a lot of fuss to add and remove lines.
This cost is much lower with a hosted phone system as work can often be completed remotely, and many providers offer packages which include any maintenance which might need completing so you can rest assured that any work your phone system might need in future is covered.
With 99% uptime, the need for costly maintenance is lessened, and so you will find your business immediately starting to save money as the system is much more reliable and stable.
In the event of a disaster, cloud telephony systems are hosted away from your business so it can be quickly restored; something which could avoid a costly loss of business too.
Optional Features Can Be Added To Your Phone System
As cloud phone systems are built bespoke to your business' needs, you only need to pay for the features you will use, and you will not need to waste money on phone system features you will never use.
You have the power to pick and choose from fantastic time-saving features; such as voicemail to email, call conferencing, virtual receptionist and more and all small business owners know that time is money – so in saving yourself time, you will save precious profits too!
The features on your phone system will work exclusively for you, so you will not need to worry about throwing money away on anything which will not bring innovative solutions to your small business.
Recruiting Remote Workers
If you are a small business owner, you may work alone or in a very small team of people. Particularly with seasonal businesses, it may become necessary to hire more staff to help ease the workload.
This can be done at no extra cost with a cloud telephone system – as long as the worker has access to the internet on any device they can connect to your phone system from anywhere in the world.
As calls are made over the internet, this cost-saving feature will not cost you any call quality, each call will be crystal clear as if the caller is in your office with your other staff.
As lines can be added or removed easily, remote workers can become an essential part of your team, and you will not need to hire staff through traditional routes which can become costly if they are only with you for a short time.
You can manage remote agents work using Acefone's online portal and can communicate with them free of charge through call conferencing; ensuring remote workers and your existing team are on the same page.
No Need For Business Premises With Cloud Telephone Systems
Cloud telephone systems eliminate the need for office premises all together as staff can connect from anywhere with you as a business owner still has all the control you need over their performance.
Office premises are expensive, so eliminating the need for an office saves a large amount of your budget to help grow your business in other areas.
A cloud telephone system will work seamlessly from wherever your staff are based, and you will never miss a call as you can switch from device to device while on the move.
Not only will this save you money, but this could also make you money from more staff being available to call customers and chase up any leads you might have missed if working from an office with a small team.
Without the costs for business premises, you are free to invest your money into marketing or into other avenues to help you continue to run and grow your business effectively.
These innovative solutions a hosted phone system can provide are sure to save your small business plenty of money which can be invested in your business' growth – if you would like to find out more contact Acefone on 0800-084-3663.

Acefone provides a broad range of cloud communication services to businesses of all sizes, which includes Hosted Phone Systems, Free Phone Numbers, and Cloud Contact Center Solutions. Being the UK's leading provider of VoIP service provider, we always strive to provide excellent customer service and high-quality custom solutions to our customers.
https://www.acefone.com/blog/wp-content/uploads/2020/08/cloud-telephony-system-small-business.jpg
376
737
Acefone Editor
https://www.acefone.com/blog/images_acefone/logo.png
Acefone Editor
2020-02-27 10:21:30
2021-08-03 12:12:44
How Cloud Telephony Systems Can Save Small Businesses