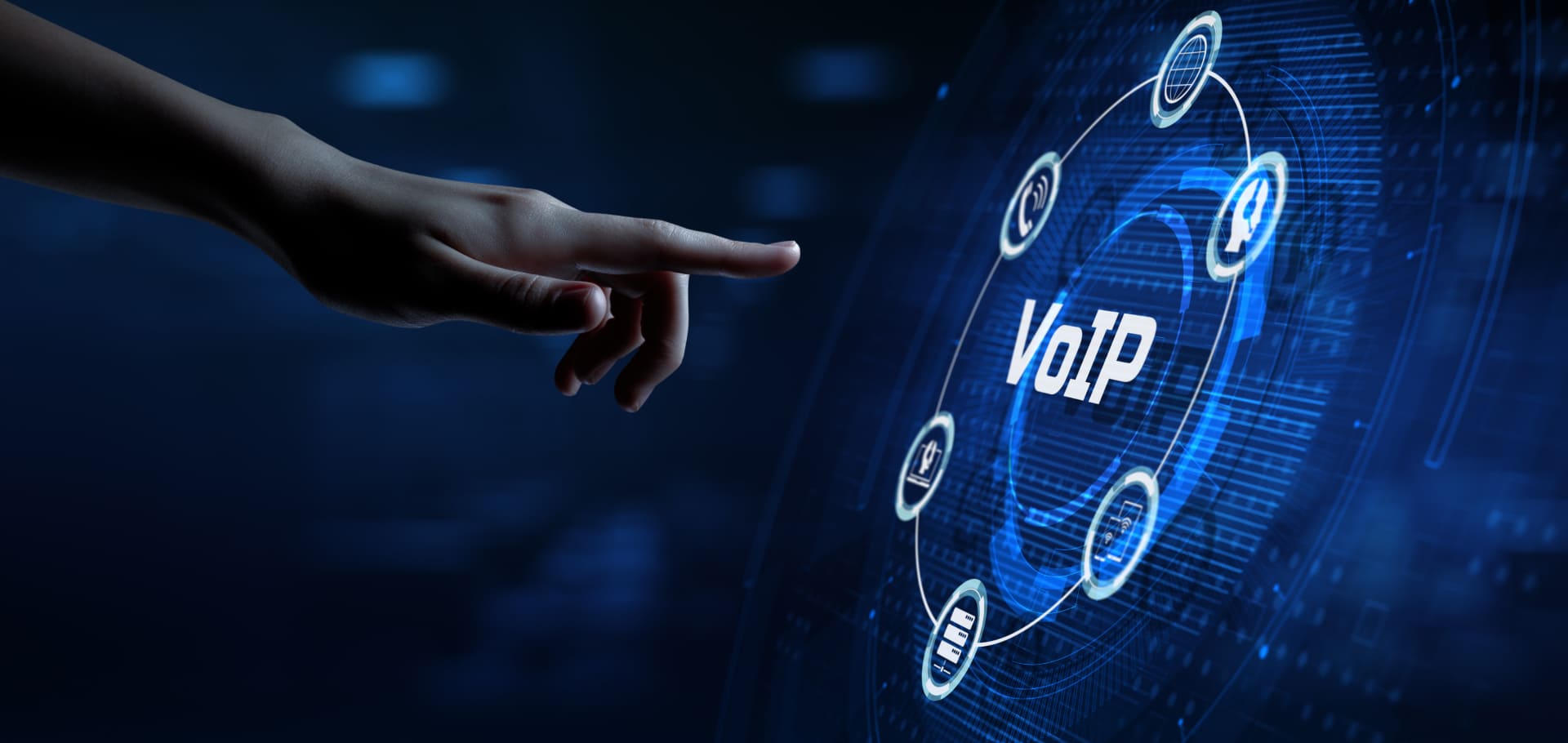 Introduction
Your business is your baby. You made it, built it, helped it grow and gave it all your time and effort. Your baby is now an SMB with a sizeable workforce.  
Now you're looking to scale. While you find markets, managers and investors, we know you're going to want efficient communication processes in place as the next step in your business's growth.  
What if we told you that you could kill two birds with one stone: improve your team's communication system while also improving your customer experience and retention?  
With a Voice over Internet Protocol (VoIP) communication system, you can streamline all your business' communication needs, give your customers better service and make room for expanding your business. All your communication is done over the Internet via a convenient digital portal supported across devices. 
The technology is timesaving, easy to use, great for a hybrid work system, and customisable to your needs and operations set up. 
According to TechCo, small businesses that switch to VoIP save 40% on local calls and 90% on international calls. They also have the added bonus of saving 30% on teleconferencing by integrating VoIP.  
What's the technology behind VoIP?
VoIP introduces a revolutionary new way of communicating. Instead of using standard PSTN lines and bulky hardware, VoIP zooms your voice calls across the Internet. The result is a faster, smoother and much cheaper communication system between towns, cities and even countries.  
The software was so revolutionary, the world decided to do away with PSTNs altogether, something Forbes predicted in 2018, adding that by 2025, it is likely that AI chatbots will do 95% of customer interactions over the phone. According to Gartner, 50% of IT leaders ceased purchasing on-premise communications in 2018.  You can learn more about that and how to prepare for the future here. 
Still confused about the benefits of cloud-based VoIP over PSTN? Then check out the infographic below.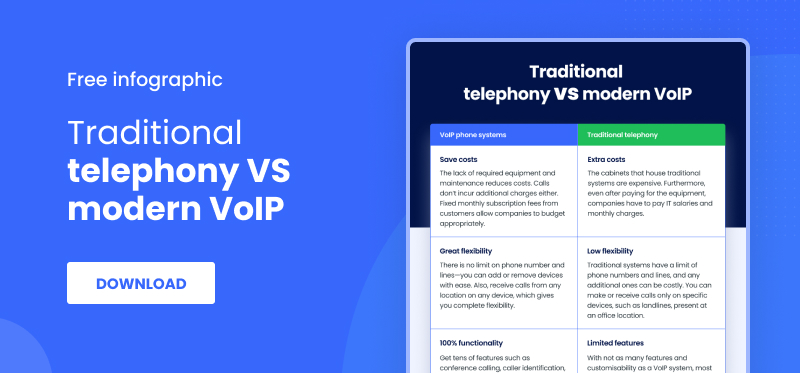 How does it work?
Like its name, Voice-over Internet Protocol, VoIP functions over the Internet. In this system, voice is transmitted using small data packets. These data packets travel between the caller and the VoIP provider in the minimum possible time. They are then converted back to audio signals for the agent to listen to.  
To break this down, when one of your customers makes a call, their phone connects to the switch or the router in their Local Area Network (LAN), wherever that may be. When you choose to connect over to a particular number, the request is sent over to your IP provider. Your VoIP provider then establishes the connection between the other party and your number by exchanging data packets. Your VoIP phone then converts these signals into a voice that you can hear.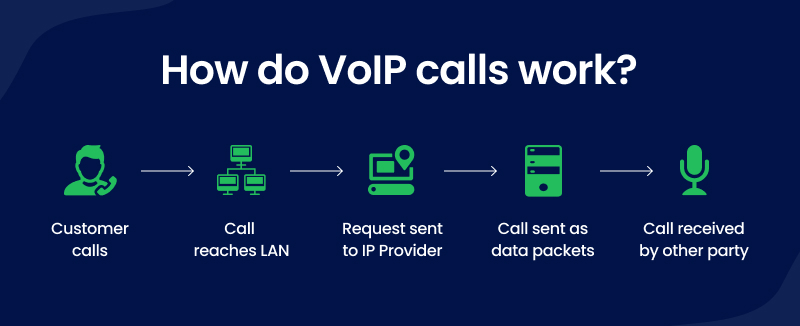 Types of VoIP systems
VoIP systems may be broadly classified into two types based on where the equipment is maintained, whether they require staff and how much labour goes into the maintenance of the software. While both are helpful, it is best to read more to determine which system would suit you best. 
On-premise VoIP systems
As the name suggests, on-premise VoIP systems are those that are maintained within the premises of the workplaces. This includes everything—be it infrastructure or technical equipment. 
On-premise solutions give managers complete control and supervision of data, but this comes with several limitations: 
As the technology is located on physical servers usually at one place, any loss of data can be catastrophic.

 

Any changes in technology will require a technical team with the right expertise.

 

The possibility of work from home is minimised as the infrastructure is only accessible in office.

 
Hosted VoIP systems
Hosted VoIP systems on the other hand, are provided by service providers specialising in this arena. According to Persistence Market Research, there has been an impressive Compound Annual Growth Rate (CAGR) of 7.8% between 2016-2024 in the hosted VoIP market. 
Hosted VoIP systems have the advantage of not requiring much maintenance. You need not worry about the technical or infrastructural setup. All you will need to do is provide your list of requirements to your service provider and sit back.  
Furthermore, the need to maintain a dedicated team for the VoIP systems is also eliminated. All your system upgrades and patch management are completely taken care of by your service provider. 
You can go into detail about the differences between the two systems here. 
Why do you need to invest in a VoIP system?
Investments are big decisions, especially in a growing business. We've been there and know how important it is, which is why we'll begin with this: it is cheaper.
VoIP phone systems offer services for a fraction of the cost of legacy phones. Using the Internet, VoIP has made it cheaper for calls to be made across locations by removing the need for installing and maintaining any form of hardware. Microsoft reports that 82% of businesses have seen cost reductions as a result of moving to cloud-based operations.  
Secondly, VoIP systems can be customised to the last detail and can be made to suit any industry. From connecting to businesses and customers across the globe, to tracking the inbound and outbound calling activities of a call centre with in-depth reports, modern phone systems now offer features specifically tailored to businesses of all sizes. You can have a system that caters to both your employees as well as your customers, improving customer experience and retention. 
Security is a top priority in any business and another factor that makes VoIP systems so much better. With widespread movements against phone giants over privacy concerns, a VoIP or business phone system is built for trust and security.  
It comes with multiple data centres across different locations with backups, which means your data is more secure; along with 256-bit encryption, which makes it impossible for hackers and malicious actors to infiltrate your data. 
You also get to have more control over your own security. VoIP portal access can be assigned and limits can be set, so that the right employees only access what they need to. 
Taking advantage of the cloud, service providers offer guaranteed protection to all your communications and regularly update security patches. You can read more about how it works and how we make your data secure here. 
The most obvious reason to choose a VoIP system is that its flexible. Businesses can access their phone system portals on smart devices such as mobile phones, tablets, and laptops from anywhere in the world with just an Internet connection. With most Internet-enabled devices already a part of almost all organisations, businesses don't need to invest in additional infrastructure.  
Additionally, VoIP provides for scalability. Businesses can add lines to their VoIP phone systems with a click of a button. This allows for easier entry to new markets and lets businesses scale up (or down) on their own time frames.  
Finally, the software is tech-forward, which means that even years after the technology has existed, its digital nature will let it grow and adapt to changing technology and markets.  
We understand that this is a lot of information. If you need further convincing, you can read this. 
When should you consider using a VoIP system?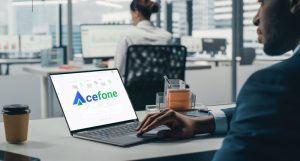 We know you do your research before making any major changes, which is why we thought we'd start by linking you to a quick guide that will bust some VoIP myths for you. But here are a few points to keep in mind when considering a VoIP system.  
Do you offer work from home to your employees?
The primary advantage of VoIP systems has been connectivity even when working remotely, something COVID-19 forced us to do. Read more about the role of VoIP during the pandemic here. 
According to McKinsey, 58% of Americans work from home at least once a week. So, if you have moved your employees to a remote working ecosystem or a hybrid environment, a VoIP can make your life much easier, staying connected and efficient. Even if your work demands your employees to stay on the field while remaining connected and updated, a VoIP can still help. 
Do you have a global presence?
If you operate across countries, you know as well as we do how important it is to maintain a local presence. Furthermore, your customers are more likely to communicate with someone who is nearer to them. Check if your provider offers local numbers in the regions you operate in. 
What is your budget and does it cover the cost of installation?
Every service provider offers different types of packages. While a few may provide their equipment, others may leave it to you to choose one from a retailer.  
Points to consider are: 
How much will you have to pay every month per extension or agent? Does it fit your budget? There are many service providers out there and it is important to do your research to find one your budget can accommodate.   
While you will have to make a basic monthly payment, you may incur additional charges depending on any features you choose and a possible initial installation fee. This is something you must ask about. At Acefone, to avoid such confusion, we provide a detailed breakdown of your charges.  
Will training be included in the package?
While a VoIP is easy to use, depending on the existing skills of your staff, you may or may not want training included in your package. It is important to evaluate the skills of your staff beforehand so you know exactly what you need.  
What kind of equipment will be provided?
We have already discussed the different kinds of VoIP systems. There are a few minor features that you may have to invest in like headsets. Check what comes with the package and what you need to invest in before agreeing to any plan. 
What features are they offering with plans?
A VoIP system can come with a number of features. Make sure to find out each and every feature your provider offers along with their costs if any, so as to get the full benefit of this technology. 
Are the plans customisable?
Customisability is the beauty of VoIP. Be sure to find a provider who can customize your system to YOUR needs. There is no point investing in technology unless it makes your workflow that much more efficient, which is why it is important to keep the same in mind for VoIP to ensure that you get the most out of it.
What does the migration process look like?
The typical migration process will include software installation, sourcing of phones, number porting, connecting the phones, and porting the phones. 
Though this migration process should be done with minimal or no downtime, it is best to understand and learn the intricacies of the migration process from your service provider to avoid any inconveniences. 
What does the final list of features contain?
 VoIP systems come with several features. Consider reviewing them and choosing the ones you will need for your business. Here are some that are perfect for SMBs looking to improve their sales and support processes.

What is your network bandwidth like?
A strong network connection and bandwidth is the base for a seamlessly performing VoIP system. Check if your existing network connectivity will suffice or if you will need to upgrade your bandwidth and Internet connection. 
Some providers even offer HD calls on low bandwidth. Look for providers that offer better communication regardless of your Internet speed. 
Does it come with inbuilt security?
With cyber threats and attacks on the rise, it is pivotal that your telephony system is upgraded and patched regularly. You should discuss with your provider about compliance-related issues and ensure that your system is protected from malicious activity. Look for features like two-factor authentication and end-to-end encryption. We put together a list of dos and don'ts for the same. 
Do they have alternate power plans?
Make sure that your service provider has an alternate power plan in place. This will help in the case of a power outage. They may provide you with a mobile app or any other alternate source of electricity to have your system up and going even during a power shut down. 
Check if they offer 24×7 support
Support is critical when you're working remotely and checking your providers' uptime and a support system is imperative. This varies across providers, but it is something that should be emphasized. Acefone for example offers 24×7 support, a SPOC and agents on call.
Acefone's VoIP plan for you
At Acefone, we offer plans catered to every business requirement. We understand various use cases and priorities, so we've built you a table that will help you decide which Acefone plan to go for.
To know more, check out our plans here.
Size of your team
(agents with extensions)
Your requirements
Your key priority
The plan you need
0-5
– Setting up a helpline
– Equipping agents with
calling capabilities
Cost saving
Acefone's basic plan

– Includes one UK number
– Unlimited inbound minutes
– 24/7/365 customer support

5-50
– Optimising Communication
– Streamlining processes
– Internal collaboration
Client retention
Acefone's business plan

– 1,000 outbound minutes
– Call transfer
– Real-time call monitoring

50+
– Global Communication
and collaboration
– Integrating communications
with various SaaS apps
Brand building
Acefone's premium plan

– Unlimited outbound minutes
– Unlimited audio conferencing
– Call recording
Benefits of VoIP phone systems
Now that you're convinced about the viability of cloud phone systems, you must wonder—will it really suit my business, with its niche operation style and specific industry? Is it worth all this brouhaha? We've already told you that it can help make your business easier to run and efficient, but it can do so much more than that across industries.
Interactive voice response
Cloud phones come with easily-programmable interactive voice response (IVR) menus. These are virtual receptionists that existed even in the traditional telephony era, but can now be easily configured by anyone using an online portal. No technical expertise required. Read here to learn how they can benefit small as well as large businesses. 
Great numbers
You can also customise your number and make it either regional, national or free phone to attract customers and put across whatever message you want to your customers. You no longer need to be located at a particular location for a regional number, but simply let the cloud provider know what area code should prefix your digits.  
These are just a few of the many features a VoIP system can offer you. You can read more about it and how it helps any sort of enterprise. 
Make calls anywhere, anytime, from any device
Cloud telephony frees you from the restrictions of a traditional phone system. Whether you use a mobile, tablet, desktop, laptop or all of these devices; you can switch your calls seamlessly with no interruption to whichever device you need and can take your phone system anywhere. 
Employees can make and take calls on the move, allowing them to freely go where they need to go without losing out on leads or enquiries. This has been especially beneficial for businesses that rely on high levels of logistics like the shipping industry. 
With VoIP phone systems, your business is free to do what you do best, and your phone system will move with you.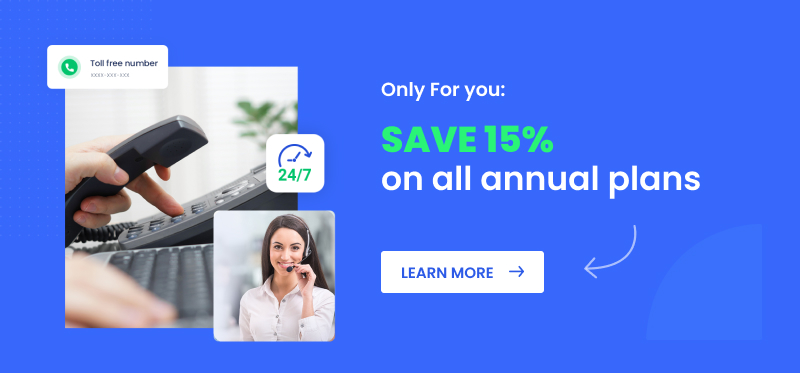 Expand your business worldwide
Businesses in today's hyper-connected world need to expand beyond their regional boundaries. Cloud-based VoIP systems make this arduous task as simple as pie. With just a few clicks, organisations can add or remove extensions allowing them to scale up (or down) at their will. As you grow, you can build a local presence, no matter where you are. With a VoIP, you can get numbers local to the markets you cater to from anywhere in the world. For example, you can run a business based out of the UK and cater to customers in the States.  
Monitor staff from anywhere
With Acefone's easy-to-use online portal, you will have full control over everything on your phone system. The online portal gives you access to detailed analytics on call costs, call time, waiting time, number of calls per agent and much more. With the hybrid work model becoming more of a norm, VoIP systems make it much easier for the workforce to balance work and personal lives while making it easier for managers to monitor them. Here's how it can help with ed-tech 
This means that you can manage your team if you are not in the same country or even continent. Furthermore, you can use it to gain valuable insights and sync your sales and support teams for better customer experience. 
These tools are invaluable for business owners and can be the key to ensuring you have highly trained, effective staff serving your customers; plus, with conference calling you can ensure the team is on the same page. 
A phone system that grows with you
With lots of extra features at your fingertips and the added flexibility of your phone system, the business is sure to start growing. VoIP phone systems will not hold you back and allow you to add as many extensions as you need to your phone system. 
This gives you the chance to hire as many agents as you need to keep up with customer demand – which is particularly useful in peak sales seasons. This doesn't only apply to large scale operations. VoIP systems are very helpful for small businesses too! 
Once the rush is over, you can remove these lines easily and can, therefore, take advantage of the ability to hire temporary workers to get you through the rush. Apart from agents, a VoIP system also has a high capacity for data and can be customized to your data requirements. 
A traditional phone system requires a lot of work to add and remove lines. With a VoIP phone system, however, this can be done in a few simple clicks and you can start monitoring the flow of calls through your business immediately through the online portal.  
Ready to enter the world of VoIP? Before taking the plunge, go through this infographic that highlights how to pick the right VoIP provider for your business.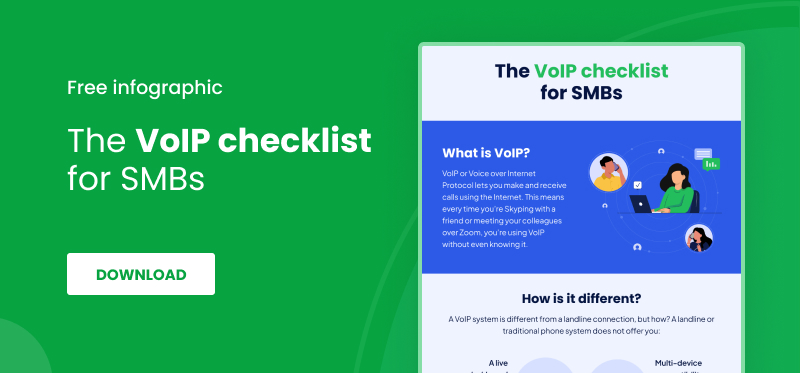 The Future of VoIP
Like your business, VoIP is also software that is growing and has a long way to go. We have already explained the issues with a PSTN system and why it became unsustainable before being gradually phased out (You can read more about that here). The advantage of VoIP is its minimal hardware and that the software can keep updating, not different from your cellphone. Furthermore, VoIP is multichannel and omnichannel software, customisable to the size of your business. Think of it as a set of building blocks that can be scaled up and down at your convenience.  
A VoIP system will never get old as it continues to update on its own. You won't have to spend on a completely new communication system a few years down the line. However, you will possibly have to replace your earphones! 
The Acefone guarantee
Most of the above-mentioned issues are often what hold back businesses from adopting cloud technologies. However, with Acefone, we assure that your experience is as seamless as possible.  
Our services use high-end encryption software so you never have to worry about losing your valuable company information. Moreover, with our refined VoIP technology, your business can experience true HD calls as our VoIP systems are multi-channel. Our systems work even on low bandwidth and come with 99.99% uptime along with a 24×7 support system to cater to every small need.  
In conclusion
VoIP has changed the way businesses communicate with their customers and employees. It has eliminated the need for bulky, space-consuming hardware and has turned communication into a seamless process so that you can focus more on running your business and staying connected with your customers.  
You are the focus of a VoIP system. It is built for you and according to the needs of your business and employees, something you can change with your business' changing needs and with the changing world.  
Shrishti Mathew is Acefone's assistant content editor. After three degrees and a year in journalism, she moved into tech marketing. When she isn't writing, you can find her reading, sleeping or trying out a new recipe.
https://www.acefone.com/blog/wp-content/uploads/2022/11/Feature-Image.jpg
910
1920
Shrishti Mathew
https://www.acefone.com/blog/images_acefone/logo.png
Shrishti Mathew
2022-11-17 09:00:09
2023-01-30 12:46:42
How VoIP can give SMBs an edge over your competitors