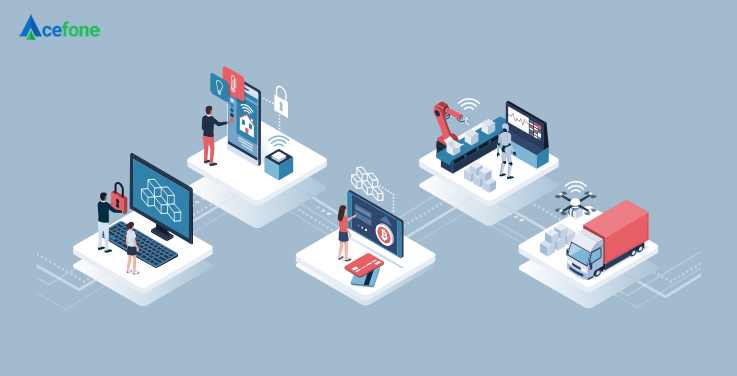 VoIP phones can be used in different ways and for different reasons depending on the industry you are in. Due to the flexibility and wide range of features available to users of VoIP phones, many industries can benefit from these hosted phone systems. Here are just a few examples of the industries that could benefit from a VoIP system and the role a hosted phone system could play.
VoIP in the Customer Service Industry
Customer service is difficult, agents can be subjected to a range of different types of queries, and they need to have all the information they need at their fingertips, with customers wanting quick and efficient resolutions to their queries.
A VoIP phone system makes this easy, by linking up seamlessly with CRM systems to ensure all data is in one place on an easy to use online portal. With the click of a button, agents can bring up everything they need to know about a customer and make detailed notes so the next agent can pick up where they left off.
VoIP phone systems also give you the ability to monitor both where customers are coming from and agent performance. This means you can make improvements to the customer journey and ensure your agents are performing well and delivering great service, and if they need improvement you can use the statistics and call recordings to deliver further training.
VoIP phones can make customer service much more efficient and ensure customers can always reach you, with enhanced reliability and the ability to place agents all over the world and have them easily connect with your phone system – so someone is always online to take your call.
VoIP in the Hospitality Industry
The hospitality business by nature is a fast-paced, 24-hour business; so round the clock communications are key to building and running a successful business. For hotels, you may have multiple locations all over the world, so VoIP provides free conference calling between sites.
This means you can easily liaise with colleagues all over the world to ensure a smooth service for customers. VoIP systems can also handle multiple calls at once, automatically diverting them to a customer service agent who is free at the time; this means no matter how many enquiries you get you will not miss a customer call again.
If your staffs are busy, the VoIP system has them covered. A virtual assistant can take any messages from a customer and send it to an email address of your choice, and you can answer these messages on the go and make sure customers are responded to in a timely fashion.
The support a VoIP system can give to a hospitality business is unrivalled, with amazing features making life easier for hospitality professionals; you are even able to customise your phone number to enhance your branding and make it easier for customers to remember.
VoIP in the Finance Industry
The finance industry is so fast-paced and never sleeps, but a VoIP phone system is robust enough to handle the pressure. In finance, every penny counts, so of course, using a cost-effective phone system is beneficial and shows great business acumen.
Aside from the cost, a VoIP phone system has the flexibility to keep up with the fast-paced financial industry; often accountants will need to visit clients or be on the move, and this is no problem for a VoIP system as staff can connect to your phone line from any device with internet connection, meaning they can go where they need to with no concern about missing an important call. They can also check any messages on the move with voicemail to email.
A finance professional needs to be reactive to changes, something which a VoIP phone system can help with. With the ability to add as many lines as you need, your business can cope in busy periods with ease; adding customer service agents who can direct your calls to the correct person or deal with new leads and enquiries for you.
The financial industry also operates globally, so with low call costs no matter where you are calling, you will not need to worry about running up a large bill, you can just focus on business.
VoIP in the Construction Industry
Construction workers are rarely based in an office, so need a flexible and portable phone system to move with them and not hold them back. VoIP phone systems are designed to be portable and can operate on any device with an internet connection, so construction workers can always be reached by customers and management no matter where they may be.
They can choose their preferred device and use their mobile phones to ensure they do not miss any customer enquiries.
A construction business may also have a number of different departments, so to ensure that customers/clients get straight through to the department they need VoIP phones can also have an IVR added to them to let customers choose the option which best matches their query.
VoIP phone systems can provide innovative solutions to many different industries and can help any business save on costs and grow on a global scale. If you would like to find out more about VoIP solutions in your industry, call Acefone today on 0800-084-3663.

Acefone provides a broad range of cloud communication services to businesses of all sizes, which includes Hosted Phone Systems, Free Phone Numbers, and Cloud Contact Center Solutions. Being the UK's leading provider of VoIP service provider, we always strive to provide excellent customer service and high-quality custom solutions to our customers.
https://www.acefone.com/blog/wp-content/uploads/2020/02/role-of-voip.jpg
376
737
Acefone Editor
https://www.acefone.com/blog/images_acefone/logo.png
Acefone Editor
2020-02-25 08:55:35
2021-08-02 15:24:03
Role of VoIP in Different Industries