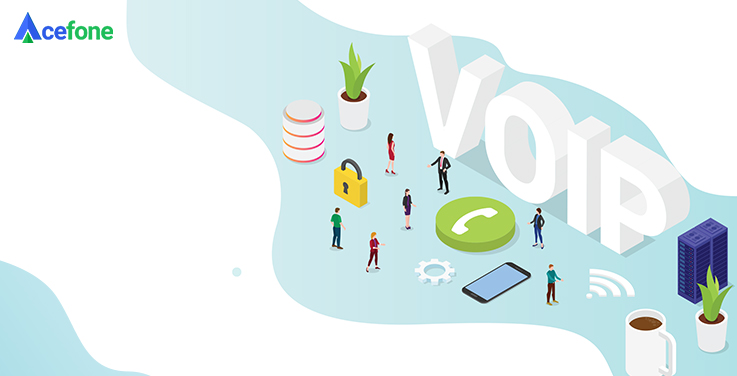 VoIP solutions are an ideal addition to any business owner who is serious about improving their communications and bringing their company into the 21st century.
With innovative solutions providing a range of amazing features and giving staff the freedom to work from wherever they want to, every business no matter if they are large or small needs VoIP solutions to truly unlock their business' communication potential and elevate their customer services.
In this article, we will explore exactly what a VoIP solution can do for a business and why your business needs to invest in this innovative technology.
Amazing Features From Your Hosted Phone System
VoIP solutions bring with them a whole host of benefits, from customisable telephone numbers to call conferencing and easy remote working.
The features which you can add to your hosted phone system are incomparable to a traditional phone system. With VoIP solutions from Acefone, you are in control of your hosted phone system and are free to pick and choose which features will work for your business and work within your budget.
So you can create the best, most feature-rich phone system which exactly matches your needs. Here are just a few of the exciting features available to you with a hosted phone system…
Custom Phone Numbers
Businesses large and small can customize their phone number; creating a freephone number, local number or memorable number.
Whatever your marketing goals, your phone number can help you achieve this.
If your business is wanting to look more established and larger, a freephone number is great for making this impression on customers.
Should your business want to increase local community ties and trust, a local number is perfect for this goal.
You can create a phone number that works for you with complete ease; and whatever number you choose, your calls will come through to your employees (wherever they may be) who will enjoy crystal clear communications with your customers. 
Easy To Manage Remote Working
All staff need to connect to your phone system is an internet connection and a compatible device (laptop, mobile phone or tablet) to work from and they are ready to take calls!
With Acefone's online portal, it is easy to manage remote workers even if they are in a different country to you; as you will have access to all the analytics you need to manage their performance and check everything is running smoothly.
With the online portal, you can listen to call recordings, see call statistics, agent waiting times, number of incoming and outgoing calls and much more.
You can also monitor the cost of your calls here too, ensuring you are on the right package for your business' usage. 
With a VoIP solution, your business will have all the tools necessary to open and run a hosted contact centre, with low costs and easily accessible management tools.
This gives businesses of any size the opportunity to broaden their recruitment drives worldwide, so you can hire the best talent and not just people who are local to you.
Direct Calls With An IVR System
If your business has multiple departments or locations and you want to save your agents time and therefore yourself money, an IVR system can help.
With a VoIP solution, this is completely personalisable and you can record your own message and add options which are relevant to your business' departments.
An IVR system lets a customer choose who they want to speak to based on their query, stopping your agents from having to keep transferring customers from person to person to find the right answer for them. 
These systems also help improve customer satisfaction, as customers spend less time on the phone to your business and are much more likely to have their query answered on the first call; which is great for both business and customer!
Plug-in And Play
At Acefone, we understand that your business needs to keep running and taking calls from customers.
You have a level of customer service to uphold and our VoIP solutions ensure that nothing will stand in the way of this. If you had a traditional phone system installed, you could expect lengthy downtime and a period of time where customers cannot contact you – which could lose you valuable business.
With a hosted phone system you can simply plug in your phones and start using them in minutes rather than hours; the simple set up means that you can start enjoying all the features of your hosted phone system right away, and customers will still be able to contact you and benefit from the crystal clear communications from day one.
If you are concerned about any downtime, then your business needs a VoIP solution to ensure that you are reachable at all times to your valued customers.
Secure And Compliant Phone Systems
Your customer's data is important and should be protected as much as you possibly can.
Particularly in today's climate data attacks are more frequent and customers are much more choosy about who they give their data to.
If you are to attract more customers to your business you need to have a secure and robust system which can handle their data appropriately, and a hosted phone system provides this for you.
Our VoIP solutions are fully compliant, adhering to PIC, FCC, GDPR and CPNI and data is stored in different geographical locations – adding an extra layer of protection for your business in the event of a crisis or attack.
Protect Your Business From Disasters
Should the worst happen, you as a business owner want all the protection you can get for your business.
With a VoIP solution, your phone system provides 99.9% uptime and you are protected from disasters, should anything happen to your physical premises you can pick up where you left off on another device and work from anywhere in the world while your office premises are repaired.
You also will not lose any of your precious data as it is securely backed up at a different location, so you can restore your system quickly and get back to business as usual in no time.
Why Does My Business Need A VoIP Solution?
If you want to update your communications and provide an improved experience for customers and a more effective system for your employees, through a phone system which connects seamlessly with your CRM system; a VoIP solution is for you.
If you want to keep your customer and business data safe and secure while ensuring your business can carry on through whatever life throws at you, a VoIP system can make this happen easily.
 Finally, VoIP solutions do not only feature-rich and secure – they are also cost-effective.
With call costs much lower than traditional phones, even with international calls as they are made through your internet connection.
So, if you want a telephony solution to save your business money while improving your customer relations speak to one of our expert advisors today on 0800-084-3663 and see what VoIP can do for your business.

Acefone provides a broad range of cloud communication services to businesses of all sizes, which includes Hosted Phone Systems, Free Phone Numbers, and Cloud Contact Center Solutions. Being the UK's leading provider of VoIP service provider, we always strive to provide excellent customer service and high-quality custom solutions to our customers.
https://www.acefone.com/blog/wp-content/uploads/2020/04/why-every-business-needs-voip-solution.jpg
376
737
Acefone Editor
https://www.acefone.com/blog/images_acefone/logo.png
Acefone Editor
2020-04-28 07:32:01
2021-08-03 14:07:26
Why Every Business Needs VoIP Solutions