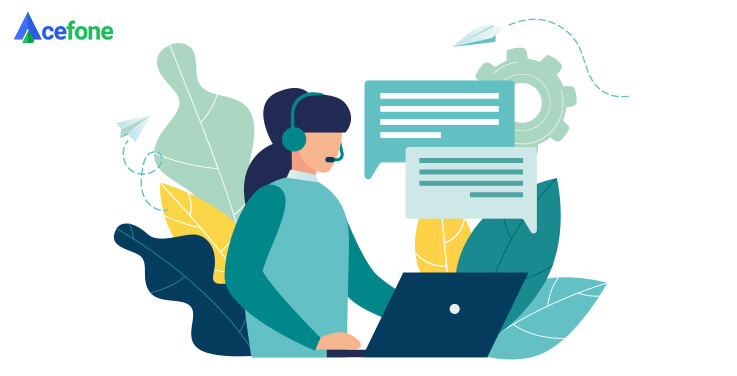 SIP, or Session Initiation Protocol, can open up your business to a world of new opportunities and possibilities. If you have a traditional PBX system and are looking for ways to save money then SIP is a natural first step into the world of VoIP. 
The technology allows you to enjoy the benefits and security of VoIP software using your existing infrastructure, without having to be completely cloud-based. It is ideal for businesses that don't want to lose the capital they invested in existing phone lines but would like a more flexible solution.
This blog explores the various dimensions of SIP––its functionality, advantages, and how it helps businesses establish a local presence. 
What is SIP?
Session Initiation Protocol (SIP) replaces traditional phone trunks with SIP trunks. It uses Internet connections to transmit calls between PBX (Private Branch Exchange) and PSTN (Public Switched Telephone Network).
SIP sets up 'sessions' to send messages over the internet, thereby reducing call costs. These messages can be voice calls, video, or even instant messages.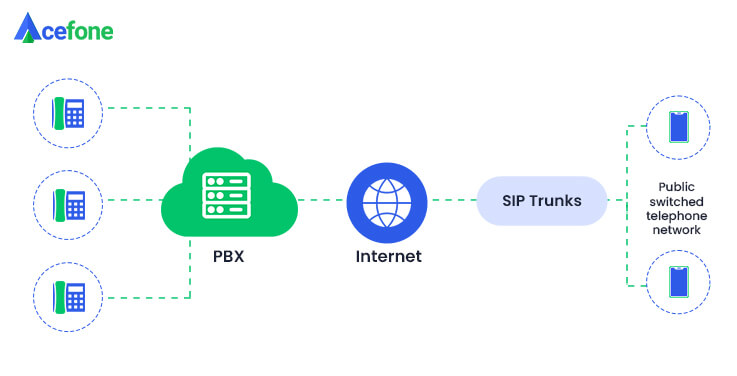 Primary functions for a SIP connection include:
Discovering user location

Determining user availability, and transferring calls to other devices or voicemail in case of unavailability

Ascertaining capability of the end-user in terms of compatibility between the communication channel and user's device

Looking at which encryption/decryption methods would be suitable

Establishing a session or a call

Session management which includes transfers, termination, etc.
 It adds a layer of security to your telephone system, ensuring that your business communications remain safe and secure.
And that's not all, SIP trunks are easy and inexpensive to purchase, allowing you to conveniently scale your phone system as you grow.
It is a well-known fact that traditional phone lines will become obsolete in the forthcoming years. A SIP-enabled phone system implies enhanced security and flexibility––two qualities that will make you and your staff future-ready.
To summarise, SIP is a way to enjoy many features of a hosted phone system, without having to completely overhaul your telephone system.
What are the benefits of SIP?
From being pocket-friendly to packed with features, SIP has a lot to offer to your business. Moving from a traditional phone system, your staff will be astounded by its capabilities and you'll wonder how ever you operated without it.
1. Cost-effective
Purchasing a SIP trunk is significantly cheaper than acquiring a new traditional phone line. In fact, it generally costs around 8 times lesser than an on-premise phone line. This means that you will get a return on your investment both instantly and further down the line as well. No matter how large your business gets, the system will keep saving you money. And the more SIP trunks you put into use, the greater the saving. 
2. No installation costs
Scaling up your traditional phone lines brings the associated cost of an engineer installing the service along with it. New lines are likely to need maintenance which can also lead to increased costs.
With SIP trunks, once your traditional phone system is configured, adding additional lines or capacity comes without an installation fee and requires no additional site visits. Therefore, you needn't worry about costly installations or an engineer callout fees.
3. Quicker fixes and upgrades
One does not need an engineer to make changes to their SIP phone system. This means that most fixes and upgrades are much quicker and don't result in any downtime. 
The service provider takes care of regular maintenance and updates, and all one needs is an active connection. These upgrades improve the security of the system, add the latest features, and eliminate any bugs and lags.
4. Control your phone system with cloud-hosted telephony
Your online portal can give you access to a range of insights and statistics which would have never been available with a traditional phone system. Keep track of call times, recordings, real-time data, and more to ensure that your team is performing optimally at any given moment. 
The benefits don't end here. These insights improve your business performance. They help you understand if you need more staff during peak times, and then you can rota accordingly. These insights can also indicate if the staff needs extra training. The applications are, as you may have guessed, endless. 
5. Establish a local presence with amazing features
Leverage the plenty features that come with SIP to establish a local presence and elevate the customer service experience that you deliver. 
One of these is having a local number that your agents can use. When customers see a local number, they feel more confident in reaching out to a business. While the numbers can be from any region, and you could be based anywhere in the world, they give off the impression that you're well established in a particular region. 
You can create as many numbers as you want and each number will go through to your agents, and the customer won't see or hear any difference.
SIP also enables remote working which further helps businesses cement a local presence. As explained earlier, staff can connect from anywhere in the world, as long as they have a stable Internet connection. This also allows you to hire talented employees without worrying about the restrictions that come with geographical boundaries. 
SIP trunks are fantastic for those with traditional phone systems to enjoy the features of a hosted phone system. They provide a flexible way to upgrade your telephony and exercise greater control over your traditional PBX system, without having to break the bank! To find out more about SIP, call our expert team at 0800-084-3663.

Olivia is an outgoing person who enjoys writing, is an SEO enthusiast, and often interacts with others in intellectual conversations. She enjoys listening to music in her free time. Connect with her on Linkedin
https://www.acefone.com/blog/wp-content/uploads/2020/12/everything-about-sip-trunking.jpg
376
737
Olivia Trott
https://www.acefone.com/blog/images_acefone/logo.png
Olivia Trott
2020-12-03 10:06:08
2023-03-24 11:33:13
The ABCs of SIP: What Is It And What Are Its Benefits