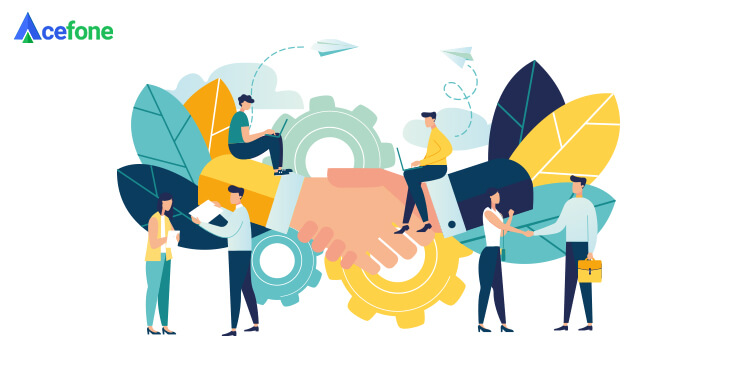 Businesses generally tend to use a conventional telecom set up to meet their communication needs. They use a classic Public Switched Telephone Network (PSTN), which is a circuit switch network requiring physical connections between two nodes for a call to connect.
This is incredibly archaic and is thrusting most modern organisations towards SIP trunking because of scalability and flexibility issues.
PSTN networks can handle only voice calls and they no longer serve the needs of modern organisations.
What exactly are SIP trunks? 
How do they work and what benefits do they hold? The term SIP here stands for Session Initiation Protocol. It refers to a very popular protocol used widely in the telecom space.
SIP helps manage large scale multimedia communication needs like voice and video calls by initiating and terminating the connection for such a call request. They replace traditional analogue circuit protocols. 
It is, in fact, the technology protocol behind some of the most popular communication services like Facebook Messenger, Skype etc.
A trunk, on the other hand, refers basically to a pipe which carries and transmits the data channels. It acts like a link or a line that connects two nodes and helps transmit signals between them.
SIP trunks, hence, stand for the process and the means of transmitting voice and other such communication over the internet. These are usually capable of higher quality and capacity as well. But with a catch.
SIP trunk providers offer a specific version of the VoIP services. SIP trunks work using what is known as an Internet Protocol-based Private Branch Exchange (PBX) system and this eliminates the need of each participant being physically connected to each other. This lack of physical connection between separate nodes makes the system vastly more efficient and greatly increases its capabilities.
"The current global pandemic has affected a massive change in the way organisations function and in the way customers engage with them. It has never been more important to upgrade and to be in sync with the demands of the age."
How SIP trunking helps businesses build a strong customer connection
There are five clear benefits of using a SIP trunk to serve the communications needs of your organisations.
1. Save up on costs – 
One of the most prominent advantages of using a SIP trunking system is that it is massively cost-efficient. For example, since it doesn't rely on PSTN protocols and leverage internet technology for communication, domestic and international calling is a lot cheaper.
SIP is IP-based and hence it connects directly to the Internet Telephony Service Provider. It allows the call to terminate directly at the provider's termination point, from where the call is transferred to the domestic PSTN. This makes sure that you're charged just for a domestic call no matter the country that call may be placed to!
2. Near unlimited scaling potential – 
With an unlimited number of channels which are allowed per trunk, SIP trunks are scalable by their very design. That aspect apart, there are no physical analogue circuits or physical connection required between two nodes, unlike PSTN.

This again practically removes most constraints to a rapid scale-up in terms of usage and applications as the organisation may deem fit without a serious need to invest in physical hardware.
3. Adds on to your existing infrastructure – 
One of the best aspects of SIP trunks is that they can build upon and add on to an organisation's existing communications infrastructure and vastly enhance its efficiency and productivity.
Since there are no traditional telephone lines involved here, SIP trunks leverage your existing internet connection to fulfil your organisational communication needs. 
Hence, this allows it to function as essentially an extension of the company's existing phone setup. 
Similarly, the call itself goes through your existing Internet Service Provider (ISP), thus ensuring that your organisation's existing hardware is utilised to add greater functionality and capabilities to the organisation.
4. Builds on business resilience – 
Especially in the wake of frequently occurring natural disasters such as forest fires, cyclones, floods, etc., developing organisational and business resilience is an aspect no company can afford to ignore.
Again, owing to the feature that SIP trunks do not necessitate any physical connection per se, they're less exposed to such events and the associated damage. 
Moreover, there are a large number of features which SIP trunks allow that help add to the resilience of these networks greatly—rerouting via different servers, dispersed traffic points, having backup trunk service providers etc.
5. Unified processes and setup – 
SIP trunks eliminate the need for both telephone voice as well as data networks. Its Internet Protocol-based nature allows the organisation to make use of it via one centralised network.
Moreover, such a process comes with a number of options in terms of flexibility and diversity of use cases. 
For example, such a service allows you to use the same singular number as a local number for everywhere in the world. 
Similarly, it allows for a seamless transfer and rerouting for a business which operates from multiple different locations without a hitch. 
SIP trunks come integrated with a number of modern features, advanced capabilities, and associated benefits.
From cost savings to the need for a minimal investment in expensive hardware, from large-scale mobility to operational flexibility, from opportunities for network consolidation to the unified communications platform—the benefits and capabilities are immense. It has something for businesses of all sizes and scope.
In the post-pandemic world that businesses would be operating in, these benefits are more than being just an add-on. As consumer needs and demands have evolved, they've become more impatient in a sense.
Moreover, saving on costs and generating the maximum possible return on investment will become the dogma for survival for each and every business, given the existing financial conditions.
Given this reality, SIP trunks confer invaluable advantages for a business and organisation to grow, expand, and thrive in these newer operating environments. 
Get in touch with some of the best SIP Trunk providers and see the face and fate of your business change for good!

Acefone provides a broad range of cloud communication services to businesses of all sizes, which includes Hosted Phone Systems, Free Phone Numbers, and Cloud Contact Center Solutions. Being the UK's leading provider of VoIP service provider, we always strive to provide excellent customer service and high-quality custom solutions to our customers.
https://www.acefone.com/blog/wp-content/uploads/2020/11/leverage-sip-trunks-for-business.jpg
376
737
Acefone Editor
https://www.acefone.com/blog/images_acefone/logo.png
Acefone Editor
2020-11-03 10:52:43
2020-11-03 10:52:43
Here's How To Leverage SIP Trunks For Your Business