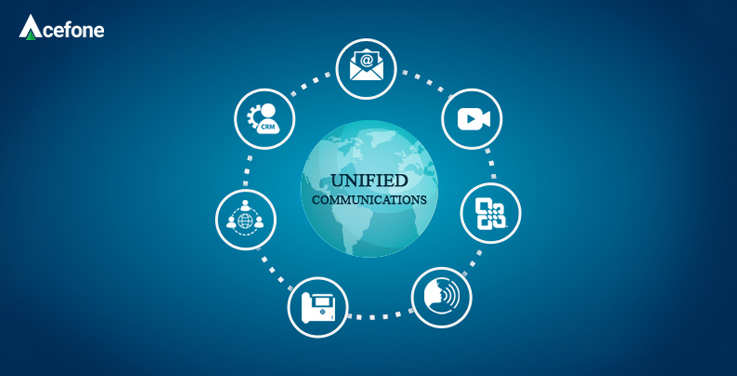 A good customer service does increase the sales of a business. Hence, the customer needs a medium through which he can communicate with the business organisation.
Gone are the days of writing letters, not only it consumed a lot of time but also often went unnoticed and receiver hardly responded to the customer's query or complaint.
With the advancement in technology, the communication gap between the two has been filled with various communication services. Out of all the possible communications, Unified Communication (UC) is the best solution for a business.
What makes Unified Communication different from other communication services?
Unified Communication is a combination of more than one type of communication in a single entity. It includes channels such as voice, text, video, and social media.
How would you define Unified Communication?
(UC) is defined as the integration of all the communication services used in business and marketing. It integrates chat and IP telephony and email, voice email, fax etc. to optimise business communication.
It is the unification of all individual components in one homogeneous medium to improve the efficiency and user experience. Cloud technology has made this unification much easier. A fully cloud-based model helps in connecting better with customers. 
The services included are SMS, email, fax, video, voice, chat, IVR and more.
Communication is not only about sending or receiving messages. It is about understanding. It has to be effective, and it means the receiver must get the message just the same way the sender intended it to. 
Effective communication is like a pillar of strength for any business. It helps to maintain a healthy relationship between the business and customers.
Unified Communication gives a chance to the customers to inquire, send feedback, and ask questions to the organisation. It also allows communication between the employees divided by the departments or location to send, share, and receive information without delay.
UC allows a single user to access communication services such as SMS, e-mail, fax, video, voice, chat, and many more through a single portal. It is a solution which combines all the separate channels into one.
Improves Employee Collaboration
Unified Communication enables your employees to collaborate and communicate irrespective of the different departments or geographical differences. It provides the employees with the live chat feature, which is a better and faster way to communicate within the office than sending emails.
Impress Your Customers
Unified Communication provides faster and easy communication between the customers and customer service agents. Appropriate and immediate responses with the help of the UC system has resulted in gaining the trust of customers. Customers are more satisfied with the consistent and fast response through UC.
Mobility
Mobility lets enterprises of any size to make use of their smartphones and tablets in a secured, cost-efficient, and hassle-free way. It lets the users to use the device of their choice from any location (home, office or in a bus).
It provides communication through multiple devices and device types. A user can access it from more than one device irrespective of the device type (smartphone, personal computer, laptop, or tablet).
Increase in Revenue
Good customer service ultimately results in increased revenue. As good customer service improves the sales of your business. The use of cloud-based UC has effectively influenced business growth.
Reduced Costs
Unified Communication reduces business expenses to a large extent. It is a modern technology which runs through the internet. You only need a good internet connection, a headset and a computer or a hand-held device.
Scalability
In context to Unified Communication, scalability refers to the ability to addressing the varying communication needs of the organisation. UC system can be customised by scaling up or down, easily through the portal itself.
Reliability
UC provides reliability in terms of reducing the downtime.  It is highly dependent on the smooth functioning of the network. Service providers take tough measures to ensure the business continuity that makes it even more reliable. The reliability of UC results in customer satisfaction which eventually upgrades the business's revenue.
Security
It is the responsibility of the service provider to host the services on the most secure data centres. So, the users should choose the service provider after proper research. One of the reasons that makes UC more secure than traditional communication technologies is that all business applications are integrated into one system.
Having one integrated system which provides high security by protecting all apps and data within the network. It is very much secured than having multiple insecure communication channels separately.
Conclusion
Unified communication is a very good way to save time whilemaking a communication. Fast response time always attracts customers. It helps in connecting all the employees on a single platform. Also, it increases employee productivity as they can collaborate easily producing better results. Good communication is the key to a highly productive work environment.
Unified Communication supports the businesses to market products or services to the customers.  With time, Unified Communication is very likely to replace the traditional system, completely.
Have a question about Unified Communication? Contact our Solutions Consultant at 0800-084-3663,

Swastika Dhakal is working with the Digital Marketing team at Acefone. She is interested in technology and likes to write on it. She loves to explore historical places, as well.
https://www.acefone.com/blog/wp-content/uploads/2020/01/unified-communication-important.jpg
376
737
Swastika Dhakal
https://www.acefone.com/blog/images_acefone/logo.png
Swastika Dhakal
2019-09-27 11:30:54
2021-07-28 10:28:36
Here is Why Unified Communication Important Today