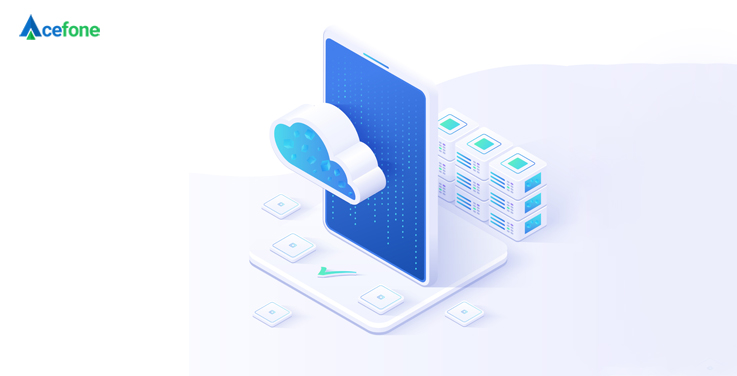 A hosted phone system gives your business access to many exciting features a traditional phone system can't offer.
If you're considering making the change to a cloud-hosted phone system but aren't sure which features could benefit your business the most, we've put together some of the top features which can be used with hosted phone systems to enhance your business communications with customers.
Virtual Assistant
If you're a sole trader or a small business, a virtual assistant can act as a professional receptionist ensuring you never miss an important message from a customer. The virtual assistant will answer your calls when you can't and will forward any messages or voicemails over to your email address, so you stay on top of incoming leads from wherever you are.
A virtual assistant is great for smaller businesses wanting to look like a larger, more established and professional organisation. It also greatly improves the customer experience as customers are not struggling to get in touch with you; they can leave a message and simply wait for a call back with an answer to their query.
Work Remotely From Anywhere In The World
A hosted phone system doesn't tie you down to one location, it allows you to work from anywhere in the world – as long as you have a device and internet access, anywhere can be an office.
This also means that if you have an international customer base, you can hire customer service agents anywhere in the world who will be awake to answer calls from customers in different time zones. This means your customer service will be exemplary and might be the deciding factor for a customer using your services or that of a competitor.
Customise Your Phone Number
With a hosted phone system, you can customise your number to suit your business' needs. If you'd like your business to have a national and professional look, an 0800 freephone number could be perfect for portraying the right image.
If you'd like to strengthen local ties, a local number can be created to enhance trust between your customers, and your business and you have the option to create a memorable phone number to enhance your brand.
With each of these options, calls can be forwarded to agents in any part of the world, so no matter which number you choose you can rest assured that your customers will receive a smooth communication service.
Manage Your Phone System Online
A VoIP phone system allows you to manage every aspect of your telephony from an easy to use online portal. From call recordings to call statistics, you can monitor and control every aspect of your telephone system from any of your devices.
This means you can ensure you're getting the most from your communications; monitoring call time, agent waiting time and much more allows you to take control and gives you the power to make changes where necessary.
You can also monitor your call costs through the online portal, ensuring your calls are within your chosen budget and where you can make changes; additionally you can access all the features from our online portal adding and removing these where needed.
The online portal is perfect for managing your agents all over the world, from wherever you might be – so you can ensure that you are getting the most from your communication systems.
Collaborate With Your Team
A hosted phone system allows you to easily collaborate with your team, from wherever you are and wherever they might be around the world. Businesses with multiple branches or offices can have staff communicating freely between each other, sharing expertise and knowledge.
This collaboration can help your customer service, as staff will be able to refer customers to the best person possible to answer their query – meaning customers will be more likely to get their query answered on the first call.
Hosted phone systems also have the functionality to hold conference calls, so you can hold staff meetings with employees everywhere – they can simply dial in from whichever device they are using and join in the meeting. This will help you boost staff morale and increase teamwork, creating a collaborative atmosphere.
There are many more features available to users of our hosted phone systems, each suited to a different business need. From call recording to virtual assistants, there are plenty of features ready to add to your phone system, you can take a look through the full list here.
If you'd like to know more about how a hosted phone system can bring an exciting range of features to your telephone systems, call one of our expert advisers on 0800-084-3663.

Acefone provides a broad range of cloud communication services to businesses of all sizes, which includes Hosted Phone Systems, Free Phone Numbers, and Cloud Contact Center Solutions. Being the UK's leading provider of VoIP service provider, we always strive to provide excellent customer service and high-quality custom solutions to our customers.
https://www.acefone.com/blog/wp-content/uploads/2019/12/features-of-hosted-phone-system.jpg
376
737
Acefone Editor
https://www.acefone.com/blog/images_acefone/logo.png
Acefone Editor
2019-12-05 06:49:20
2021-07-28 15:21:05
Top 5 Features Of Hosted Phone System