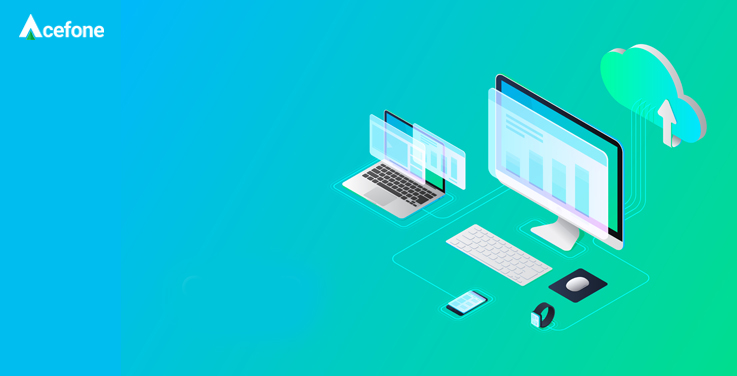 Thinking of moving to a hosted business phone system? You'll be surprised how many exciting features you'll have access to when you make the switch!
We've put together some of the top features to show you what you'll get when you switch.
Access To Online Portal
Easy to use and intuitive, web portal is designed for business owners who want to keep control of their phone systems and access a range of analytics to monitor the performance of their agents.
The online portal gives you information on call costs, agent waiting time, agent call time, and gives you the opportunity to make changes to your plan based on your business' needs. This can be accessed from any device, anywhere, meaning you can manage your phone system from anywhere in the world.
Call Recording
A hosted phone system stores your call recordings in the cloud, so you can review calls at any time. You can use these recordings for training purposes to help new staff get to grips with what to expect from your customers using real-life examples.
This feature can also be used to solve any customer complaints or queries; calls can easily be reviewed to help clear up any questions, protecting both business and customer.
Voicemail To Email
If you're a sole trader, you will probably be on the go most of the time and won't be available to answer calls when you're with a client. A hosted phone system records your voicemail messages and sends them to any device for you to access via email, so you can keep up to date with any incoming enquiries from wherever you are.
Add and Remove Lines As You Need
If your business gets busier in different seasons, you can add and remove phone lines in minutes as and when you need them. This gives you the freedom to easily hire temporary workers based anywhere in the world to help pick up the higher call volume and make sure you don't miss an enquiry.
Hire Workers Anywhere In The World
A hosted phone system allows your business to become truly global. Workers can use any device to take calls, so they can be based anywhere in the world. Someone will always be online to take a customer call, and you can expand your business globally, at no extra cost from your telephony and no need for physical office premises.
Reliable Phone System
A hosted phone system is much more reliable than a traditional system. If disaster strikes and something happens to your office building, your business is cut off for a long period while repairs are carried out.
With a hosted phone system you don't need to worry, if something happens to your office your staff can pick up where they left off immediately from another internet-enabled device; with no interruption to your customers.
Add a Virtual Receptionist
A virtual receptionist can be there to take calls when you can't, allowing customers to record messages and forwarding them to your chosen email address ready for when you're back at work.
This gives an excellent impression to your customers showing great professionalism and giving you peace of mind that nothing will be missed.
Customise Your Number
A hosted phone system lets you customise your number to enhance your brand and give your chosen impression to customers. A local number can help increase trust and enhance your community ties, a free phone number breaks down barriers and allows you to appear more professional and established while a memorable number can become an integral part of your marketing campaigns.
Each number can be tracked through your marketing campaigns and can help you see what's working and what isn't.
If you'd like to find out more about how a hosted phone system can add plenty of exciting features to your business, call our expert team on 0800-084-3663.

Acefone provides a broad range of cloud communication services to businesses of all sizes, which includes Hosted Phone Systems, Free Phone Numbers, and Cloud Contact Center Solutions. Being the UK's leading provider of VoIP service provider, we always strive to provide excellent customer service and high-quality custom solutions to our customers.
https://www.acefone.com/blog/wp-content/uploads/2020/01/hosted-phone-system-from-traditional-isdn-lines.jpg
376
737
Acefone Editor
https://www.acefone.com/blog/images_acefone/logo.png
Acefone Editor
2020-01-06 12:17:08
2021-07-28 15:35:24
What You'll Get When You Move To A Hosted Phone System From Traditional ISDN Lines