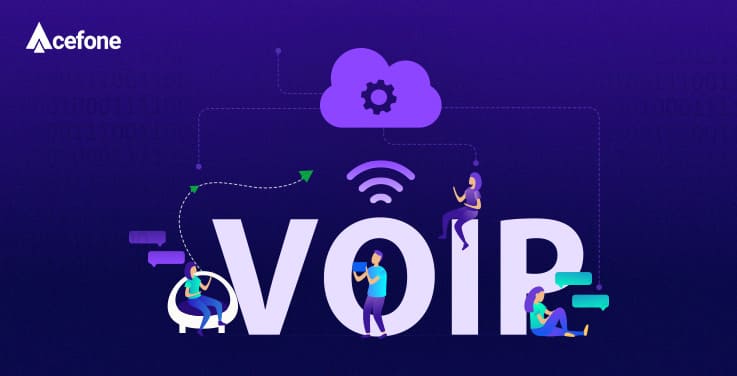 Cloud-based VoIP services have become an essential part of business communications. 
VoIP, or Voice over Internet Protocol, is a cloud-based phone system that handles inbound and outbound calls via an Internet connection. VoIP solutions enable users to make and receive voice calls through smart devices like computers, mobile phones and so forth. 
VoIP is a technology used by both consumers and businesses. In fact, modern businesses of all scales and sizes prefer VoIP services over traditional phone systems. 
And the reason is quite simple. 
They can leverage capabilities such as auto-attendants, call routing, call forwarding, DND, Interactive Voice Response (IVR) systems, etc. without breaking the bank.
These features enhance business productivity by allowing employees to answer calls from anywhere using the Internet. Thus, they are well-suited for both in-office and remote working models.
VoIP solutions are a no-brainer for businesses, but they have their own set of limitations. The good news is that your provider can solve these issues for you and you won't need to hire a support team. 
This blog will explain common VoIP problems and ways you can fix these problems. 
Network and LAN issues
This is one of the most common problems that can arise while using VoIP solutions. 
Network issues involve problems between personal computers or the equipment (such as router or modem) that connects them with the Internet. For instance, the router could be incompatible or malfunctioning.
For efficient VoIP performance, you need a router that prioritises calls over less critical network traffic. This method of prioritising network traffic is also known as Quality of Service or QoS.
How to fix it?
Reset your router and computer to check the wiring

Upgrade your router

Make sure you configure your router for VoIP prioritisation

Try disabling the SIP application layer gateway
Choppy audio
A choppy audio call refers to a broken voice or missing words when both parties connect on a call. 
The most common reason behind choppy audio is packet loss and insufficient bandwidth. 
It doesn't necessarily mean you have a slow Internet connection or there is too much network traffic. It simply means that there is another application consuming bandwidth at the same time. 
How can you fix it?
Turn off all the devices connecting to the network

Test your bandwidth speed

Check if there are any other applications running at the same time

Check for any malware by installing anti-malware software

Configure router's QoS to prioritise voice application
Echo
Echo occurs when you can hear your voice repeated over a phone call. 
It exists in traditional telephone systems too but goes unnoticed due to low latency and echo cancellation. There are mainly three reasons why echo occurs in a call: an outdated device, headset lag or network latency. 
The echo is directly proportional to latency. As the latency increases, echo increases accordingly. 
So, how do you fix this?
Place your router away from the computer's monitor

Ensure the cables are not too long and protected from moisture

Disconnect any caller ID devices connected to your router

Replace your calling equipment if it's too old

Cover the mouthpiece of your phone
Jitter or data packet loss
Jitter occurs when there is a variation in the arrival time of data packets. 
The jitter buffer collects data packets and constantly sends them to the receiver so they can have a clear conversation. 
However, when the jitter buffer is wrongly configured, it results in dropped packets and low-quality voice calls. 
Here's how you can fix this problem
Check if the chords are connected to the router properly

Update your software and restart the application

Upgrade your hardware

Check your wifi connection

Address the bandwidth configuration

Install anti-virus to check the network security vulnerability
Calls go to voicemail
You could face serious issues if all your calls start going to voicemail. You will be unable to assist callers and your customer service delivery will be severely affected. Callers will be left disappointed without any resolution and ultimately, your reputation will get affected. 
Here's how you can solve the issue before it snowballs into a bigger problem:
Ensure that your phone is registered with the VoIP provider

Check if your phone is on Do Not Disturb (DND) mode

Review your call forwarding configuration and verify that your phones are connected
Latency
Latency refers to the time taken for audio data to move from a phone or a computer to your headphones. In simpler terms, latency is the delay in audio that callers usually experience.
The amount of lag depends on your network, device and headsets. To avoid latency, ensure that your device is updated and connected correctly.
Some ways to fix latency are: 
Check your bandwidth

Disconnect unused devices

Update your hardware and router

Check the quality of the service setting

Consult with your service provider
The call connects with no sound
If "can you hear me?" is a statement you frequently repeat during your calls, then chances are that the voice packets are only travelling in one direction. 
It could be a one-way audio call where one person can't hear the other or no audio call where both the people on a call are unable to hear each other. 
Such issues happen when firewalls block RTP packets. 
To fix them:
Check your equipment to eliminate faulty phone and handset earpieces

Simplify the LAN connection and VoIP device connected

Reconfigure your LAN network

Conclusion
VoIP is the present and future of business communication. It makes it easier for employees, management and associates to collaborate internally and communicate with clients. 
Clients can connect with your support team faster, receiving a better customer experience and sticking with your business for longer. 
While VoIP has its own set of problems, they are easy to resolve without any external help.   
At Acefone, we offer the best VoIP solutions along with excellent customer support that is sure to help your business run without any discontinuity. 
Contact us at 0800-084-3663 or drop an email at [email protected].

Saurabh is a content writer at Acefone. He is a fan of standup comedy, football, and Hindu mythology. He is fond of travelling to unexplored places, meeting new people, and having newer experiences that enrich his soul. Connect with him on Linkedin
https://www.acefone.com/blog/wp-content/uploads/2021/11/common-voip-problems-and-their-solutions.jpg
376
737
Saurabh Sharma
https://www.acefone.com/blog/images_acefone/logo.png
Saurabh Sharma
2021-11-22 09:42:46
2022-04-25 11:00:03
Common VoIP Problems and How to Fix Them