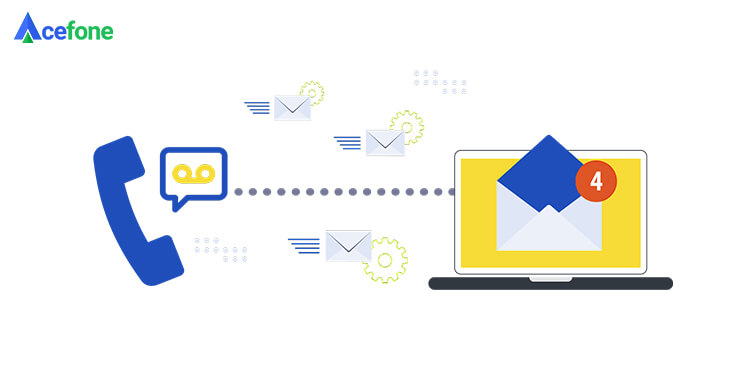 Your VoIP phone system has plenty of handy features, but the voicemail to email tool stands out for its utility and simplicity. Not only does it help save time, but ensures that you never miss a message. This feature can be the difference between securing a sale and losing out to a competitor. 
When it comes to utilising and running your business smoothly, voicemail to email is your right-hand man. The advantages of using it are endless. 
#1 Never Miss a Call Again
Whether you're a business owner or part of a busy sales team, let missed calls become a thing of the past. 
Every voicemail message you receive to your phone will be forwarded as a sound file to your email address. This means that you can continue your work and listen to the voicemails later. Voicemails can be saved in your emails for as long as your provider allows. The tool eliminates any chance of messages being accidentally deleted or overwritten from your desk phone; these are saved for future retrieval.
Sometimes, a missed call can mean that your customer might move on to your competitor. However, a prompt callback will impress your customers and solve that issue immediately.  Voicemail to email helps keep track of your messages and calls and ensures that you do not miss anything important.
#2 Deal with Customer Enquiries more Effectively
With customer voicemail saved on your email, it's convenient for you to tend to their queries more quickly. Rather than going over the process again, you can straightaway share relevant information. This saves valuable time and you can simply call the customer back with a hassle-free solution. 
If you find a message with an issue that you can't solve, you can pass it on to the concerned department. Voicemail to email can be used as an alternative to time-consuming callbacks. While you should try to directly solve all queries, sometimes voicemail is an easier alternative. Customers can explain their issues in detail and you can come up with a better solution.
#3 Go where you are needed, not where your Phone Dictates
Voicemail to email allows your staff to keep a tab on multiple tasks at the same time, without the risk of you missing out on important calls or new leads. For smaller businesses that may be required to work in multiple departments, this comes as a boon. Agents are instantly notified every time they miss a call that is sent to their emails. 
Your staff will no longer be chained to their desk phones. They are free to use any device and take their phones with them wherever they go, as long as there is a good Internet connection. 
Timings are also more flexible, as customers have the option to leave a message should they wish to. Cloud-based phone systems give your business a professional edge by making customer service more flexible and efficient.
#4 Recordings are Securely Sent to your Email Address
With voicemail to email, your customer recordings are always secure. They get saved on email rather than a desk phone where it could be accidentally deleted. Your messages will not be missed out or intercepted by someone else. A poorly-protected voicemail could lead to an information breach too. 
On a cloud phone system, your voicemails will be accessible only to you. If you accidentally delete an important message, you can simply restore it from your deleted files. You won't run out of space either; your voicemails will always be available for future reference. And all this will be processed on your email server and be accessible from any device. All your voicemails will be safe and secure, ready for when you need them. 
#5 Real-time Notifications
Voicemail to email notifications is sent immediately. Some providers send notifications at specific time periods during the day, leaving the customers and stakeholders waiting for hours. But that's not very professional and only agitates the customers. By using voicemail to email on your cloud phone system, you can ensure that you are instantly notified of any voice messages and can deal with them as soon as you are free.
In many ways, voicemail to email can help businesses of all sizes keep up with customer enquiries and not fall behind in their follow up calls. This feature gives you a unique opportunity to impress customers and be more efficient in solving their problems. This boosts your reputation in customer experience. 
If you would like to find out more about Acefone Cloud Phone System and its voicemail to email feature, call our expert team on 0800-084-3663.

Olivia is an outgoing person who enjoys writing, is an SEO enthusiast, and often interacts with others in intellectual conversations. She enjoys listening to music in her free time. Connect with her on Linkedin
https://www.acefone.com/blog/wp-content/uploads/2020/08/voicemail-to-email-feature.jpg
376
737
Olivia Trott
https://www.acefone.com/blog/images_acefone/logo.png
Olivia Trott
2020-08-24 06:57:17
2023-01-23 05:32:25
Never Miss A Call Now With Cloud Phone System's Voice To Email Feature