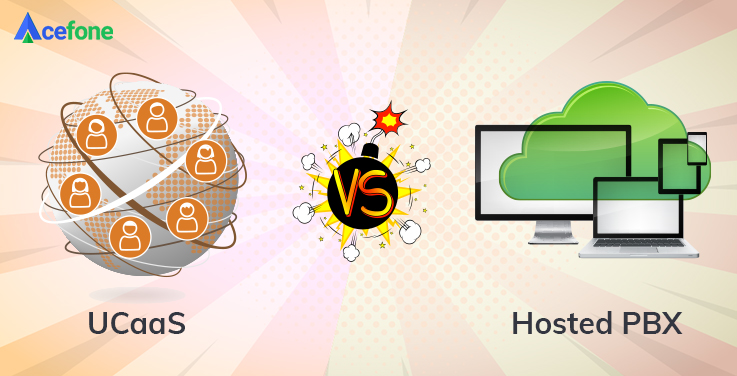 Unified Communication as a Service or Hosted Private Branch Exchange?
This is a question that has been floating amongst the businesses when it comes to choosing a communication solution for the organisation.
Both HPBX and UCaaS solutions are often used as communication systems in small businesses as well as large enterprises.
And because of their customer-prior interactions being so popular among businesses, many business owners make the wrong choice for their company.
The communication between your customer and your business is very important for your company to grow and make a profit, and thus, it is important to find the communication solution that fits your organisation the best and makes it easier for the managers and agents to provide the customers with an excellent experience.
To get a clear view of the dilemma, it is important to know both Hosted PBX and UCaaS solutions before moving any further into the details.
Hosted PBX
A Hosted PBX is a cloud-based solution, which uses VoIP technology, that allows seamless communication without any on-premise hardware or IT related hassles.
Additionally, Hosted phone systems or Hosted PBX comes with a lot of features that VoIP offers which makes it very beneficial for most businesses.
A Hosted PBX or Virtual PBX allows businesses to transform and modify their business communications to provide the customers with an excellent experience.
UCaaS
UCaaS or Unified Communication as a Service is also a cloud-based service which focuses on integrating all the business communication at a single place.
Unified Communications allow the integration of all communication channels such as chats, texts, voice and video with what your business is already using, making it easy for the agents to handle the customers while providing them with a better experience.
Now that we know about Unified Communication as a Service and Hosted PBX, let us get an insight into the features and functionalities that they offer so you can decide which one is better for you.
UCaaS vs HPBX:  What They Offer Your Business?
In recent time, the cloud has become a popular and reliable platform for business requirements. Both Unified Communication as a Service and Hosted PBX are cloud-based solutions.
They both do not require any physical hardware to be set up at your office premise, saving a lot of IT hassle and money for the business.
But before choosing the best solution for your business, it is necessary to know the benefits they provide, and if they suit your business needs.
A Hosted PBX system is a very useful tool for businesses who want to interact with their customers and provide them with an optimum experience.
Hosted PBX uses the internet as a medium to place and receive voice calls.
In addition to this, Hosted PBX also offers your business a great set of features which help provide better professionalism to your organisation.
Some of the features that you get with a hosted phone system are call recording, call transfer, music on hold, voice recognition, call history, Interactive Voice Response (IVR), real-time reporting, call alerts, caller ID, call blocking, multi-device access, call flipping, call twinning, etc.
These features ensure that your customer is always satisfied.
Coming to UCaaS or Unified Communication as a Service, it offers a single platform for all your communication applications, be it any communication media.
It also offers your business a variety of features depending on the plan you select and what your provider has to offer.
UCaaS contains a hosted phone system. But it is not all; it also offers text-based communication options and video conferencing at your school.
when seen from the customer's perspective, they get a seamless experience. It is easier for the agents as they can stay connected with the customers on any platform they want to.
What Should You Choose For Your Businesses Communications?
To ease out your decision, both the technologies are VoIP based and hosted in the clouds. Which means you can access them from anywhere around the globe, as long as you have active internet connectivity.
When it comes to choosing the right communication solution for your business, both UCaaS and HPBX are widely used by businesses.
It comes down to the needs of your business and what fits your requirements ideally. This is because they both offer valuable features to the business.
Moreover, cloud-based solutions are highly scalable. So you can upgrade your business communication easily if you are expanding.
Even if you are relocating to a new place, and there is no hardware, you can easily move your entire setup to the new place and be ready in the least time.
Both solutions help the businesses improve productivity by a noticeable margin. With the low investment as compared to on-premise systems, they also give a better ROI.
Adding new users and extensions is also easy for the managers, and they can efficiently manage all the employees.
Summing Up
Both UCaaS and Hosted PBX streamline the business communication processes for organisations and improve productivity while providing more satisfaction to the customers.
If you own a large organisation, where your customers often communicate with you via multiple platforms and expect you to deliver the best customer service on each platform, then UCaaS is the obvious choice for your business.
On the other hand, if you own a small or mid-sized business and your customers call you directly to inquire about stuff, or you reach out to your customers, a Hosted PBX will be the perfect fit for your business.
Compared to Unified Communication as a Service, Hosted PBX is cheaper which is why it is preferred more by budding businesses.
If you are running a business in the United Kingdom, you can talk to one of our business communication expert at 0800-084-3663 who are available 24×7.

Ratnam is an SEO enthusiast and content writer working as a Digital Marketer with Acefone. He is fond of traveling and new experiences. He is a huge Marvel fan and is always open to learning.
https://www.acefone.com/blog/wp-content/uploads/2020/08/ucaas-vs-hosted-pbx.jpg
376
737
Ratnam Sinha
https://www.acefone.com/blog/images_acefone/logo.png
Ratnam Sinha
2020-04-07 11:09:19
2023-01-20 09:07:45
Which is Better for Your Business: UCaaS or Hosted PBX?