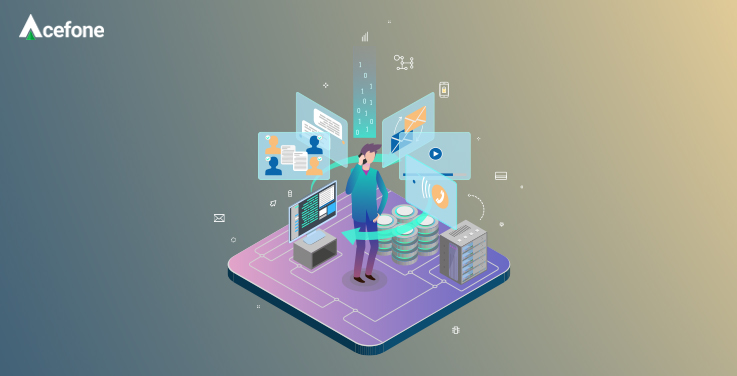 Unified communications as a service, or UCaaS, allows you to integrate multiple communication methods through a single cloud provider; including messaging, telephone, communication, video conferencing and more to facilitate team communication. With a team able to communicate effectively, your customers are sure to benefit and are much more likely to spend their money with you. Here are our top ways of adopting Unified Communication as a service (UCaaS) solution can boost your sales and customer service in 2020.
Support customers in innovative ways
If your business is in a position to provide support in a way which suits the customer, a customer is much more likely to buy more products from you as trust is increased and customers have an easy experience. With video conferencing customers could video call you and demonstrate an issue they might have with your product, or you could offer product demonstrations to them over a video call. You can also use messaging to communicate with customers or traditional voice calls; by giving the customer a choice, you are making them feel much more valued and they can select the option which best fits in with their daily life, meaning calling your company is not a problematic event.
Store product details to answer queries more effectively
Product details can be stored simply by scanning a barcode/QR code right into your hosted phone system, so agents can find exactly what the customer is looking for without trawling through your whole product catalogue. If your agents have all the information to hand, they are much better placed to talk to customers in more detail about your products; potentially upselling more products to the customer and increasing your sales. While this product knowledge will inevitably increase your business' sales, it will also give customers much more confidence in your business and your expert agents and your customer service and customer satisfaction will increase too.
Important information can be stored in your system and can be accessed globally by your staff, searchable by keyword. So staff can always keep up to date with changes in your products or business and can use their time not interacting with customers to give themselves some training on the products you carry; more knowledgeable staff will mean much more satisfied and informed customers.
Team communication can help customers get to the right place, first time
If your teams are remote, or you have a large office premise, they might not communicate as effectively as you would like them to. Using a UCaaS solution, you can encourage open communication (at no extra cost to your business) and encourage staff to share expertise through conference calls and video calls. If your staff are united and communicate freely, they are more likely to know where each other's strengths lie. So, if a customer comes through asking a query which they are unsure of, they will know exactly which department or member of staff to transfer the customer to; ensuring the customer has a great experience and has their query solved on the first call.
Get ahead of the competition digitally while giving world-class customer service
Getting ahead of the competition is important for any business, but particularly for those in a crowded market. If your customer's see you are invested in the very latest technology and have invested money in moving with the times digitally, their confidence in the abilities of your business will be increased as will the trust between customers and your business. This confidence and trust will lead to you getting more leads and therefore more sales; as customers will tend to choose a business which is more progressive and will, in turn, keep them up to date with digital advancement. Even when competitors follow your lead by implementing these digital advances, your business will still be steps ahead as your UCaaS solution will keep you at the forefront of digital technology.
Complete records for customers data
If your business can keep detailed records of customer purchases, buying habits, queries and more in one easily accessible place your agents will be able to deliver a world-class service to each customer every time they interact with you.
If an agent has all the information they need about a customer, they will be able to quickly identify products which could be of use to this customer which can, therefore, increase your sales. They can also look back through a customer's notes so they get a feel for how to tailor their interactions with this customer, for example, if a customer has had a few issues before with the products they can offer extra support to ensure their purchase runs smoothly. This can be added to easily by each agent during each interaction so you build a detailed view of a customer's relationship with your business, allowing you to personalise both interactions and potentially suggest more products or services to them.
People spend more and more time on social media, and your customers will be on there too. If you are looking to attract new customers to your business, you want to ensure that as many mentions of your business on social media are positive – as this is used in the customer journey for research purposes. By integrating your phone system with social media, your agents can easily pick up on mentions of your company and can integrate this with your CRM system, giving agents the opportunity to actively reach out to any dissatisfied customers and solve their issues.
If you would like to find out more about how a UCaaS solution could boost your sales and customer service this year. Call our expert agents on 0800-084-3663 for a free consultation.

Acefone provides a broad range of cloud communication services to businesses of all sizes, which includes Hosted Phone Systems, Free Phone Numbers, and Cloud Contact Center Solutions. Being the UK's leading provider of VoIP service provider, we always strive to provide excellent customer service and high-quality custom solutions to our customers.
https://www.acefone.com/blog/wp-content/uploads/2020/08/ucaas-boostcustomer-service-2020.jpg
376
737
Acefone Editor
https://www.acefone.com/blog/images_acefone/logo.png
Acefone Editor
2020-02-06 09:24:49
2021-08-02 15:16:41
How Adopting A UCaaS Solution Can Boost Your Customer Service In 2020