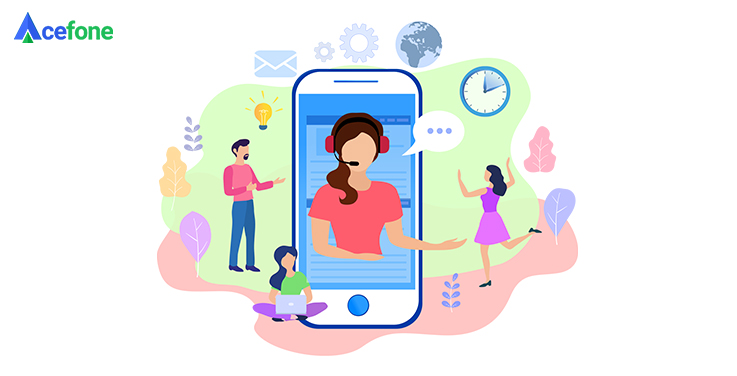 An IVR (Interactive Voice Response) system is not just another amazing feature on your hosted phone system, it can be an integral part of your marketing and sales strategy if you invest some time into optimising it so it works for your business and your customers.
In this article, we take a look at how your company can optimise your IVR system and why spending your time optimising this feature is well worth it.
Improve Customer Experience
Customers today expect a smooth experience when dealing with your business, with the rise of social media and businesses becoming more accessible to customers.
The experience a potential customer has can really set you apart from your competitors; encouraging word of mouth referrals and much more.
Customer experience is a significant deciding factor in any purchases for the time-poor customers of today – so by spending some time optimising your IVR system you can ensure that customers have a great experience every time they call your business.
You can use the IVR system to lead customers to the correct team for their enquiry, meaning they can skip any unnecessary queues on the phones and go straight through to the person best placed to deal with their enquiry.
Many customers want a solution quickly, and do not have the time to be sitting around in queues – so the quicker a problem can be resolved the happier a customer will be.
An IVR system goes a long way to helping customers fast track their way to the right person, as they can choose from your carefully curated range of options and decide who they would like to speak to.
There is nothing more frustrating for a customer than being passed from agent to agent with no resolution, so your IVR system is key in ensuring that this does not happen.
An IVR system can display important information about your business 24 hours a day, seven days a week – so customers can always access the information they need even if your business is closed for the day.
This helps customers who may not be in your time zone, or who have problems outside of hours to remain happy with your service without having to hire extra staff to man the phone lines.
Save Staff Time
Your staff's time is valuable too and should be treated as such!
A cleverly optimised IVR system with clear instructions to customers on how to get through to each of your departments can save your staff time as they will not need to speak to every single customer and direct them to the right place.
Most customers will be able to self-select and will be automatically directed to the department they need, so staff will only answer calls they are equipped to deal with and no other calls to waste their time.
It may be that you can give customers all the information they need on your IVR system, for example, you could add some frequently asked questions onto your system and play these to customers who have made the relevant selections.
This could cut out the need to speak to your staff at all and customers will be pleased that their issue is solved.
This is particularly useful if your services are experiencing widespread issues or outages – a simple message on your IVR system can stop multiple customers from calling in while your staff can work on the problem.
Earn More Money
A well-optimised IVR system can also earn you money. An improved customer experience will mean your customers are more likely to make repeat purchases, or new customers are more likely to make a purchase with you.
If they have confidence in being able to reach your business whenever they need to and the process is not a gruelling one, then customers will be more inclined to use your business – and to recommend you to other customers through word of mouth.
The lower the amount of barriers between your business and your customers the better, and a well-optimised IVR system takes down another barrier making it simple for customers to contact you – which will lead to increased sales and happy customers.
How To Make The Most Of Your IVR System
We have set out why optimising your IVR system is a great idea for your business to save money and increase customer satisfaction, but there are some practical steps you can take to make your IVR system work for your business and your customers.
You should ensure that the options are clear and that customers who have never heard of your business before would be able to navigate them easily.
If the options are confusing then customers will end up coming through to the incorrect department and this causes long waiting times and can actually damage your customer experience.
You should also ensure that you update your system regularly with any new departments or important information your customers might need to know about your services.
This way customers can be kept informed and this will make conversations much easier for your agents.
Finally, finding out what your customers most frequently call your business for and using this information to answer frequently asked questions on your IVR system is a great way to help customer experience and stop customers coming through to your agents unnecessarily.
Each IVR system will be different, and what works for one company may not work for you – so keep adapting your system based on customer feedback and based on agent feedback and you will create a highly optimised system which works brilliantly for your business and your customers.
If your competitors do not have an optimised system but you do, you can be sure that potential customers will notice the difference in service and may choose your business to purchase from based on their experience, so it is important to keep your IVR updated.
To find out more about IVR systems and how you could optimise yours, call on 0800-084-3663 and speak to our expert team.

Acefone provides a broad range of cloud communication services to businesses of all sizes, which includes Hosted Phone Systems, Free Phone Numbers, and Cloud Contact Center Solutions. Being the UK's leading provider of VoIP service provider, we always strive to provide excellent customer service and high-quality custom solutions to our customers.
https://www.acefone.com/blog/wp-content/uploads/2020/06/why-your-company-should-spend-time-optimising-ivr.jpg
376
737
Acefone Editor
https://www.acefone.com/blog/images_acefone/logo.png
Acefone Editor
2020-06-04 09:57:52
2021-08-03 14:50:33
Why Your Company Should Spend Time In Optimising IVR