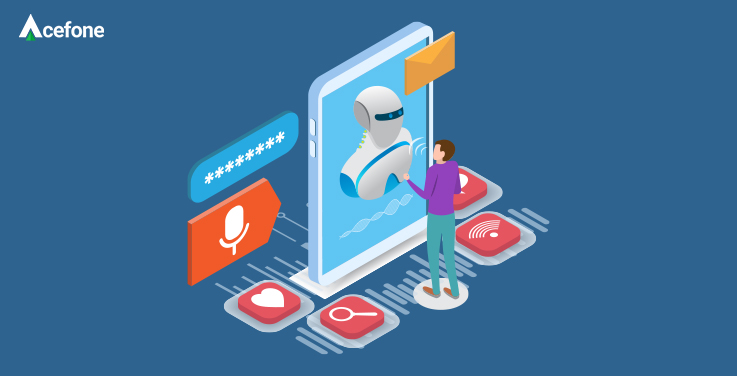 If you have not heard about IVR before, an Interactive Voice Response (IVR) system is completely personalisable and gives customers the opportunity to choose which department they come through too, before the call is connected to your operators.
With a hosted phone system, you can personalise this system to ensure it is branded and a good representation of what your company can offer.
IVR saves time for both customers and agents as they can go straight through to the correct department and do not need to be passed around from agent to agent to find the solution to their query.
IVR for Larger Businesses
Ordinarily, IVR systems will be heard when calling large enterprises.
Larger businesses tend to have more staff and more departments a customer could potentially want to speak to, so this gives these businesses the opportunity to funnel these customers to the department they need rather than taking up the time of another department trying to figure out where to send them.
Customers have some level of expectation when they call a large company that they will be able to self select the department which is most relevant to their query and in having these IVR systems in place businesses are meeting customer expectations and helping them be more satisfied with the process.
IVR For Small Businesses
As this is the norm for larger enterprises, smaller businesses could follow suit and make use of this exciting feature on their own hosted phone systems.
This is a quick way for small businesses to exceed customer expectations by giving them the option to self-select which department they are put through to.
This also makes a small business appear larger and more established and professional, increasing trust in a potential customer from the minute they dial your number.
A smaller business could personalise this feature so that when a call comes through you already have some idea on what the customer is wanting to talk about, so your agents (or you as a business owner) can be prepared to impress a customer as soon as they come through with your extensive product knowledge.
Inform Your Customers
IVR systems can not only serve to direct customers to the correct department, but they can also be used to give out messages of importance to your customers en masse when they call.
Particularly during the current Coronavirus pandemic, it is useful to manage customer expectations through putting messaging on your IVR system explaining there may be delays in answering your call or even that you are closed for business if your opening hours have changed.
Businesses both small and large should be using this feature to ensure customers are kept informed about your business and are not met with long waits to contact you with no explanation as to why.
Professionalism
There is no reason why a small business cannot make the most of an IVR system in the same way a large business would.
Even if you do not have multiple departments in your business, you can make it appear to customers that you do and just have the calls direct to either yourself or an employee who can field any enquiries on your behalf.
A customer calling a small business will be impressed by this level of professionalism and it will give them more confidence in using your business for whatever it is they need.
As you will come across as much more established with a dedicated business phone system rather than just a mobile phone number on any online listing.
Portability
Calls put through an IVR system can be diverted to mobile so as a small business owner you will not be chained to your desk.
Hosted phone systems are designed to be as portable as you need them to be so not only will customers call a professional line and be able to self select an option based on their enquiry, they will come through to you on any device you choose with no difference to the call quality, sounding as if you are on a landline in an office building.
No matter where you are or where your employees are, you can pick up calls just like you are in the office quickly and professionally.
Improved Customer Experience
As well as being able to solve more queries in the first call, increase your professional image and improve customer experience; IVR systems can help smaller businesses get ahead of their competition.
It is unlikely that comparable smaller businesses will have IVR systems set up to improve their customer experience.
So, during a customer's research phase they may call multiple companies to find out more about their services and if they are greeted by one company who's professionalism stands out to them – they are of course much more likely to go with the company who comes across as the most established and professional.
An IVR gives a small business many opportunities to win new business and keep existing customers loyal and satisfied with their customer experience.
For larger enterprises, the benefits are obvious by saving employees and customers time when the business does a range of different things and customers may be calling about any one of their services.
But for smaller businesses the benefits can be even greater, taking small businesses professionalism to the next level and ensuring they stand out from competitors and can even rival larger enterprises in their professionalism and customer experience.
Conclusion
If you would like to make your small business appear larger and more established then an IVR system can provide a quick and effective solution, which you can add your own branding and style to, to ensure your branding is consistent from your marketing through to customer contact.
This can be added to your hosted phone system easily and for very little cost, and you can manage everything about your phone system from Acefone's online portal – making you only a few clicks away from a professional IVR system!
If you would like to find out more about how an IVR system works and how it can benefit your business, small or large, call our team on 0800-084-3663.

Acefone provides a broad range of cloud communication services to businesses of all sizes, which includes Hosted Phone Systems, Free Phone Numbers, and Cloud Contact Center Solutions. Being the UK's leading provider of VoIP service provider, we always strive to provide excellent customer service and high-quality custom solutions to our customers.
https://www.acefone.com/blog/wp-content/uploads/2020/04/ivr-suitable-for-small-and-large-enterprises.jpg
376
737
Acefone Editor
https://www.acefone.com/blog/images_acefone/logo.png
Acefone Editor
2020-04-21 12:46:30
2021-08-03 14:04:31
Why IVR Is Suitable For Small Businesses As Well As Large Enterprises