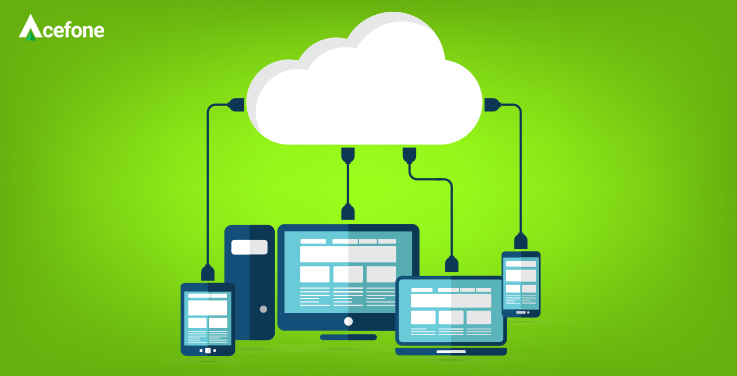 VoIP Phone System or Business Phone System or Hosted Phone System or Cloud PBX doesn't matter what you call it, it is the backbone of business communication in the current scenario.
VoIP phone systems are basically cloud-based communication solutions that allow the business to make or receive calls over the internet, providing an alternate way of communication apart from the traditional ISDN lines previously used in business communication systems.
A VoIP phone system has many features for small businesses that help them grow and prosper in the market. But there is a common misconception about Hosted PBX that it is for large enterprises only.
Let's bust this myth today and take a look at what benefits VoIP phones offer small businesses.
1. Lower Cost
For any new business, which is just starting out, spreading its wings, money is a very important factor. Naturally, they would want to reduce the expenses as much as possible.
The VoIP phone system is a perfect option for such businesses as it is a cloud-based technology that requires no hardware to be set up in the office premise.
Moreover, it makes and receives calls via the internet, which is also cheaper than the traditional ISDN lines.
2. Conferencing
With a VoIP phone system, businesses can keep in touch with their employees via call conferencing.
In case of remotely located teams, regular meetings can be held over voice or video conferencing to enable streamlined work process and keep everyone connected.
3. Worldwide Access
As mentioned before, VoIP is a cloud-based technology.
This means as long as an employee has an active internet connection, they can utilize all the features of the phone system no matter where they are in the world.
This makes remote employees, and remote teams very feasible for organisations, and they can even monitor them efficiently.
4. Multi-device Access
VoIP phone systems allow the user to access the portal on any device of their preference.
They can make and receive calls using a computer, a tablet, or a phone. It ensures that no important call is ever missed and the customers get an optimum experience.
This feature is very important for small businesses as every customer is valuable to them, and any new customer needs to be attended always.
5. Scalability
A small business might not have a permanent place in the beginning, or they might want to expand their business.
Moving to a new location with Hosted PBX is very easy as there is no heavy hardware involved.
You can just contact your service provider and they will set up the phone system at the new location, and in a few hours, your business will be ready to work again.
Even if the business is expanding, it is quite easy to expand your phone system too. Just upgrade your plan, and your new location will have a separate extension giving it its own identity.
6. Security
VoIP phone systems are much more secure than people perceive.
Having your data stored in the clouds means that in case of a natural calamity, you will always have an additional backup of your data.
To any business, big or small, data is crucial. Cloud phone systems are protected with multiple layers of security, and provide uptime even in times of disasters.
This makes sure that no one breaches your data and you always have access to it whenever you want.
7. Packed With Features
VoIP Phone Systems offer loads of features which benefit any small business.
Features like Interactive Voice Response (IVR), Call recording, Call Whispering, Call Transfer, Music on Hold, Call Barging, Call Flipping, Caller ID, Call Blocking, Voicemail to Email, Call Monitoring, etc.
With efficient features like these, any work process becomes simpler for both the employees and manager to track and acquire real-time analysis information for every call made or received for efficient analysis of business performance.
They help the organisation build better strategies and provide better satisfaction to the customers as well.
8. Multiple Extensions
If your business has different departments or different locations or both, a VoIP phone system is a perfect fit for you.
It provides as many extensions as you want for your business without any IT-related hassle that would be required in traditional phone systems.
And with an IVR solution, it is very easy to route calls to those departments which not only provides your customers with a self-help option but also routes them in an efficient way.
9. Increased Productivity
With all the useful features and no hassle of dealing with heavy and complicated hardware, VoIP phones increase the productivity of your business.
They provide your agents with an easy to use platform, your managers a reliable way of keeping track of everything that's going on, and your customers an optimum experience.
Conclusion
Getting a cloud-based phone system for your business is a smart choice.
Cloud communication is taking over businesses in every industry. They are much more reliable, secure and cheaper than the traditional phone system and provide the business with loads of features.
VoIP Phone Systems also offer customised plans according to your unique business needs.
This ensures that you pay only for the features you want, and can totally avoid the features that are useless to you. This adds up to your savings and helps you improve your business ROI.
The above benefits clearly prove that VoIP phone systems are a great choice for new and small businesses.
This is why most businesses are switching to cloud solutions from traditional phone systems.
If you are looking for a VoIP phone system in the United Kingdom, you can talk to one of our experts at 0800-084-3663, to get a free consultation on your business phone system requirements.

Ratnam is an SEO enthusiast and content writer working as a Digital Marketer with Acefone. He is fond of traveling and new experiences. He is a huge Marvel fan and is always open to learning.
https://www.acefone.com/blog/wp-content/uploads/2020/04/benefits-of-voip-phone-system-for-small-business.jpg
376
737
Ratnam Sinha
https://www.acefone.com/blog/images_acefone/logo.png
Ratnam Sinha
2020-04-16 06:16:22
2023-01-23 06:48:23
9 Benefits of VoIP Phone System For Small Business