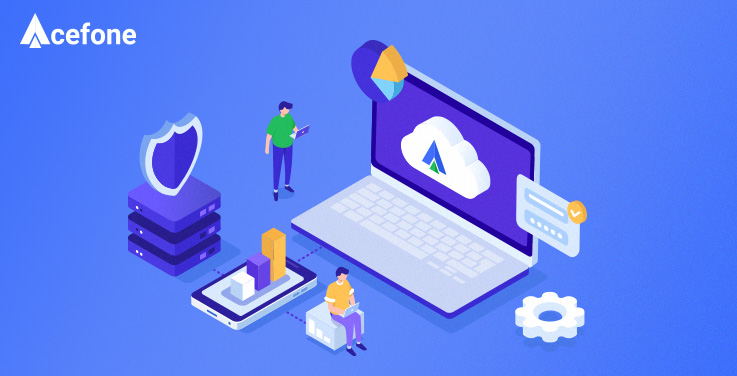 Several businesses are now choosing to store their data on the cloud. Cloud offers a safe and secure way to keep your data without losing out on the physical space in your office premises. 
The advantages of relying on cloud storage are many. Advances in technology mean that it is more secure and cost-effective than ever and more businesses are able to harness its potential.
This article will help you get a better understanding of cloud storage and how it ensures data security. 
What is cloud storage?
Cloud storage is a cloud computing model that stores your data online rather than storing it on physical on-premise servers. Since everything is stored online, you will be able to access all the information you need anytime and anywhere. 
Cloud storage solutions eliminate the need for physical infrastructure, along with the cost it brings. And you don't even have to worry about safeguarding your data, as the provider takes care of the day-to-day management and maintenance of their cloud storage systems. 
All you need to do is log in and access your data.
To avail cloud storage, you only need to find a cloud communication provider who will work with you and ensure you have all the space you need for your data. 
How secure is cloud storage?
Cloud storage is extremely secure. In most cases, it is safer than on-premise storage. 
For instance, in the event of damage to your physical location or infrastructural malfunction, you could lose years of valuable data. With cloud storage, your data remains unaffected even during natural disasters—ready to be accessed from anywhere. 
This is owing to the fact that providers host data in multiple locations, ensuring that if there is a problem in one location, that they can get you back up and running in a few minutes. 
Cloud storage offers safety features as well, and is completely regulation-compliant, adhering to PIC, FCC, GDPR and CPNI. This means that whatever industry you work in, you can rest assured that the cloud will keep your and even your customers' data safe.
What are the benefits of cloud storage?
Aside from the amazing security it provides, cloud storage comes with a range of fantastic features for your business. These features can save you money, enhance your data collecting capabilities, and much more.
Let's look at these in detail.
Cost-effective storage solutions
With cloud storage, you don't need any expensive hardware and, thus, don't have to pay for any sort of maintenance. So, there is no need to buy multiple systems to store and share data, as you can do it all right within your phone system's online portal. 
The icing on the cake? Your portal will seamlessly integrate with most CRM systems. This means you don't need to hire additional admin staff or waste your team's precious time on duplicating admin tasks.
Additionally, when buying hardware, many businesses are tempted to buy more than they need in anticipation of business growth—with cloud storage, this is no longer an issue. 
You can add or remove cloud storage on demand through your provider. So, no matter what is going on in your business, you can rest assured that your data storage won't eat into your profits.  
Thus, you're able to remove all unnecessary costs, and even efforts, and only pay for the space you need. 
Convenient for a remote workforce
Particularly through the pandemic, remote working has gained immense popularity. And it is safe to say that the work-from-home model is definitely here to stay. 
Thanks to cloud storage, remote employees can access data and collaborate with ease, irrespective of the time zone or location they're in. Better yet—these files are updated in real-time.
The only thing that a remote workforce needs are a stable Internet connection. So, the service is perfect for those looking to work remotely but still remain connected to their coworkers. 
And the advantages don't end there. Not only can you store and share files with your colleagues, but can also share files externally. This way, you're able to give any contractors or clients access to requisite data and files whenever you need to. 
With the simplicity of adding and removing users via your cloud communication system's online portal, it's never been easier to work collaboratively wherever you are. 
Don't risk losing data or files you're working on with cloud storage
With cloud storage, files are updated in real-time. So, if you work within your cloud storage platform and make edits to files, you don't risk losing any changes should you suddenly lose connection.
Often with remote workers, Internet connections may not be as stable as an office connection, or staff could be out and about and forget to save their important work. With cloud storage, this is no longer a worry!
User-friendly interfaces
Cloud storage is notoriously simple to use and makes it easy for staff to access files and store data. Often, storage systems in businesses can get complicated and outdated. But with a cloud phone system, users can easily find the latest version.
With most cloud storage systems, users can also access previous versions of a file or data. This means that files or data does not have to be duplicated and your cloud storage becomes more streamlined and easier to navigate for employees.
With traditional storage solutions often being slow and hard to navigate, it is no surprise that many people (particularly businesses with remote workers) are turning to cloud-based storage solutions for both personal and business use.
Want a secure, feature-rich storage solution? Look no further
Cloud storage is highly secure, offers several benefits and is unbelievably simple for remote teams to use. The popularity of cloud storage is ever increasing, especially as many businesses are reconsidering investing in infrastructure that is bulky and hard to move. 
The pandemic has changed the way businesses operate. Organisations now need an agile solution that allows both remote and office employees to work and collaborate with ease. 
Cloud communications and storage solutions can offer this and more. For organisations that are serious about taking their growth to the next level, we are here to help you do just that. 
To find out more about cloud storage solutions call us today at 0800-084-3663 or drop us an email at [email protected].

Olivia is an outgoing person who enjoys writing, is an SEO enthusiast, and often interacts with others in intellectual conversations. She enjoys listening to music in her free time. Connect with her on Linkedin
https://www.acefone.com/blog/wp-content/uploads/2021/09/how-cloud-storage-ensures-data-security.jpg
376
737
Olivia Trott
https://www.acefone.com/blog/images_acefone/logo.png
Olivia Trott
2021-09-17 14:00:29
2023-02-22 09:54:27
What is Cloud Storage and How Does It Ensure Data Security