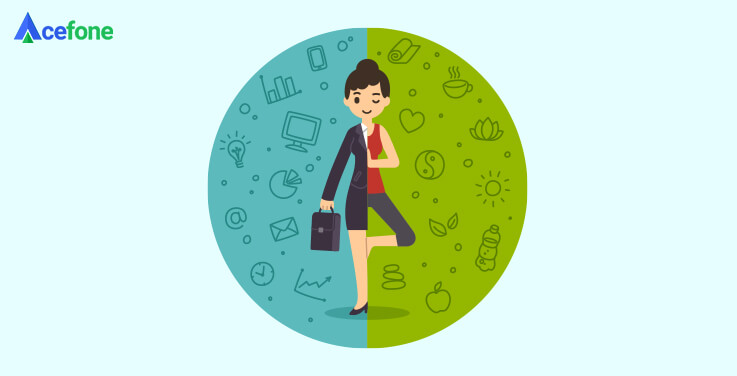 Striking the right balance between personal and professional life is a huge challenge. With office schedules busier than ever, it's vital to effectively juggle between professional responsibilities, family commitments, and spare equal time for self-care. 
As employers, you may not be directly responsible for providing your workers with a perfectly balanced lifestyle. But, you can proactively assist them in maintaining their routine. 
The company policies, decisions, values, and expectations your company offers the employees helps them support their work-life balance. 
Let us now understand why it's important for employees to maintain a work-life balance and how it impacts the overall work atmosphere.
Why is Work-life Balance Important?
Employees who have better control over their lives tend to maintain quality relationships with their management. They build an attitude of handling personal problems at home and leave their professional commitments at work.
Such motivation and lack of stress reduce conflict in the workplace and boost the organisation's productivity. 
Moreover, employers who focus on maintaining an improved work-life balance attract skilled and dedicated candidates for their job openings. They also enjoy lower attrition rates, better loyalty, and superior in-house expertise. 
Here, we have consolidated a few important points that employers should consider while ensuring a balanced environment for their staff:
1. Make a Flexible Work Schedule
According to a report by Onrec, 78% of workers had a positive impact on their quality of life due to flexible work schedules.
Workplaces no longer bind employees to the conventional 9 to 5 working models. Employees appreciate the freedom to work on their time. Undeniably, every employee is different and has a different working style. 
Some may be productive during the day and others in the evening. They can establish better control of their professional lives if they get to choose their preferred time-window.
However, it's necessary to communicate expected deadlines to your staff even in the absence of a punch-lock system. You can even implement the concept of 'summer hours' where your employees may work for half-days on certain Fridays. 
These efforts will motivate your workforce to improve productivity and the quality of the work environment. 
2. Motivate Transparency 
Ensure that your employees' aims are aligned with the organisational objectives. They should be clear about the company hierarchy and everyone's responsibilities in the organisation. 
A portal or an internal database that shows information like the designation and individual roles of executives must be considered. It improves transparency, inculcates a feeling of belongingness and involvement within the organisation. 
3. Facilitate Work-from-home Options
Several employees feel that half their stress comes from spending hours in traffic every day to reach the office. Though it can't be avoided, you can provide an option to work from home. 
This move will demonstrate your trust in the employees. Your staff will have the freedom to work in their own space and this will foster a sense of accountability. 
4. Encourage Team-building Activities
Team building exercises are important to help nurture collaboration within your team. Events like escape rooms, puzzle-solving activities, and trust exercises are a great way to do this. You can also host outdoor events that help your employees break free from the mundane office routine.
Try inviting employees with their families as a way to further involve teams and build better work relationships.
5. Maintain an Open-door Policy
Communication is cardinal for the growth of any organisation. Though there are companies that have their top tier executives sitting with other employees, an open-door policy means fostering better communication.
This enables your employees to reach out to anybody across the company for professional or personal help. Offering counseling services in-person or over the phone helps your employees manage stress better.
Your workforce should also have a positive attitude and utilise these services, and seek help without any hesitation. They should be open-minded with their schedules and make it a point to communicate to their managers if they are under undue stress. 
These efforts ensure maximum productivity and consistently high-performance.
6. Insist on Regular Breaks during Working-hours
Employers can make sure that their staff follows healthy working habits in the office too. However, employees are equally responsible for effectively taking charge of their work-life balance. One such way is to take frequent breaks even in the middle of tight schedules.
Employees should take short breaks from their desk once every two hours to clear their minds. This habit not only revives them mentally but also positively impacts their productivity and reduces stress levels.
7. Offer Childcare Benefits
It is a huge challenge for working parents to manage their children. It can be a source of constant stress but employers can reduce it by offering childcare services within the office premises. In fact, access to a centre close to work would also suffice. 
This way, employees can have their children nearby and safe. This reduces childcare stress to a great extent.
Wrap Up!
To think beyond regular working models has become a prerequisite. The overall workforce deals with several types of concerns, thus it's important to maintain a balanced work-life scenario to achieve success. Employees and managers can come together to create a more balanced, productive work-life environment for all.

Olivia is an outgoing person who enjoys writing, is an SEO enthusiast, and often interacts with others in intellectual conversations. She enjoys listening to music in her free time. Connect with her on Linkedin
https://www.acefone.com/blog/wp-content/uploads/2020/09/managers-ensure-better-work-life-balance-for-employees.jpg
376
737
Olivia Trott
https://www.acefone.com/blog/images_acefone/logo.png
Olivia Trott
2020-09-10 04:20:57
2020-09-15 03:08:01
How Can Managers Ensure Better Work-Life Balance For Employees