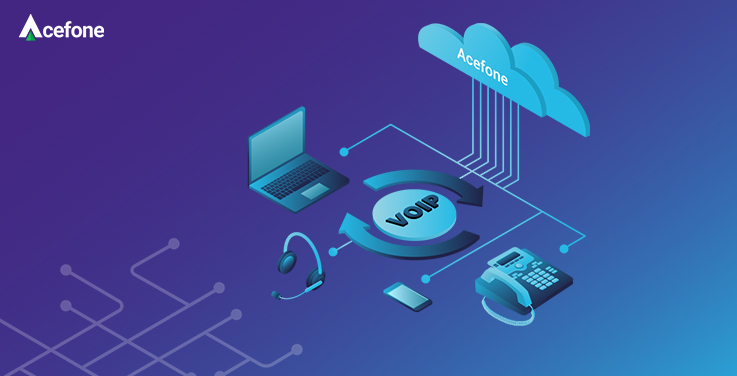 Cloud-based VoIP services have become a major part of business communication around the world.
Voice Over Internet Protocol, more commonly known as VoIP has not only made it possible to make cheaper calls using the internet but has also streamlined business processes with the vast variety of features that it offers.
If your organisation doesn't already have a VoIP phone system, then you should really consider getting one in the near future.
However, if you do have one, then you need to ask yourself your VoIP provider is giving you all the services that your business deserves?
To understand this question better lets first take a look at a few things that you should expect from your VoIP service provider and how Acefone is the perfect fit for your business communication needs.
1. Pricing and Plans
You might have come across a provider that offers all the features that are available with VoIP, but the price is just too high for your budget. There is no point in spending all your money on features that you might not even need.
What you should really look for is the value for money the VoIP provider is offering your business. It is not about who is the cheapest, or who gives more features. It's about who can benefit your business better.
Acefone offers customisable plans for your unique business needs at affordable pricing. So you can select what features you want depending on your requirements and you don't have to pay for anything extra.
2. Third-Party Integrations
While getting a VoIP phone system for your business, you should look forward to its compatibility with third-party software. You don't want to end with a phone system that is incompatible with any of your existing software.
Moreover, integrating your hosted phone system with a CRM software is very helpful for the agents.
It offers them enhanced tools to improve customer interaction and helps in improving your customer satisfaction giving your business more loyal customers.
Acefone offers integrations with many different Customer Relation Management software and customer support suites to make the work process simple and providing detailed customer interaction data helping you improve your business strategies to improve productivity.
3. Customer Service
Let's say you encounter a problem with your VoIP system during an odd hour. You will want your service provider to resolve your issue right away in order to keep your business running.
It is essential to pick a provider that offers great customer service so that you can always count on them and your business never comes to a halt.
In fact, you should consider customer service as a priority while selecting your VoIP service provider.
Acefone offers 24X7 customer service to assist you with your problems whenever you need support. Our servers have 99.99% uptime which makes sure that your business communication runs uninterrupted and our team of experts is always ready to solve your queries.
4. Reliability and Security
All your customer data is stored in the cloud with the VoIP, and you wouldn't trust the security of your crucial data to a provider that is not reliable.
Thus, it is essential to select a provider with higher security and firewall along with good network monitoring to make sure your data is always safe.
Also, make sure the provider you choose has reliable backup options in case of a natural calamity.
At Acefone, with our 99.99% uptime and multilayer security like 2-factor authentication, full access control and constant network monitoring, we make sure that you never lose your customer interaction data.
We understand that your data security is imperative. This is why we have multiple backups and we provide reliable VoIP communication for your business.
Conclusion
Getting a VoIP phone system should be a stress free process for you and the same is true when you get it from Acefone. We do all the hard work so that you enjoy all the benefits by simply plug-and-play.
We provide the feature-rich Hosted Phone System tailored according to your business needs.
We enable you to get real-time insights on your business campaigns and our multi-device accessibility makes sure that you get those reports on any device of your preference no matter where you are located in the world as long as you have internet connectivity.
Our user-friendly portal is easy to understand and use and is even customisable to suit your business operations perfectly.
You can freely pick the specific features that you need for your business from our wide range of unmatchable features for VoIP solutions.
Also, you only pay for the features you select to make sure that you don't have to step out of your budget to get the perfect business phone system for your organisation.
If you are looking forward to getting a VoIP phone system for your business or willing to switch your VoIP service provider, you can connect with one of our experts at 0800-084-3663 who will help you choose only the best for your business.

Ratnam is an SEO enthusiast and content writer working as a Digital Marketer with Acefone. He is fond of traveling and new experiences. He is a huge Marvel fan and is always open to learning.
https://www.acefone.com/blog/wp-content/uploads/2020/06/why-choose-acefone-as-your-voip-service-provider.jpg
376
737
Ratnam Sinha
https://www.acefone.com/blog/images_acefone/logo.png
Ratnam Sinha
2020-06-08 14:50:09
2021-08-03 14:54:55
Frustrated With Your VoIP Service Provider? Choose Acefone