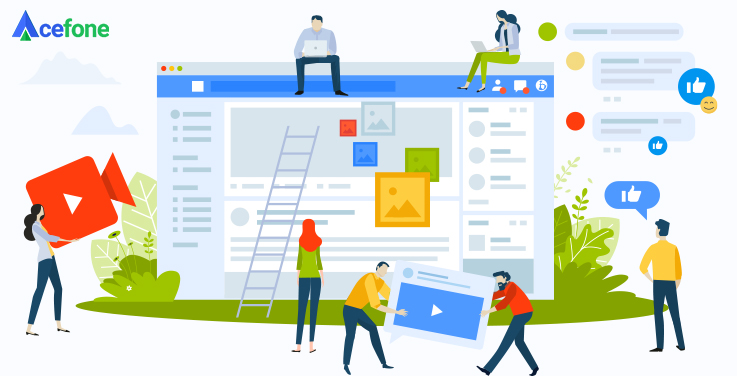 In today's world, social media is an unavoidable medium of communication. People of all age groups use this platform for various purposes, from networking to reaching out to a brand of their choice. Due to its ubiquitous presence, marketers began to utilise its power for empowering their marketing initiatives. 
Maintaining an active online presence helps marketers better understand the pulse of their target audience, interpret their needs, and improvise their products and services based on trends. Furthermore, social media marketing enables customers to provide feedback and share their experiences over a simplified platform. 
Now let's talk about cloud tools—this has become a buzzword among businesses. In fact, these days you can be pushed out of the competition if you stay away from cloud technologies. This is because business operations on the cloud provide you with a holistic view of your organisational performance. You can obtain intuitive insights and ease categorisation and supervision of business processes irrespective of their sizes. 
Social media marketing and cloud tools, when clubbed together, can deliver seamless experiences to both customers and business owners alike. 
Here's how cloud-based social media marketing can help you differentiate your business in a tough competition space.
1. Easily reach the target audience
The most commendable competency of social media marketing is that it reaches the screen of the intended audience effortlessly. The first step here is to understand trends among your clientele and accordingly produce content. 
For example, consider the scenario wherein you run a tablet service centre and have an active vanity number in place. The advantage of vanity numbers is that it highlights the service or branding you wish to promote. So if you use the number 0800-TAB-SERV, the client will immediately register your number and purpose. 
When you include this catchy number on your social media advertisement and post it on your account, you're more likely to reach the right type of audience. Your customers need not make the effort to note down numbers but can simply remember this flashy code to contact you. This can do wonders for your customer acquisition strategy.   
2. Showcase your brand
Listening to what your target audience discusses over online platforms is absolutely vital. This will enable you to understand their needs and trends in detail. You may participate in discussions on online platforms or even initiate them. Basically, you should be projecting your brand wherever possible. 
Moreover, these discussions needn't be necessarily a question-answer-like session wherein you deliberately promote your products and services. You can make them more informative and gain respect as a trustworthy, reliable and well-established business. This may kindle curiosity towards your brand and attract customers. 
For example, as an IT services provider, you may start a discussion on the different technologies businesses should focus on to remain competitive. Throw light on how these technologies can simplify processes for organisations and what role you can fulfil. 
Your social media gives your business greater exposure, and these new leads can check out your company profile for more details. If you include an avenue of communication like a free phone number in the profile, it eases the process for customers to contact you. These points showcase your brand in a positive light.
3. Easy monitoring and tracking
Unified communications systems offer various advantages. They enable a comprehensive view of business processes across the organisation. Cloud-based communication systems help break through the siloed environment and enable the free flow of information across departments. They also enable the integration of communication tools required to deliver seamless customer experiences. 
So how does this help social media marketing? When unified communication systems work in unison with social media, they enable a consistent customer experience across multiple channels. This is extremely important for businesses to strike the right chord among the customer base.
Your customers may use different communication channels to contact you. These may include your contact centre number, social media pages, email, text messages or audio messages.
You should be able to deliver the right message across these channels. For example, say a customer contacts your contact centre for a refund. Cloud-based communication systems are capable of communicating with internal tools like the Customer Relationship Management (CRM) software. When your representative gets this access, they can view the customer's previous interactions with your brand. Suppose, the caller has already contacted your brand on the social media page for a refund and also emailed your business ID. 
These repeated attempts may have made them agitated. If they're asked to repeat their issue yet again, they'll be annoyed even before the interaction really starts. Equipped with the competency of cloud and social media, you can obtain all the information about the problem presented from previous conversations.
This enables you to deal with the issue right from where it was left off, not start anew. What's even better is that you can improve your first call resolution rate so that this issue doesn't pop up again. This not just saves time but also leaves the customer happy. 
Moreover, cloud tools facilitate unified access to information. So, if information about a product or service is updated on your knowledge base, you can get access to this data irrespective of your location. They also help you promote accurate and updated information on social media pages, thereby improving relevance.
4. Spread the positive word
Earning the right reputation plays an important role in any business. Consider this: a customer has posted a positive review on your social media. This is for public view and several other users may see this comment. It will have a positive impact on the reputation of your brand.
Of course, you face the risk of negative reviews as well. But if your representative is quick and competent in addressing the complaint, you can showcase your brand's responsiveness and dedication. 
Both these scenarios reflect the importance of social media in communicating and showcasing your brand. In this kind of word-of-mouth marketing, your customers become your strongest advocates. They speak for your brand and help in augmenting your customer base.
5. Supervise campaign performances
Marketing campaigns are an integral part of any business' growth. They enable marketers to focus on specific business offers, target a particular set of audiences best-suited for these products and services, and begin marketing on this basis. 
However, it isn't enough to simply initiate campaigns. Every campaign should have a solid medium to track its performance. Cloud tools when dovetailed with social media can provide exemplary results. 
Let us understand this with an example. You have triggered a campaign for a service line. When you use a cloud-based telephony number, it eases the process of customers contacting you. When it comes to a social media campaign, you can dedicate individual contact numbers for separate tracks. This way, you can easily gauge the responses of the audience to this campaign. 
It also enables you to mark high-performing campaigns based on the location of the contact numbers. Overall, your cloud telephony number empowered by the reach of social media enables you to supervise campaign performances with the appropriate categorisation of locations and product and service sectors. 
Thus, these insights help you focus more on poorly performing areas and understand the high-performers for your business. You may try finding glitches in the lesser pronounced areas of services and improve them. 
Wrap up
Cloud tools and social media marketing are two powerful mediums. When coupled together, they can create unsurpassed customer experiences for brands. This post elaborates on a few of its many competencies that can help businesses improve their reach and customer acquisition. 
If you have any more questions, feel free to contact our dedicated agents at 0800-084-3663 or send an email to [email protected].

Olivia is an outgoing person who enjoys writing, is an SEO enthusiast, and often interacts with others in intellectual conversations. She enjoys listening to music in her free time. Connect with her on Linkedin
https://www.acefone.com/blog/wp-content/uploads/2021/04/social-media-marketing-with-cloud-tools.jpg
376
737
Olivia Trott
https://www.acefone.com/blog/images_acefone/logo.png
Olivia Trott
2021-04-16 04:50:04
2023-03-21 08:32:08
Enhance Your Social Media Marketing with Cloud Tools