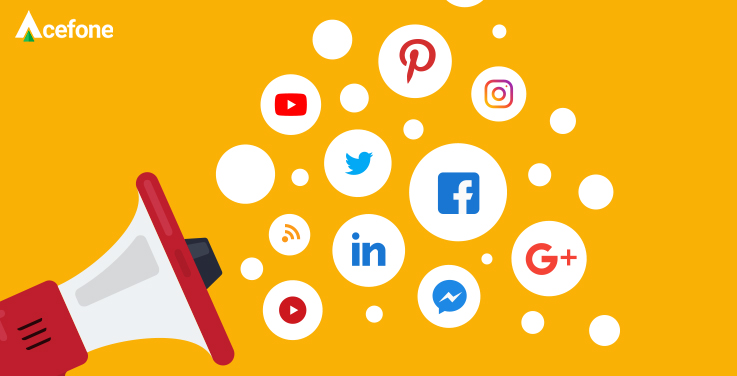 Back in the day, customer service began with exchanging messages through posts. Then came telephones––users could contact the companies at specified working hours to get their issues resolved.

Later, this era of telephones was overtaken by the Internet. Email communication was considered fast and cost-effective. Fast forward to today—social media channels rule the customer service arena.
Everyone, irrespective of age or economic status, uses social media these days. Its power is such that it can help your brand rise and fall almost instantly.
So, why leave this medium of communication unexplored? Businesses have begun to utilise social channels to build trust among their target audience and deliver seamless service.
The first thing customers expect is spontaneity when it comes to support. Social media is the way to go, since it is totally real-time and keeps you on your toes.
As the name suggests, customer service delivered through social media channels like Facebook, YouTube or LinkedIn to name a few, is called social media customer service. This medium helps you reach out to a larger audience and strike the right chord with them.
According to a Smart Insights report, simply responding to a social media complaint can increase customer advocacy by 35% and brand loyalty by 65%.
However, like any other marketing strategy, social media customer service demands a systematic implementation. This is not an overnight process. For example, you may consider dedicating a workforce to social media service or just dovetail it with pre-existing teams. 
Here are some points to keep in mind:
Decide what channels you will be focussing on. 

Zero down on the type of messages you'll use for this purpose. 

You may choose from infographics, blog posts, videos, or podcasts to feed your target audience with relevant information. 

Take care not to provide an overdose of information to viewers. 

Share updates about your product or services with clients periodically.
With this brief idea, let us see how to use social media customer service to win over customers in 2021!
1. Begin with active brand monitoring
The first step to kickstart your social media customer service is proactive monitoring. Track social media for any mentions of your brand or keywords related to your offerings—closely and consistently. 
You also need to determine the various channels your customers usually use or prefer engaging with. This monitoring system will help you identify negative and positive reviews of your business.
For example, say a customer buys something from your e-store and comments about the delay in delivery without tagging your brand. If you have a monitoring system in place, you will be easily able to identify this comment and reply. 
You can explain the situation, apologise, and assure them that this will not repeat—or even offer a special discount as compensation. This proactive move will leave the customer happier, along with showcasing strong brand presence on your social media channel.
2. Shortlist the type of comments getting responses
All your comments may not get responses—and some may even attract negative replies. Your team should be well equipped to handle such situations. It is important to identify and filter the comments that are most important and need to be responded to immediately. 
It's also worth noting that social media channels are not dedicated customer support platforms. They may attract different types of comments. Given the Internet culture of this day, beware of feeding trolls. Also, make sure to set strict guidelines, pick critical issues that need attention, and manage problematic comments with care.
3. Let no comment go answered
Social media channels are open to the public. Though this unrestricted access is advantageous, it comes with its own set of challenges. Customers are closely watching you—free to comment about your brand in public. This can include feedback, reviews, complaints, or trolls. 
Your teams need to be able to handle any scenario diplomatically. Moreover, you should remain transparent and deliver the necessary message professionally. 
Let's take an example. A customer bought your product online, but damaged it during unboxing. They demand a refund because of the sheer speed of the damage. However, your refund policy only allows for manufacturing defects—not user mishandling. 
As much as you may want to oblige the customer, you can't change set policies based on these encounters. So, it's important for your agents to be able to convey the message reasonably and with minimal conflict.  
4. Maintain a dedicated support channel
There are several customer service channels these days, including phone support, email, chat support and many more. However, social media channels need a higher level of monitoring and tracking capability. 
This method demands spontaneity and caution when it comes to the type of responses provided. This is because a phone call or email message is between your representative and the customer whereas a conversation on social media is open for the public to witness.
You should make sure to specifically train a set of astute representatives to handle your social media customer service division with utmost diligence.
5. Separate the public and the private
Your interactions with customers will be mixed. Some may end up being pleasant, others quite decidedly not so. You need to identify conversations that must be directed to a private engagement.
For example, interactions that need personal customer information should be directed to a private chat. Or agitated customers who are tough to handle can be invited to privately resolve the matter. These moves will avoid public altercations and also facilitate open discussions between the customer and your team. 
6. Avoid defensive reactions
Over time, you'll surely face tough situations wherein the customer is inconsolable and uncompromising. You should ensure that these issues are properly escalated and taken care of immediately. The last thing your business needs is for agents to indulge in defensive reactions like deleting a negative comment, blocking a user, or not responding at all.
Train your team to offer mutually beneficial solutions. Seek the help of superiors if required. Take extra care to avoid an argument online with customers. These precautions will save your brand from dealing with negativity.
7.

Track and measure your efforts
Like any other marketing strategy, social media customer service also requires appropriate tracking and measurement of metrics. The more data you collect from your social media channels, the more effective your tracking and your service will be. 
Monitor any techniques that you may have used to handle customers. Check on different types of comments and responses on your forums. Most importantly, check your key performance indicators like first contact resolution, rate of customer satisfaction, customer retention, and rate of issues resolved.
Furthermore, you may consider customer survey responses to determine the level of customer satisfaction. This kind of tracking system not only helps you analyse your marketing strategy, but also allows you to identify staffing requirements for peak times when you may need additional workforce. 
For example, there may be a time of the year when your audience seems proactive on social media channels. Identifying this period will help you launch specific campaigns on social media best-suited for your target audience.
Parting words
Humans are social beings—and social media gives us the platform to connect with them on a large scale. As we enter a work culture where the lines between formal and informal are starting to blur, social media acts as an effective way to connect consumers and businesses. 
It takes just a single comment to build or spoil your online reputation. Hopefully, the above-mentioned points will throw light on the importance of social media customer service and a few ways about how businesses should incorporate it into their marketing strategy this 2021.
To know more about how cloud communication solutions can help you maximise business efficiency, talk to our experts on 0800-084-3663 or email us at [email protected]. 

Acefone provides a broad range of cloud communication services to businesses of all sizes, which includes Hosted Phone Systems, Free Phone Numbers, and Cloud Contact Center Solutions. Being the UK's leading provider of VoIP service provider, we always strive to provide excellent customer service and high-quality custom solutions to our customers.
https://www.acefone.com/blog/wp-content/uploads/2021/01/social-media-channels-for-customer-service.jpg
376
737
Acefone Editor
https://www.acefone.com/blog/images_acefone/logo.png
Acefone Editor
2021-01-06 08:58:06
2023-03-23 11:31:47
A 2021 Guide to Winning at Social Media Customer Service