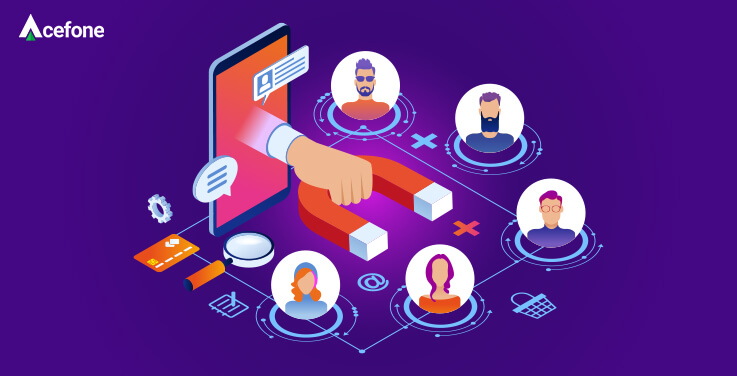 Your sales department knows how hard it is to convert potential buyers into actual customers. Losing a business prospect is detrimental to business growth. However, losing a loyal customer is a crippling mistake that could essentially stagnate your business expansion. 
According to the book Marketing Metrics, the success rate of selling to a new customer is merely 5-20% whereas it is 60-70% for an existing customer.
For the success of your business, it is crucial to formulate a robust customer retention strategy. Failing to do so would directly hamper your business growth. 
This article will illustrate important tips to help business owners retain customers. Stay on the right track to unhampered growth without losing your valuable customers.
1. Understanding why Customers Leave
There can be various reasons for your business to lose loyal customers. Two primary reasons are:
65% to 70% of customers

reported leaving a certain brand because they feel neglected. 

Around 15% of existing customers leave a business because they are disappointed with the offerings and services. 
Lack of proper communication between service providers and customers often triggers further dissatisfaction. This may convince your existing customers to switch their loyalty and opt for your competing brands instead. 
Enhancing customer relationships and services is a quintessential step to retain customers. 
2. Communication is the Key
It is important to establish connections and maintain a positive rapport with existing customers using easy communication channels. One has to explore reliable communication channels to reach out to customers and address their grievances better. The best way to achieve this is to opt for VoIP communication technologies. 
These services allow you to enjoy the upper hand over those using traditional forms of telephony. Cloud solutions ease the process for existing customers to reach out to the concerned personnel.
You need to consider employing the latest technologies in call centres to improve the communication processes further. Some enterprises have their own team of in-house customer support. These organisations have to shape their business model accordingly to harness the benefits of smart VoIP communication technology.
3. Traditional Landline Systems are Outdated
Traditional forms of telephony (the analogue telephone network) are heavily dependent on wired circuits. The system operates by sending signals via an array of tangible interlinked switch boxes through copper wires. Understandably, they require complicated maintenance and can be highly time-consuming. 
This system heavily restricts the scope and capabilities of business communications. It is also heavier on the pocket compared to the cost-effective VoIP systems. With analogue systems, there is also the added challenge of constant upgrading.
4. Why Consider VoIP for Better Communication?
VoIP, or Voice over Internet Protocol, is a modern telephony solution that relies solely on internet connections to communicate. In this system, the data is transferred digitally via either a wireless or a wired phone network. 
Users can make calls through their smartphones, computers or VoIP enabled phones. Your business can get a competitive edge through:
Minimised call cost

Enhanced sound quality

And more reliability
As our society entered the internet age with gusto, cloud communication technology has sidelined traditional telephony systems across the globe. Its popularity is predicted to continue increasing due to its cost-effectiveness and easy accessibility. 
The recent globalisation and digitisation trends followed in trade and commerce also propel VoIP's popular usage. The cloud essentially enables customers to reach you in an easy and affordable manner. 
Here are 5 tips to improve customer retention using cloud solutions: 
1. Making Customer Retention Easier with Advanced VoIP
Using VoIP solutions, you can initiate and receive as many HD voice calls as your business needs, without having to worry about the bandwidth and budget. With easy installation possible in minutes, you can start using the set-up immediately, and on any internet-enabled device. You can also avail of any number of extensions to scale the service to your business needs.
VoIP can also be integrated with your CRM software, which allows easy collaboration across teams and offers various benefits for managing the business processes. Remember, the two primary reasons why customers switch to other brands are when they feel neglected and disappointed. Once you smoothen out communication blockages with the adoption of modern technologies, addressing customer grievances becomes easier.
2. SIP

Trunking
SIP stands for Session Initiation Protocol. These are basically virtual phone lines that help users carry out phone calls over the internet to anyone worldwide. 
This consolidated and easy-to-manage communication system can reduce your costs significantly. It cuts down on expensive hardware investments. All the while, your callers can enjoy better call quality and reliable phone service.
3. Hosted PBX
Hosted PBX phone systems require no complicated or costly infrastructure. Moreover, there are no limitations on adding phone lines and extensions. 
With your phone system moved to the cloud, there will be no lag in the response time and you can enjoy uninterrupted communication even during emergencies. 
4. Free Phone Numbers
These free-to-dial numbers provide a highly productive business communication channel that can enhance customer experience, and consequently, customer retention. Customers can now call you from anywhere and at any time without incurring extra expenses. 
You can choose easy-to-remember numbers to encourage customers to call you. Furthermore, if your business relocates, you need not change the number! The free phone number can be used anywhere in the country. 
5. Q

uintessential Call Centre Solutions
Needless to say, your customer retention goals will be easy to achieve with advanced call centre solutions at your disposal. All-inclusive telecommunication solutions also include real-time visual call display and various predictive dialing features.
Better reach, high voice quality, and low latency guarantee high call success rates. Better customer retention becomes possible when communication is smoothened both ways. 
Wrapping Up
Your dream of maximum customer retention is sure to become a reality if you embrace modernisation in business processes. It is imperative to implement the latest and smartest telecommunication technologies to strengthen your business communication.
Visit Acefone to try the top industry solutions for your business or talk to one of our experts at 0800-084-3663.

Olivia is an outgoing person who enjoys writing, is an SEO enthusiast, and often interacts with others in intellectual conversations. She enjoys listening to music in her free time. Connect with her on Linkedin
https://www.acefone.com/blog/wp-content/uploads/2020/08/customer-retention-tips-for-business-growth.jpg
376
737
Olivia Trott
https://www.acefone.com/blog/images_acefone/logo.png
Olivia Trott
2020-08-17 05:37:59
2022-04-26 06:51:46
Retain Your Customers Using Cloud Communication Solutions