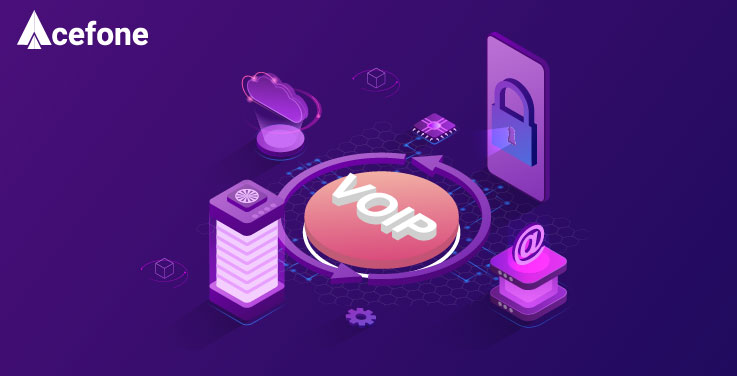 Is your organisation still using the regular telephone line to contact your customers? Are you grappling to cope with the current remote working environment due to the infrastructure that these regular telephone lines demand?
If yes, Voice Over Internet Protocol (VoIP) is the right choice for you.
The higher rate of VoIP adoption has resulted in its massive growth. A report by Grand View Research states that the global market for VoIP services is estimated to register a CAGR of up to 20.5% by 2028.
As it is hosted on the cloud, VoIP doesn't demand any particular infrastructure for you to make telephone calls. Your representatives can use their smart devices, connect over the Internet and make calls on the go. Want more?
Well, you can also enjoy a plethora of capabilities like call recording, monitoring, call redirecting, and much more to ensure efficient call performance. 
Particularly, in this current situation when several companies are working remotely or have a hybrid work ecosystem, connecting across VoIP systems helps you support uninterrupted services from the comfort of your home, without any change in the telephone numbers.
Do you think there is more about VoIP that you need to know? Don't worry, we have everything you'd ever want to know about VoIP in this guide.  
Read on to know more. 
What are VoIP systems?
Let's begin with understanding the basics of VoIP systems.
The Voice over Internet Protocol (VoIP) technology enables you to establish calls over the Internet. You may conveniently use this communication system instead of the regular telephone lines in your organisation. 
VoIP systems are based on open standards. They can be used to call any number without the need for a physically established, analogue telephone connection. 
Moreover, VoIP systems enable you to manage multiple calls on the same phone number or handle multiple numbers by an individual. 
To delve into the intricacies, VoIP providers are more than simply establishing calls. They help route outgoing and incoming calls via your existing telephone networks. 
There are two options to create this connection. 
You may either use a Private Branch Exchange (PBX) that connects internal phone extensions with public networks. Or you can collaborate with a trusted VoIP provider who can simply plug your IP phone in. You will then be able to use your digital phones to establish reliable connections supported by high-speed connectivity. 
How do VoIP systems work?
The voice-over IP functions on the Internet Protocol. 
Here, voice is exchanged using small data packets. In the case of Internet telephony, data packets travel between the phone used for calling and the VoIP provider in the minimum possible time. On the receiver's end, these packets are converted back to audio signals.
In short, here's how VoIP systems work:
Your phone connects to the switch or the router in your Local Area Network (LAN)

When you choose to connect over to a particular number, the request is sent over to your IP provider

Your VoIP provider then establishes the connection between the other party and your number by exchanging data packets

Your VoIP phone then converts these signals into a voice that you can hear
What are the benefits of using a VoIP system?
There are a number of benefits of using a VoIP system over your traditional phone system. Some of them are:
A VoIP system doesn't demand additional hardware for connectivity purposes. The upfront investment that goes into setting up or regularly maintaining a VoIP infrastructure is minimal.
On the other hand, traditional phone lines need dedicated wiring and physical devices to make and receive calls. The maintenance of these conventional systems is also time and cost consuming. VoIP, thus, is a cost-effective option.
Offers enhanced service reliability
When you use a communication system that solely depends on the Internet, the first doubt that may strike your mind is: what if Internet connectivity is lost? This could happen due to natural calamities or technical hiccups. 
Let's say you aren't able to use your softphone due to poor connectivity. To avoid lost calls, you can use the call forwarding option and redirect the call to either anyone of your colleagues or any other device that has connectivity. 
Not just that but even if you aren't in a position to attend official calls, you may redirect the calls to any other colleague to ensure that things are taken care of.
This feature makes VoIP systems reliable.
In the present-day scenario, everybody is on the move. With VoIP, you need not stay hooked to your office desk to attend to your work. You may answer calls from anywhere across the world through your official number. 
This is especially a boon in the remote working age. A VoIP phone system has your business covered irrespective of the work location of your employees.
Connecting to conference calls via traditional phone lines may be heavy on your pocket. 
Not to forget the costs that go into establishing connections and having the hardware in place. However, VoIP simplifies all this by enabling you to hop over calls with your Internet connection at no additional charges or infrastructural requirements.
The user dashboard is also very intuitive. It allows people with little to no technical knowledge to easily understand and utilise it. 
Provides better customer efficiency
VoIP systems come with several features like call twinning, real-time analytics, CDR, IVR, messaging options—the list is never-ending. 
You can record customer calls and use these recordings for training purposes. This way new recruits get a glimpse of the actual work ecosystem and challenges they may face before hitting the workspace in real-time.
Furthermore, these recordings help you identify any possible bottleneck or redundant issues that may arise. Also, frequently asked questions can be noted and added to an information repository for references or to facilitate self-service. These actions positively contribute towards better customer efficiency. 
Enables accelerated sales growth
 As VoIP systems, with their various features, allow stakeholders to have a better hold on processes, the identification of functional and operational challenges becomes easy. 
For example, if they find that the representatives aren't able to effectively handle a particular type of customer query, appropriate training or knowledge sharing sessions may be organised to improve work efficiency and sales growth.
What are the different types of VoIP systems?
Now that we have an idea about the benefits of VoIP systems, let's check their types. VoIP systems are broadly of two kinds. These are as follows:
As the name suggests, on-premise VoIP systems are those that are maintained within the premises of the workplaces. That is, all the necessary infrastructural and technical equipment is maintained within the premises of the office. 
With this comes the need to hire staff who know to perform these activities. However, when you have an on-premise VoIP system, you can easily add or remove capabilities and features. You may not be dependent on a third party to carry out your operations.
Hosted VoIP systems, on the other hand, are provided by service providers specialising in this arena. However, you should be extremely diligent when choosing your service provider as an incorrect selection may prove catastrophic to your business. 
Hosted VoIP systems come with the advantages of freeing you up from the burden of managing everything. You need not worry about the technical or infrastructural setup. All you will need to do is provide your list of requirements to your service provider and sit back. 
Furthermore, the need to maintain a dedicated team for the VoIP systems is also eliminated. All your system upgrades and patch management are completely taken care of by your service provider. 
What are the important features of VoIP systems?
With this sneak peek into the broad classification of VoIP systems, let's check out some important and popular features:
An auto-attendant is similar to a virtual assistant. Both these systems can attend calls on behalf of your representatives and route them to the right department. This feature helps agents save time on incorrectly routed calls or wrong calls, thereby improving their efficiency and productivity.
Call routing can help you appropriately direct calls and categorise them on the basis of the customer's name, their nature of queries, staff availability, and staff performance. 
For example, a customer may come back with a recurring issue, with their history indicating that they may be frustrated. This particular call should be directed to a supervisor or an experienced staff member who can soothe and pacify the caller. 
This can be done with the help of the call routing feature.
Analytics and monitoring of calls go hand-in-hand and play an important role in the efficiency of your processes. 
With the call analytics feature, you can review the performance of your calls, identify bottlenecks like a particular agent not being able to respond to queries, check for the need for additional training, and improve functional and operational performances. 
Unanswered calls may adversely affect your business growth. 
For example, if your customer calls your representative in need of urgent help and the agent is not available, this instance may reflect your business in a negative light. The customer may be left feeling disappointed and frustrated, deciding to take their business elsewhere.
Call forwarding helps in such cases. With this feature, your agents can redirect calls to other available agents. For example, they may choose to forward incoming calls to their own other devices or other colleagues who are free to take calls. 
The call transfer option is particularly important when your agents want to seek the help of their supervisor or escalate an issue. 
An agitated customer may not be ready to wait for a callback from the supervisor. The call transfer option helps them to instantaneously push calls to managers and supervisors when there is a dire need for one. 
The feature facilitates first call resolution and enhances customer satisfaction.
Customers can be of different types. While some may prefer talking to agents, others may feel comfortable texting. VoIP systems cover all these types of customers alike. The instant messaging option allows customers to reach out to you through text messages too. 
Vice versa, you can keep your audience updated via broadcast messages.
The Interactive Voice Response (IVR) is a menu that provides self-service options to customers. While it is a known fact that the IVR enables customers to reach the right agent for quick and appropriate resolution, it can also help customers obtain resolutions to simpler queries. 
The IVR offers a menu of numbers. The customers will need to punch in the right options to obtain their resolution. However, they can also opt out of the menu and choose to speak to a representative at any given point in time. 
This feature saves time, reduces call queues, and improves customer satisfaction.
The VoIP mobile app or softphone is yet another commendable feature. While you enjoy the freedom to connect with colleagues and customers over the Internet, you can also benefit from the mobile VoIP app to stay connected.
The softphone is compatible with most operating systems and devices. Acefone even offers a chrome extension of the software if you want to avoid downloads.
When should you consider using a VoIP system?
We have learned about the features and benefits you will experience from VoIP systems. Now, let's understand when you should shift to a VoIP system.
If your employees work from home
The primary advantage of VoIP systems has been connectivity even when working remotely. So, if you have shifted your employees to a remote working ecosystem or a hybrid environment, you should be considering VoIP systems. 
Furthermore, if your business demands your employees to stay on the field while remaining connected and updated, a VoIP system is the thing for you.
If you don't have a big list of analogue must-have phones
Though you may be excited to make the shift to VoIP systems, there may be a few telephone lines, like the fax machine, that you may need to retain. 
Identify these communication lines and retrofit them to enable them to send digital data over the Internet. Ensure that this list isn't too big when considering the change to VoIP systems.
If you need additional features and are looking for better performance
VoIP is the right choice when you are looking to get more from your telephony system. 
The technology comes with several features that have been discussed above. If you are looking to up your business performance, this is the telephony system for you.
What should you be considering before the installation of VoIP systems?
Though VoIP systems come with a plethora of benefits, stakes may as well be high for businesses. 
Here are a few things you should consider before the installation of VoIP systems:
Finalise your budget and cost of installation
Every service provider offers different types of packages. While a few may provide their equipment, others may leave it to you to choose one from a retailer. 
It is best to analyse expenses like:
The monthly payment

Are there any additional or hidden charges like installation fees?

Will training be included in the package?

What kind of equipment will be provided?

What features are they offering with plans?

Are the plans customisable?

How is their after-sales service?
Delve deeper into the migration process
The typical migration process will include software installation, sourcing of phones, number porting, connecting the phones, and porting the phones.
Though this migration process should be done with minimal or no downtime, it is best to understand and learn the intricacies of the migration process from your service provider.
Check for the final list of features
VoIP systems come with several features. Consider reviewing them and choosing the ones you will need for your business.
At Acefone, we let you choose the features you need the most for your business. 
Ensure a good network bandwidth
A strong network connection and bandwidth is the base for a seamlessly performing VoIP system. Check if your existing network connectivity will suffice or if you will need to upgrade your bandwidth and Internet connection.
Some providers even offer HD calls on low bandwidth. Look for providers that offer better communication regardless of your Internet speed.
Revisit security features
With cyber threats and attacks on the rise, it is pivotal that your telephony system is upgraded and patched regularly. You should discuss with your provider about compliance-related issues and ensure that your system is protected from malicious activity.
Look for features like two-factor authentication and end-to-end encryption. 
Check for alternate power plans
Make sure that your service provider has an alternate power plan in place. This will help in the case of a power outage. They may provide you with a mobile app or any other alternate source of electricity to have your system up and going even during a power shut down.
To sum it up
VoIP systems have become a cardinal element for businesses to stay competitive. This complete guide elaborates on several aspects that will help you gain a better understanding of VoIP systems and justify why you should be choosing them. 
If you feel you have anything further to add to this list, feel free to do so in the comments section below.
If you are looking to get a VoIP-based solution for your business, you can get in touch with our experts. Give us a call on 0800-084-3663 or drop us an email at [email protected]!.

Acefone provides a broad range of cloud communication services to businesses of all sizes, which includes Hosted Phone Systems, Free Phone Numbers, and Cloud Contact Center Solutions. Being the UK's leading provider of VoIP service provider, we always strive to provide excellent customer service and high-quality custom solutions to our customers.
https://www.acefone.com/blog/wp-content/uploads/2021/10/a-complete-guide-to-VoIP.jpg
376
737
Acefone Editor
https://www.acefone.com/blog/images_acefone/logo.png
Acefone Editor
2021-10-29 12:37:26
2022-05-05 10:15:14
A Complete Guide to VoIP: Tips, Definition, Types, Features, Benefits, and Things to Consider Before Installation