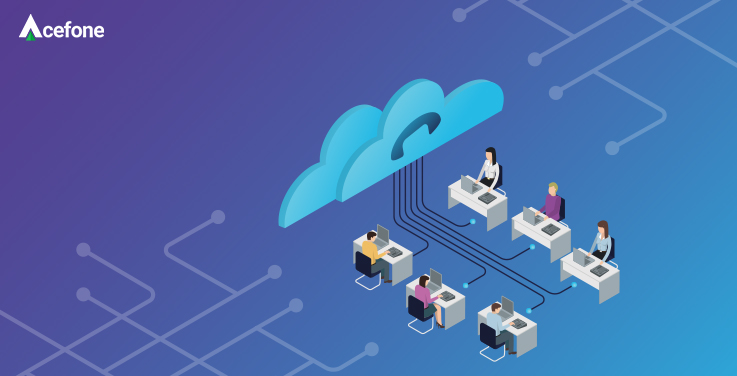 Through these challenging times, more and more workers are having to work remotely; this could be something they have never done before and so will need a little more guidance than usual on how to remain productive even when they are out of the office.
VoIP can help businesses maintain productivity, and is actually designed to help remote workers be more connected than ever.
Here are just some of the ways a VoIP telephone system can help remote workers operate efficiently and help the companies they work to keep their business running.
Make Remote Workers Feel More Connected
Remote workers can often feel isolated or disconnected from your business, even more so in these challenging times.
VoIP telephone systems give your workers easy access to communications with each other through conference calling so every member of staff can feel as though they are still part of your business even though they may be based miles apart.
Isolation can be problematic for workers as it can be detrimental to their mental health, leaving them vulnerable to depression or anxiety issues.
So installing a VoIP system can go some way towards protecting your staff's mental health as well as their physical health if they need to self-isolate.
Switch From One Device to Another Easily
Your workers can seamlessly go from speaking on their phone in the office to operating their phone systems on their mobile phone, laptop or tablet; wherever they have an internet connection they can access your phone system and still deliver crystal clear communications to customers.
The compatibility of VoIP systems means that your employees are free to choose whichever device suits them and opens your business up to much more staff across the world.
If your business has had remote work implemented recently, this may be fairly new to you.
So, if you have not had ample time to prepare you may have limited resources (i.e. laptops or phones) to give out to staff, so having the flexibility for staff to use their own devices can give you the time you need to source alternative devices for your employees.
This flexibility also means that your staff do not need to wait to talk to your customers, they can continue as normal.
Make Your Business More Adaptable To Changes
Many businesses have been thrown into times of uncertainty and with bars, restaurants and more currently being ordered to close their doors, it is very worrying to business owners and staff who want to keep their employees on the payroll and keep up connections with their customers.
VoIP phone systems can help you continue to keep staff employed in your business as they can easily do their jobs from their homes or alternate premises.
A hosted phone system ensures that your business can adapt to these changes instantly.
By allowing you to instantly transfer your phone system from a desk-based phone to another device you and your staff can pick up exactly where you left off.
With a VoIP phone system, there is no longer a need for physical premises, and you can continue to conduct meetings between your staff and clients through conference calls.
So everyone is kept safe and customers will be impressed by your business' adaptability, which could – when this crisis is over-stay in customer's minds when they are looking for a trustworthy company to do business with. 
For those who have already seen the impact of COVID-19, you may be thinking about how to ensure if another crisis occurs in future that your business is prepared and ready for any changes – this may be a good time to consider changing to a more flexible telephony solution.
Keep Customers Informed
With the flexibility to work remotely, your workers can now focus on keeping your customers informed of any business changes.
COVID-19 is also a frightening time for customers as they may have placed large orders with you and maybe worried about being out of pocket.
By using a VoIP system your staff can easily connect with your customers over the phone and can assure them you have the situation in hand.
Hearing from your staff at this time would give customers some peace of mind, and will be appreciated by customers who will be considering making further purchases or using your services in future.
VoIP phone systems work so that customers will not even need to know that your staff are working remotely, as one of the exciting features you can add onto your phone system is the ability to control the appearance of outgoing calls, so your business number will appear on customer's phones rather than a mobile number which can look unprofessional.
With a VoIP phone system, these times of crisis do not mean your business needs to compromise on professionalism.
Remote Workers Will Never Miss A Message
Particularly for those new to remote working, there may be some teething problems when getting used to this new way of working. VoIP telephone systems have the option for voicemails to be automatically forwarded as voice files to an email address, so even if staff do miss a call they can easily get back to the customer quickly using this amazing feature. If they are not the best person to deal with the query they can also forward the message to another member of staff to ensure customers are getting the best possible service.
Manage All Remote Workers From Acefone's Online Portal
Managers and business owners have all the tools they need to manage remote workers with a few clicks using Acefone's simple to use online portal.
Managers can listen to call recordings, see agent's call times and waiting times and much more to ensure that even though workers are not physically present in the office they are still working to the same standard and providing customers with the same great service.
If your business has changed to remote working and you would like to know how VoIP systems can help remote workers through COVID-19 call our expert VoIP team on 0800-084-3663.

Acefone provides a broad range of cloud communication services to businesses of all sizes, which includes Hosted Phone Systems, Free Phone Numbers, and Cloud Contact Center Solutions. Being the UK's leading provider of VoIP service provider, we always strive to provide excellent customer service and high-quality custom solutions to our customers.
https://www.acefone.com/blog/wp-content/uploads/2020/03/how-voip-can-benefit-remote-working-1.jpg
376
737
Acefone Editor
https://www.acefone.com/blog/images_acefone/logo.png
Acefone Editor
2020-03-25 12:10:28
2021-09-24 07:42:08
How VoIP Can Benefit Remote Workers During COVID-19