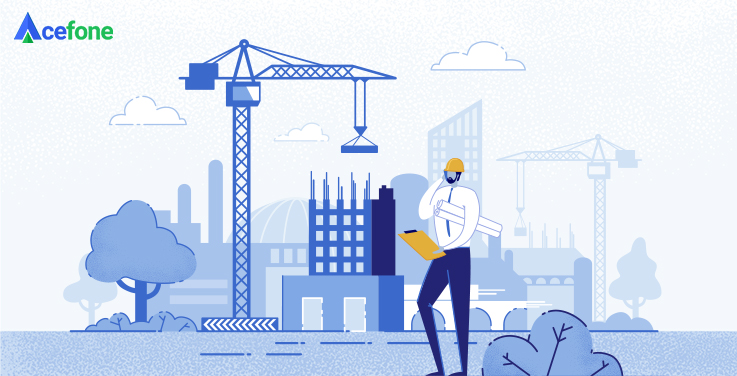 A hosted phone system is a must-have for every type of business, but particularly for construction businesses.
Construction businesses by nature are mainly not office based – sometimes you will need to set up offices on sites, sometimes you will need to be out meeting clients and suppliers; but what you do not need it to be chained to your desk by your office phone.
A hosted phone system has many features that can make life so much easier for Construction businesses, so, here are our top reasons why every Construction business should have a hosted phone system.
Hosted Phone Systems Are Completely Portable
With a hosted phone system, as long as you have an internet connection you can take your phone system with you anywhere.
Hosted phone systems work on any compatible device, so your construction workers can stay connected with you as a manager or with each other simply and easily through their mobile phones, laptops, or tablets. 
This means that your business will never miss a call from a potential customer as at least one of your workers will always be connected wherever you are.
It is important for Construction Businesses to be easily reachable, to both potential customers and suppliers too and a hosted phone system gives you the flexibility to be on hand to answer important calls, even when you are working on a site.
For sole proprietors, a hosted phone system is key to ensuring that you can go where you are needed and still remain connected to your business line.
When the whole operation is relying on you, it is important to be confident in your telephone system to bring in leads to your business.
Never Miss A Call Again
Sometimes, Construction Business work in such a way that it is inevitable that you might miss a few calls – particularly if you are a sole proprietor of a business without a team around you.
This is not a problem with a hosted phone system, as you can add a voicemail to email feature which sends all missed calls and voicemail messages directly to your email address as a sound file. 
This handy feature means that you do not need to stop what you are doing to answer a call, you can let the call go to voicemail and then review the voicemail when you are finished.
With all the details you need to call the customer back with an answer to their query, you will still impress customers with your communications even if you do not answer on their first call.
This also gives you the opportunity to free up your own time and direct customers to the most relevant person.
If you review a voicemail and have a colleague who can answer the query more effectively or a colleague who is not working on a job, you can simply forward the email to a colleague and reply to the customer promptly – saving both you and the customer valuable time.
Virtual Assistants Take Messages For You
Another option for Construction businesses is to enable the Virtual Assistant feature. This feature answers your calls for you and can take messages from customers – giving a very professional impression to any customer calling your business. 
Virtual Assistants can stop you from missing a call and make customers more confident that their message has been received and passed on, meaning they will be happier with the customer service they have received.
Virtual Assistants also make your business look larger and more professional, which will impress any shareholders or clients who may be looking to do business with you.
Choose Your Own Phone Number
Many Construction businesses, particularly smaller businesses, list a mobile phone number on their website and marketing collateral.
While this may be convenient for them to direct calls straight to a mobile, it does not give the most professional impression. 
Customers may be put off by calling a mobile number and may think that your business is less established than those with a landline phone number and office location.
So, by using a hosted phone system you can make it appear that they are calling a landline number and have calls directed to your mobile phone.
This is simple to do with a hosted phone system, and in a few clicks, you can choose your own phone number.
You could have a local number to increase trust and local community ties, or a free phone number to appear as a bigger and more professional company while removing any barriers to customers calling you.
Alternatively, you can create a custom number which is memorable and matches with your marketing collateral. The choice is yours with a hosted phone system and you can choose how you want your business to come across.
You do not need to worry about directing your new number with a hosted phone system, customers will see no difference when they call your number and will enjoy the same crystal clear communications whatever device you pick up on.
Hire Remote Staff
If your business is growing, you may need to hire staff away from your physical office location. This is not a problem with a hosted phone system.
If staff have an internet connection it does not matter where they are based, so you can confidently hire staff from anywhere in the world to help run your business.
If you have a new project and would like a team based in the area to help monitor its progress, then you can add this team to your hosted phone system in just a few clicks. You could even set up a hosted contact centre with a full sales team – the choice really is yours.
Staff calls and call costs can be monitored with Acefone's easy to use online portal and you can access a range of analytics from call waiting time to call recordings.
Everything can be accessed in just a few clicks and can be accessed wherever you might be and on whatever device you choose.
A hosted phone system gives you the power to expand your business without geographical limits – something which can be highly beneficial to Construction businesses. 
If you would like to find out more about how a hosted phone system can help your Construction business grow, call our team on 0800-084-3663 for a consultation.

Acefone provides a broad range of cloud communication services to businesses of all sizes, which includes Hosted Phone Systems, Free Phone Numbers, and Cloud Contact Center Solutions. Being the UK's leading provider of VoIP service provider, we always strive to provide excellent customer service and high-quality custom solutions to our customers.
https://www.acefone.com/blog/wp-content/uploads/2020/07/hosted-phone-system-for-construction-business.jpg
376
737
Acefone Editor
https://www.acefone.com/blog/images_acefone/logo.png
Acefone Editor
2020-07-15 12:58:56
2021-08-03 15:57:09
Why Every Construction Business Should Have A Hosted Phone System