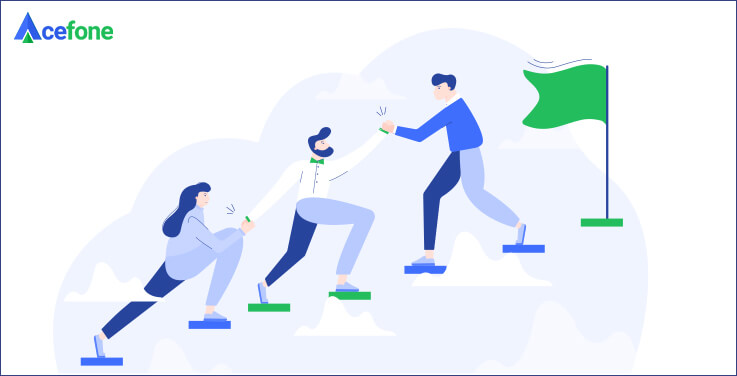 When it comes to cloud communication and its potential, the sky is the limit. At Acefone, we tend to reach it expertly and often. Our cloud solutions come with unlimited advantages—but most importantly, they streamline and simplify communication.
Each solution is completely scalable, flexible and customisable.
In the past few years, cloud communications have seen a steep rise. Not surprising, given that they enable remote working, support omnichannel communication, remove infrastructural burdens, and offer a no-strings-attached, plug-and-play experience. Not to forget, they can be used across industries, by businesses of all sizes and types.
For instance, Acefone's VoIP services enhance and elevate business communications in all avenues of application. With both internal and external communication capabilities, our cloud solutions can provide excellent customer service and enable deft collaboration between teams whether they use softphones or unified portals.
There's no denying the profitability that comes with investing in the Cloud. And, so, with all this in mind, Acefone is proud to announce its Partnership Programme.
Acefone Partnership Programme
Our partnership programme creates the perfect platform for businesses to grow and foster long-term business relationships, maximise earnings and increase customer retention. The fact that you get all this with a steady revenue model is a definite plus.
As a reseller, our partners can leverage great income opportunities by selling Acefone to their customers. They get an inventory of solutions that can be sold to all kinds of small, medium and enterprise-level businesses, and earn lucrative commissions for every renewal and upsell.
Over the course of the journey, you'll realise that we stay with you every step of the way. We aid you in all your endeavours as well. An exclusive account manager ensures smooth functioning, regular feedback sessions and offers support 24x7x365. Additionally, partners have access to a wide variety of sales tools, marketing collaterals and efficient service delivery.
Our affiliate or referral programme strips everything down to the basics and adds the finishing touch of an instant, steady income flow. Under this programme, our partners need only sign up, bring in leads and earn rewards. The rest, we'll handle. No hard-selling involved!
The benefits are endless
The Acefone Partnership Programme is designed to bring in results that help our partners expand their operations and add quality products to their portfolios. What sets us apart, however, are the benefits our partners get to enjoy.
Minimal efforts with high profits
Our partners get to buy our products at a heavily discounted rate and then resell them at a significant profit margin. Our cloud services come with instant set-up and superlative offerings, ensuring a high customer retention rate. This means customers are likely to renew their services again and again.
When it comes to cloud solutions, one never has to worry about them going obsolete. Our Hosted PBX and VoIP solutions have industry-wide utility and zero restrictions when it comes to customisation and scalability. When everything is so simple, selling is certainly not an issue.
Under the Acefone Partnership Programme, you are our top priority. With an exclusive account manager at the helm of all your endeavours, we can easily ensure a low turnaround time and unwavering support in all that you do. Add to this 24x7x365 availability, and you've got yourself a winner.
Acefone offers logistical management, provisioning and high-level customer support. While we take care of all this, you do what you do best: focus on sales without any distractions.
From the very beginning, our partners get access to a wide range of sales and marketing collateral. It starts with detailed demonstrations, guides and training sessions. And continues with sales pitches, dedicated support and joint campaign planning.
Acefone's promises quality, robust products. Our cloud solutions are easy to deploy and use, have enterprise-grade security standards, and are entirely flexible. When you resell our products, there are no hiccups.
Advantages that set you up for success
We work with our partners round-the-clock, offering 360-degree support and end-to-end assistance. While there are numerous ways we achieve this, here are some of our favourites: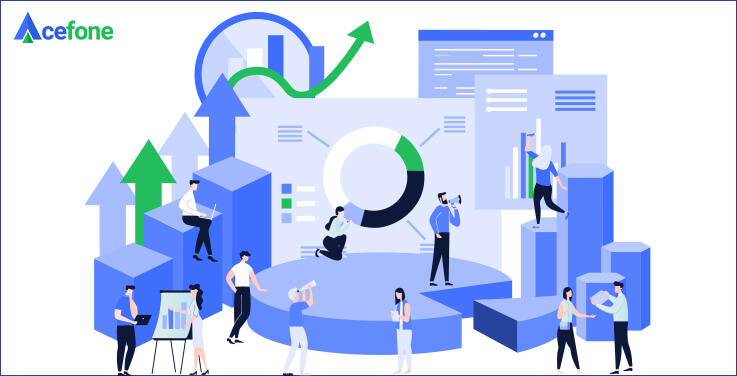 We arm you with everything you need to face the sales battle. Dramatic? We think not. Think of our sales battle cards as cheat sheets for all our products. All the important information is right there for your perusal—product features, use cases, benefits, and FAQs. There's more still, these cards will help you figure pricing negotiations and how to make attractive pricing bundles too.
What if we told you that we have a detailed checklist that can help you meet your sales targets every time? Our partners are happy to get access to our call talk track that operates like an indexed sales pitch. Be it probing, solution design, pitching, negotiation or closure, the talk track offers relevant insights on all fronts, pushing your sales process forward.
Exclusive account managers
As a partner, you get paired with an exclusive account manager who is dedicated to your success. They'll help you with query resolutions, aid in collaterals, help you finalise deals and even set up training sessions.
Monthly feedback sessions facilitate the two-way communication needed for a successful partnership. We'll simply get on a call to discuss analytical reports and some important metrics that will help you define your business strategies better.
And we have so much more up our sleeves. Partners also get:
> Ready-to-use sales presentations
> Dedicated support staff
> Exclusive sales workshops
> Sales training manuals
> Marketing workshops
> Easy-to-implement marketing campaigns
> Post-sales engineering coaching on first five deals
> Minimum turnaround time for queries
> Software demos
Ready to be our partner?
Whether you join as a reseller or an affiliate, the Acefone Partnership Programme opens many opportunities for increased engagement, growth and prosperity.
Here comes the best part: our programme is open to a variety of business profiles so everyone can benefit. And, signing up is just as easy. All you have to do is fill our form and wait for us to contact you.

Anshika Nagar is the assistant content editor at Acefone. She enjoys interacting with different forms of media and loves to write about tech, travel and lifestyle. When not working, you will find her reading and binge-watching tv shows. Connect with her on Linkedin
https://www.acefone.com/blog/wp-content/uploads/2021/07/Acefone's-partnership-programme.png
376
737
Anshika Nagar
https://www.acefone.com/blog/images_acefone/logo.png
Anshika Nagar
2021-07-12 07:36:28
2023-03-21 08:02:17
Acefone's Partnership Programme Is The Best Way To Boost Profits