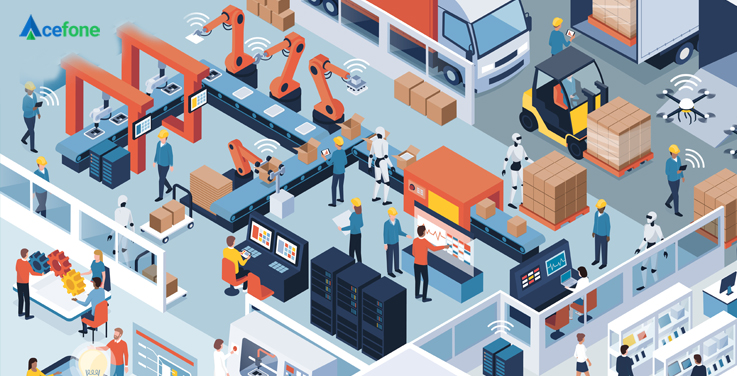 Hosted phones are widely used in customer service, and one such industry is the retail sector.
The retail market includes increasing competitors; thus, it is essential to stand out from your competition by simplifying interactions with customers. Retailers need to keep up with customer's queries and must be available for them all the time.
Customers, on the other hand, expect smooth and seamless communication with retailers, and if the retailers fail to meet their expectations, then customers choose to shop somewhere else.
Let's discuss how a hosted PBX System can benefit the retail industry.
1. Agents are Available Round the Clock
Retailer can answer the phone even while travelling, when stuck in traffic or while working from home, ensuring that no customer is left unattended. When retail staffs are available for customers at all times, it results in an increase in customer satisfaction rate.
Hosted phone promotes mobility which results in employees taking fewer leaves. Staff can receive calls even on days when the weather is unpleasant via their personal phone by forwarding calls from the office phone to their mobile.
2. Connect and Collaborate All Over The Globe
If your retail business is spread across the globe, then a hosted phone is the right choice for you. It saves cost as hosted telephony uses the internet for calls, and unlike traditional phones, cloud-based phones do not consider distance as a factor for charging additional. Meaning that international calls become affordable with cloud-hosted phones.
Data is maintained on the cloud; thus, the employees can connect and collaborate with the team from anywhere in the world, provided there is a robust internet connection.
Hosted PBX phone system offers advanced features that a traditional phone is limited to.
These additional features will make your retail market stand out from the competitors.
It is equally important to select the right hosted phone that provides tailor-made features for the retail industry and take the customer service to another level.
Hosted phone system by Acefone offer many features like –
Call Screening – With call screening, you get details of the caller even before picking up the call. Based on the details, you can decide whether to pick the call or redirect it to another number. It basically helps you identify the call, and the details are used to decide the action to be taken.
Call Conference – Teams can communicate from anywhere, and at any time, meetings can be conducted easily by adding the team members on the call. A special and must have feature for retail market spread over different locations.
Call Recording – Record all your conversations with customers and listen to them later and get insights whenever you want. It is not possible for agents to remember each conversation that they had with the customers. Thus, with call recording agents can replay the conversation and note down important points through which they can recognise the customer and solve their query on the very first call.
Voicemail to email – Customers can connect with the retail store even when the agent is not available by dropping a voicemail, which is emailed to the retail associate as an audio file. The associate can download the audio file from his email and play it using a media player.
4. Increased Productivity In Your Business
By incorporating hosted telephony in your retail business, you have a centralised management system to take care of. You can manage the entire system from a single online portal, which saves time and improves productivity in maintaining the system.
Investing in the latest technologies also helps improve employee productivity, which in turn improves the growth of your market.
With hosted phones, retail staff can perform better because they are able to do a lot more with its business-oriented features.
5. Make Your Communications Simplified
With hosted phones, you can access all your communication channels through a single dashboard. If you have multiple stores, you can easily combine all your stores into one single communication platform with Unified Communications (UC).
UC makes it easier to keep track and monitor calls, ensuring that you deliver excellent customer service as you get real-time access to data of all the communication services like voice, email, and chat.
6. Hosted Phone Grows With   Market Needs
Cloud-hosted phones are highly scalable and grow with the business, retailers can easily add or remove phone lines as per the business requirements. These phone systems are suitable for businesses that fluctuate or are seasonal.
These phone systems are simple to install because these do not include any additional equipment or complex cabling to add every new line.
Conclusion
Online shopping is rising, and there is no going back because of the convenience it offers. Customers can shop any time of the day without taking out dedicated time for shopping. Online shopping is quick and convenient for customers, but it is also a challenge for retailers to provide excellent customer service.
Customers would not like it when they have to put effort into communicating with the retail store. Retailers should be easily accessible to their customers. If, however, the customers are not satisfied with the quality of service they are getting, then it won't take them long to look for other alternatives.
Hosted phones come with an online portal where you can store information, and your agents can access it. The details help agents provide quick, personalised, and best possible service to the customers.
Improvisation in technology continues to transform the way business communicates. It's time to keep up with the technology before it gets too late.

Ratnam is an SEO enthusiast and content writer working as a Digital Marketer with Acefone. He is fond of traveling and new experiences. He is a huge Marvel fan and is always open to learning.
https://www.acefone.com/blog/wp-content/uploads/2020/02/benefits-of-hosted-phone-retail-industry.jpg
376
737
Ratnam Sinha
https://www.acefone.com/blog/images_acefone/logo.png
Ratnam Sinha
2020-02-06 07:35:19
2021-08-02 15:14:00
6 Benefits Of Hosted Phone In The Retail Industry