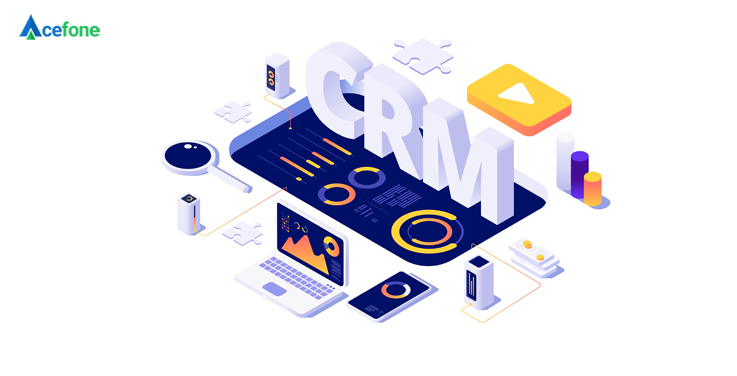 CRM or Customer Relation Management offers so much to gain for a business. The biggest benefit of CRM is building a stronger relationship with your new, as well as existing customers.
Customer Relation Management (CRM) software can be defined as a tool for businesses to  manage the interactions and relationships with the customers  by saving every important information while also improving the profitability of the company.
CRM is a term commonly used to refer to a CRM system which is basically a tool for sales management, contact management, workflow processes, productivity tracking, etc.
According to IBM "The cloud also makes it possible to power mobile CRM systems. According to the findings of a Nucleus Research report, 65% of companies that are using a mobile CRM solution are meeting or exceeding their current sales quotas. As compared to companies that are not using these solutions, just 22% of them are meeting or exceeding their sales quotas."
To stay ahead in the race, it is necessary to understand your customers, and for that, just listening to their feedback isn't enough these days. You need to have detailed information about your customer: from their communication history with the brand, to their latest purchases and service request.
If you have an inbound call centre for your business, there are many benefits of integrating CRM with your hosted phone system.
1. Better Client Experience
With integrated CRM system, the agents can access all the relevant information about the client on their screen. This will not only help the agent build a better relationship with the client, but they will also spend more time solving the queries rather than acquiring information.
With precise information, the agents can add a personalized touch to the customer service  which enhances the customer experience many folds.
2. Enhanced Agent Satisfaction
With greater knowledge about the client, agents will have ease in serving to them. They can be more engaged with the client, and it will also allow them to better understand the problem and provide then with better solutions. This will in-turn make a better experience for the agents too.
3. Increased Profitability
When the agents solve the issues faster, the clients end up being more satisfied with the results. It increases the revenue as the customer queries are being solved quicker, and customer satisfaction is increased. Integrating CRM with your hosted phone permits you to make both your clients and agents happy while increasing your profits.
4. Cost Saving
CRM system can help you plan your tasks and activities, record and save all your data, and also give better customer satisfaction to your clients. This not only improves your productivity but help you save a lot too.
It cuts the cost on acquiring new customers as your old satisfied clients can act as your brand ambassador. It also records all purchase history of each client, thus tracking the bestselling and least selling items allowing you to understand how to improve the sales.
5. Automate Routine Tasks
CRM software is able to automatically fill out order forms, send reminder emails, etc. Thus, saving a lot of time for the agents which permits them to concentrate more on the clients rather than on manual tasks like this. Such tasks consume a lot of time and effort of the agents which can influence their productivity.
While it might not seem a lot, but automating these little tasks saves a lot of extra work for the agent.
6. Managing Call Recordings
CRM will store the data of every incoming and outgoing call into its system. It will help you analyse every customer separately, not only the customer, but you can also analyse and monitor the performance of your agents.
You can easily keep track of all the calls. Thus, CRM makes managing your call records very easy. Using this, you can make new strategies for different products and agents.
7. Scalability
CRM system is highly scalable. If you plan to expand in the future, or make any changes, it is very easy. You can add new agents, departments, options, anytime in the system, and it will be ready to work within minutes.
Even if you plan to Relocate your business, you do not have to worry about moving any hardware. Both CRM and Hosted Phone System are on the cloud, so it takes a few minutes to restart and continue working at the new location.
8. Better Conversion Rates
When the agents are provided with detailed and relevant information about a client, the customer interaction improves, substantially. With better interaction, conversion rates are also increased as the clients get more comfortable.
The agents do not have to waste time on getting information from the client, they already have it on their screen. This also helps to increase the trust factor of the customer in the agent and the company.
9. Enhanced Agent Productivity
As mentioned in the previous points, employees are more satisfied and do not have to do side works that eat up their time, their productivity increases. Agents spend more time on calls while dealing with the customers.
As the main focus of the employees is customer interaction, their results for the same is better. Moreover, the more time they spend on call, the more clients they deal with.
Conclusion
These are just some of the ways in which your business can benefit by integration CRM with Hosted Phone System. Many organisations are now switching to CRM systems and are very happy with it.
The industry is in a very competitive state right now, and the future will only belong to those who can maintain strong customer relationships. With CRM, you can not only have satisfied customers but can also improve your productivity while saving time and money.

Ratnam is an SEO enthusiast and content writer working as a Digital Marketer with Acefone. He is fond of traveling and new experiences. He is a huge Marvel fan and is always open to learning.
https://www.acefone.com/blog/wp-content/uploads/2020/01/benefits-of-integrating-crm-with-hosted-phone.jpg
376
737
Ratnam Sinha
https://www.acefone.com/blog/images_acefone/logo.png
Ratnam Sinha
2019-11-04 14:39:35
2023-01-23 05:33:29
9 Benefits of Integrating CRM With Hosted Phone System