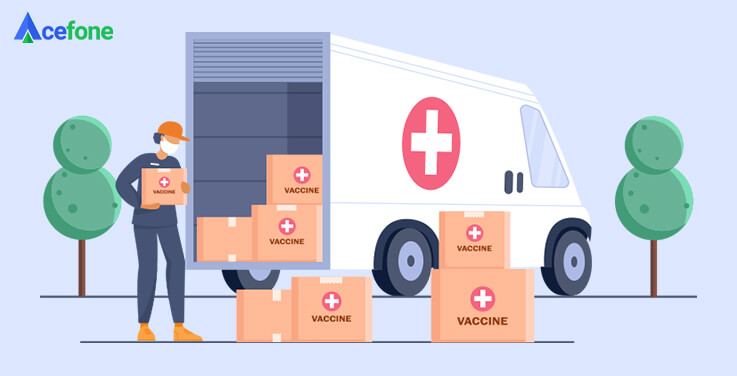 Currently, we are witnessing one of the greatest logistical challenges of our time—the distribution of the COVID-19 vaccine across the globe. While the prospect of an effective vaccine brings with it a lot of excitement and hope, the reality is that distribution companies have quite a lot of roadblocks to overcome. 
Businesses are taking different measures to ensure that the drive runs smoothly around the world. And UCaaS and CCaaS can greatly aid this process. Wondering how? We'll tell you in a bit. 
First, let's understand the difference between these communication types.
Differences between CCaaS and UCaaS
CCaaS and UCaaS are business communication technologies. They both operate through your hosted phone system, meaning all you need is an Internet connection and a compatible device to set them up. 
These are both really powerful tools that help you deal with day-to-day operations. You can ensure seamless team communication with UCaaS and encourage collaboration even when people are located miles away. Needless to say, collaboration enables you to benefit from your staff's combined knowledge and inputs, and makes it easier to solve complex issues.
With the addition of CCaaS, you can ensure that customers receive great service every time they contact you. Your agents can work from anywhere and still offer the same level of service through their hosted phone systems. They can also keep customers informed and even convert leads to sales from their own homes, even through a global pandemic!
So, while UCaaS can take care of all internal communications, CCaaS services can improve your outreach and customer interactions. Now that we know the difference between the two systems, let's take a look at how each of these can help with the rollout of the COVID-19 vaccine. 
How can UCaaS and CCaaS help with the COVID-19 vaccine rollout?
These communication systems help you work collaboratively—a key part of solving the logistical challenges. For the vaccine rollout to be a success, people need to work together, whether it's in hospitals, distribution centres, transport, or anywhere else for that matter. All of this is possible with the capabilities of UCaaS and CCaaS.
Working from their own devices, staff spread across the world can connect with their colleagues to coordinate processes, arrange staff cover and facilitate glitch-free vaccine delivery. You can eliminate any unnecessary delays caused by the lack of coordination or miscommunication. 
As some vaccines have strict temperature requirements, time is of the essence. You need intelligent and reliable communication software to ensure everything runs smoothly. This is what UCaaS and CCaaS offer at a low cost, using only an Internet connection. 
Additionally, hosted phone systems provide plenty of amazing features that help solve logistical issues and simplify both internal and external communication. A virtual assistant with IVR can be used to answer calls and route them to the concerned person instantly to enhance first call resolution. Any calls that are missed can be recorded as voicemails and forwarded directly to the agents' email. 
The cloud offers various similar features that are aimed at making coordination effortless and vaccination drives smoother. 
Some of these include:
1. Voice broadcasting for general information sharing
You can use your UCaaS or CCaaS system to broadcast information en masse to your customers. Voice broadcasting allows for much more effective use of time for getting the word out and spreading awareness about the vaccine, or contacting people to book their tests and appointments. 
2. IVR for personalised information dissemination
You can use your hosted phone system's IVR to spread information by personalising the message customers hear when they call. Give out the latest information and answer frequently asked questions to save your operators time, and ensure that only the urgent enquiries make it through to your agents.
3. Bulk SMS for information that needs to be saved
You can send out bulk SMSes to update your client records. This is ideal for the distribution of the COVID-19 vaccine as it helps you check if your data is all up-to-date before you go about sending letters and contacting patients for appointments—something that'll save you both time and money in the long run! 
Text messages also enable quick and effective communication, even in areas of poor network. And the best part? People don't have to worry about hurriedly jotting down information; all the details remain saved in their inbox for when they need it.
4. Number masking to ensure the privacy of healthcare workers
In these difficult times, healthcare workers are working hard enough as it is. If you don't have the right privacy measures in place, you risk exposing their phone numbers which could result in them receiving large volumes of uninvited calls they're not equipped to handle. Deploying one-way or two-way masking will help you safeguard the contact details of both the frontline workers and patients, enabling only appropriate and relevant connections.
Businesses will need to collaborate with people across the globe to make sure that the manufacturing, delivery and distribution of vaccines run efficiently. With hosted phone systems, this is simple and cost-effective. As calls are made through an Internet connection rather than a traditional phone line, it becomes super easy to make international calls and coordinate deliveries. This means, there are no limits on conversing with colleagues and suppliers around the world, as the cost is no longer a factor.
How can UCaaS and CCaaS help solve logistical challenges?
Rolling out the COVID-19 vaccine involves lots of collaboration between governments, hospitals, distribution centres, and suppliers. Additionally, it also requires practically constant communication with the general public to ensure that the vaccine reaches them on time.
For example, in the UK, the NHS is working tirelessly to contact everyone who is in line for a vaccine, in order of priority. This is a logistical challenge in itself, even without considering the transport and distribution of the vaccine.
A business VoIP solution allows you to set up a hosted contact centre using which agents can connect with each other from anywhere in the world. Using cloud solutions, you can hire workers remotely. They can call customers and make appointments for the vaccine through the hosted phone system itself, which can be connected to your CRM for better customer management. 
This eliminates one step in the process as vaccination appointments can be booked in a single phone call with all the necessary information at hand, rather than trying to chase customers who may be unfamiliar with online bookings. 
UK residents have recently been advised to call the NHS to book their appointment—if they haven't been contacted already. A hosted contact centre can act as a central touchpoint to handle all the calls and automatically route callers to the next available agent. This solution is simple and cost-effective, and all an agent needs is an Internet connection and a compatible smart device to make and receive calls.
The beauty of CCaaS and UCaaS is that they can work for both inbound and outbound contact centres. Dedicated agents can make outbound calls for appointment bookings while others can handle the inbound call traffic and take queries. 
With no limit on the number of lines that can be added to your hosted phone system, you can create a contact centre that meets your exact needs, and you can add or remove temporary workers as and when required.
In terms of customer service, having more agents at your disposal would significantly reduce the waiting time at your centre. The vaccination programme is new to everyone, so it is likely that people will have queries and want confirmation or reassurance. You can set up a well-equipped contact centre in minutes to tackle all the concerns quickly and accurately. 
With both of these cloud solutions, you can manage all aspects of your hosted contact centre via Acefone's online portal. This portal gives you access to detailed analytics about call waiting times, agent performance, call recordings, call costs, and more. 
You can now manage your teams and the day-to-day running of a hosted contact centre from the comfort of your own home—perfect for solving logistical challenges in the midst of a pandemic.
There are also plenty of features of a hosted phone system that support the logistics of rolling out the COVID vaccine, including:
Second dosage reminders via texts and calls
You can use your hosted phone system and all the data saved on your online portal and CRM to ensure that timely reminders are sent out to patients needing their second dose. You can even send them bulk SMSes directly from your phone system, saving you the time spent in contacting each person individually. With a record of every message chain maintained, you can follow up with anyone who hasn't booked an appointment with a scheduled call back.

Feedback via SMS or free phone number
Feedback is important to ensure that you are dealing well with the logistics of such a large-scale project. Your customers may suggest ways in which you could streamline the process. Hence, it is useful to listen to their thoughts and make improvements to the rollout. You can send out feedback forms to all contacted customers with an SMS message, or set up a free phone number that customers can call at no cost.
Conclusion
As we can see, there are many ways in which hosted phone systems can be used to make life easier for the people involved in the distribution of vaccines, whether on the production and delivery side or the actual vaccination of patients.
Keeping lines of communication open is key, and clear conversations ensure that there is less margin for error in the distribution of vaccines. Opening communication up to the public is ideal, too, to help them feel more comfortable and updated during a very unfamiliar situation, something cloud solutions are effective at doing.
Hosted contact centres provide the perfect solution to help coordinate the booking and administration of vaccines across the world. Connecting seamlessly to your CRM system, you can make and book vaccination appointments within your phone system, saving time and money and ensuring the message reaches the right people who are in need of the vaccine.
Working together, we can all help towards the rollout of the vaccine, and both UCaaS and CCaaS can be implemented quickly to lend a helping hand to the frontline workers of the vaccination programme. 
To find out more about how cloud solutions can help with complex logistical challenges in your business, call our team today on 0800-084-3663.

Olivia is an outgoing person who enjoys writing, is an SEO enthusiast, and often interacts with others in intellectual conversations. She enjoys listening to music in her free time. Connect with her on Linkedin
https://www.acefone.com/blog/wp-content/uploads/2021/03/handling-logistic-challenges-with-ucaas-and-ccaas.jpg
376
737
Olivia Trott
https://www.acefone.com/blog/images_acefone/logo.png
Olivia Trott
2021-03-17 08:27:52
2023-03-21 08:47:26
Distributing the COVID-19 Vaccine: Handling Logistic Challenges with CCaaS and UCaaS