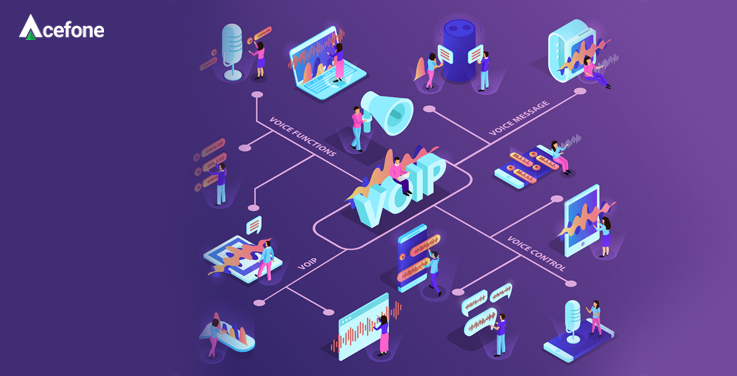 Voice Over Internet Protocol or VoIP is a communication service that allows the user to make calls using the internet rather than the traditional phone lines. VoIP is significantly cheaper than the traditional PSTN or ISDN lines.
VoIP has made international and local calls very feasible, and this is one reason that businesses are opting for it, gradually. Even for small businesses and start-ups are opting for the VoIP because it is cost-effective and comes with flexible features.
It provides a better calling experience to the users with additional features like call recording, call conferencing, call queue, call forwarding, and others.
Who doesn't want a cost-efficient, reliable, flexible, professional and mobile solution for their organization? That is exactly what VoIP is and why it's becoming so popular.
As a business, there is a lot a company has to consider before it can take any major decision. So, here are some important statistics that you should look into before switching to the VoIP system.
Key VoIP Statistics You Should Know
Small businesses that switched to VoIP save 40% on local calls and 90% on international calls. (TechCo)
By integrating VoIP, businesses save 30% on teleconferencing. (TechCo)
Companies have seen 20% rise in productivity with VoIP. (Harbor Networks)
There is a Compound Annual Growth Rate (CAGR) of 7.8% between 2016-2024 in hosted business IP PBX service. (Persistence Market Research)
Business with 30 VoIP phone users saves up to $1200 per month. (PCWorld)
$194.5 billion is the projected global VoIP revenue by 2024. (Persistence Market Research)
50% of IT leaders ceased purchasing on-premise communications in 2018. (Gartner)
About 90% of IT leaders will stop purchasing on-premise communications by 2021. (Gartner)
47% of businesses have already implemented SMS using VoIP service. (Internet)
74% of employees use mobile app for business calls with VoIP service. (Internet)
VoIP can help save 32 call minutes per day. (Cisco)
There will be 204.8 billion corporate consumers of VoIP by 2020. (Ironpaper)
There were 1 Billion mobile users of VoIP in 2017. (WisdomPlexus)
It is projected that there will be 3 billion mobile users of VoIP by 2021. (WisdomPlexus)
1519 businesses in the US in 2019 were using VoIP services. (IBISWorld)
By 2020 VoIP will hold 28% CAGR of Global Mobile Market. (Technavio)
VoIP has 34 Million users in the USA, 31 Million users in Japan, and 22 Million users in France. (Statista)
22% business over the world already have a Toll-Free Number. (Internet)
400 minutes is the average employee call consumption of VoIP every month. (Internet)
On average, there are 3 VoIP phone menu options. (Internet)
15 seconds is the average length of menu greetings on VoIP phone services. (Internet)
On average, the caller holds for about 36 seconds before getting connected. (Internet)
On average, the caller holds for about 90 seconds before disconnecting. (Internet)
89% of VoIP phone menus offer the caller to enter an extension. (Internet)
By 2025, it is likely that AI Chatbots will do 95% of customer interactions over the phone. (Forbes)
Conclusion
VoIP is a fast-growing technology that is making a mark on the world. Not only does it improve the productivity of the business, but it also provides a better customer experience. VoIP technology is not meant for big organizations only, but small businesses and start-ups are also benefiting a lot from it.
It is clear from the statistics above that VoIP is going to be a major requirement for the companies in the future and has already made a place for itself in almost all the industries today to deliver a better communication experience.
Still, have questions about VoIP? Contact our Solutions Consultant at 0800-084-3663, or visit www.acefone.com/uk

Ratnam is an SEO enthusiast and content writer working as a Digital Marketer with Acefone. He is fond of traveling and new experiences. He is a huge Marvel fan and is always open to learning.
https://www.acefone.com/blog/wp-content/uploads/2020/01/voip-statistics-2019.jpg
376
737
Ratnam Sinha
https://www.acefone.com/blog/images_acefone/logo.png
Ratnam Sinha
2019-10-15 10:45:00
2021-07-28 10:35:07
25 Important VoIP Statistics You Need to Know