Silence can be awkward. 
Even more so, when a customer just wants a quick response.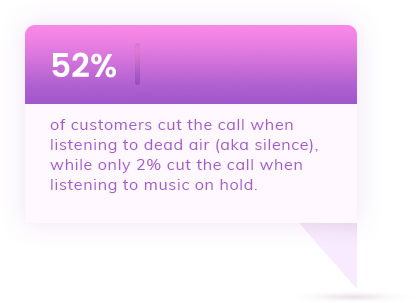 Statistics Source: On Hold 32
This report shows just how important on hold music can be. Music keeps callers engaged long enough to wait and speak to the customer service team.
Long waiting time and being on hold can negatively impact customer experience and with it, the brand's image. Music on hold keeps provides more opportunities to serve potential clients.  
This article will elucidate the benefits of incorporating music on your phone lines. 
1. Music changes Customer's Perception of Time
Statistics Source: On Hold 32
These statistics show a striking difference between perceived hold times and how music can have a positive impact. 
No caller wants to wait in a queue, but sometimes that is inevitable. Long wait times can lead to customer dissatisfaction as they begin to feel undervalued. A customer dissatisfied at an early stage in the purchasing process is less likely to buy from you. 
Music on hold is the simplest way to counterbalance long wait times and customer dissatisfaction. Even during your busiest hours, if callers are entertained by some music then they may not feel so irritated. 
2. Customers are Confident when their Call is Connected 
Dead silence, while on hold can actually cause confusion. In fact, customers might doubt their connection and hang up or assume that the call was cut. This could build up frustration. 
Music on hold assures a customer that they're in a queue and that their call has not been disconnected. 85% of callers prefer music or information on hold as compared to complete silence. If you wish to run a customer-centric business then this is definitely the right option to implement. Music helps retain potential clients on the line without any hassle.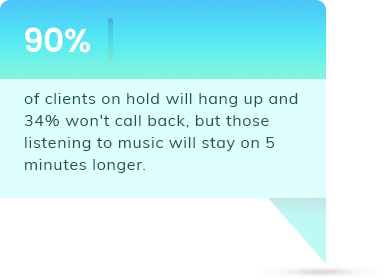 Statistics Source: M12 Solutions 
Can your business afford to lose a third of your potential leads? 
3. Create a more Pleasant On Hold Experience 
Studies show that music has a positive effect on our psychology. This means that no matter what a customer is calling about, the right kind of music can instantly lift their mood, making work easier for your customer representatives. 
A caller with a complaint will get frustrated if put on hold; silence will only aggravate that feeling. On the other hand, a melodic tune might calm your customers, making them more rational and open to solutions provided by your agents. 
Research shows that the right music can create a more pleasant experience for callers. Music for one could be noise for another. A broad range and multiple options allow customers a choice to opt-out and hear updates or important information instead. 
Of course, any music you choose must be high in quality and clarity. Nothing is worse than a faint buzz or an irritating lag. 
4. Music can Boost your Sales 
Music on hold can be cleverly customised to sell further products when interlaced with messages or promotions. Customers can not only hear pleasant music but also the latest updates on the services you provide. 
A customer may call you about one service, and be unaware of your other offerings. A business can, therefore, make the most of these customers' hold time. They can cross-promote products and services to the clients in an unintrusive way. 
Such music provides a fantastic opportunity to freely advertise to your target audience, giving you access to interested customers who are already in touch with you. These leads are likely to be warm and receptive. A simple way to retain customers and boost your sales at the same time.
To Wrap Up! 
Overall, music on hold can be used as a smart and cost-effective marketing tool to keep customers engaged. This can be the perfect solution for businesses that receive a high volume of calls and worry about losing potential clients due to long waiting times. 
Music on hold has proved that it's a great way to retain customers and ensure that your representatives have the opportunity to serve them. Why not make use of this tool to enhance your customer experience from the first point of contact? 
Acefone provides this compelling feature through a hosted phone system to make your call operations easier. Customise your on hold music with the various available options. Contact the sales team on 0800-084-3663 for further information. 

Olivia is an outgoing person who enjoys writing, is an SEO enthusiast, and often interacts with others in intellectual conversations. She enjoys listening to music in her free time. Connect with her on Linkedin
https://www.acefone.com/blog/wp-content/uploads/2020/09/how-on-hold-music-can-help-your-retain-customers.jpg
376
737
Olivia Trott
https://www.acefone.com/blog/images_acefone/logo.png
Olivia Trott
2020-09-01 11:46:30
2022-04-25 10:44:07
4 Ways How On Hold Music Can Help Your Business Retain Customers