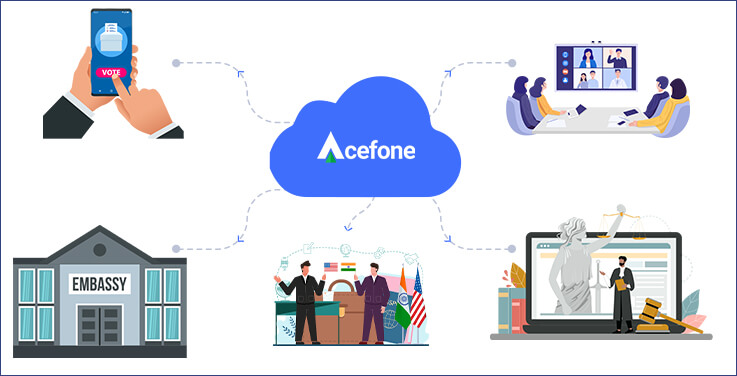 Cloud communications have significantly disrupted the traditional ways of transmitting, collecting and processing data. 
They are now ushering in a seamless and quicker method of disseminating both public and private messages. Private sectors have already begun to adopt these services en masse. 
Could your local or national government be next? 
The government sector, seeing the benefits of Cloud in the private sector, is now aiming for mass cloud adoption in its domains. Governments require the flexibility and efficiency, which the cloud can provide. These services can enable their workforce and agencies in delivering top-tier public services.

The major benefit of cloud services is that it opens up seamless and innovative communication channels between the public and their elected officials. 
This reduces the bureaucratic friction of permits and approvals and allows remote governance. In fact, due to the pandemic-fueled remote activities, governments will see a two-fold increase in the rate of cloud adoption with a 17.7% (average) spend. 
Several governments around the world have already adopted "Cloud first" policies. Herein, public sectors are instructed to work on a PPP model to utilise commercial cloud services. These not only help public sectors improve customer service but also pushes them for an overhaul of outdated IT capabilities to modern and more secure services. 
Certain governments including Australia, Canada, the United States, and the United Kingdom, have already adopted such policies. 
The rate of adoption seems to vary between developed and developing countries.  While the public agencies in the UK have plans to reach 60% coverage of cloud services, the same cannot be said about developing countries. However, even developing countries are now aggressively trying to move towards a more cloud-based IT system.
Cloud adoption offers the following innovative and technological benefits to public institutions:
1. Reduced delivery costs
Cloud adoption can help governments bring down total operating costs in many different ways. First, it allows the government to shift from an infrastructure-driven procurement model to a consumption model, thus providing cost benefits through economies of scale. Further, it results in direct cost savings on infrastructural costs by replacing bulky hardware of legacy systems with sleek software of cloud solutions.
2. Scale innovation

Cloud computing offers innovative tools and new technologies to government agencies at highly affordable costs. This allows large scale deployment of services to cover maximum ground possible. Cloud services also provide worldwide and instant support to government agencies, allowing them to acquire the technical tools and infrastructure for setting up IT projects at scale.
3. Efficient citizen services

As cloud services bring down the infrastructural setup needed to start operations, services for citizens can be thus deployed at scale, rapidly. Further, it reduces the barrier of accessibility between the public and the elected officials, allowing greater collaboration, resource sharing, and efficiency in delivering solutions.
4. Improved security
Government agencies can be guaranteed better security in cloud solutions as opposed to traditional data computing and storage methods. Cloud solutions emphasise ensuring the best-in-class protection against cyber attacks and hacks through the deployment of strong data encryption methods. This coupled with 24×7 surveillance and maintenance by top security experts, make cloud services extremely the best choice to secure important data.
5. Operational backbone

With multiple fail-safes in place, such as centralised data storage over multiple geo-locations and cloud-driven backup services, cloud providers offer a safety net for governments in times of national crises. These services also offer the ability to quickly start restoration efforts in the aftermath of disasters. 
By cutting down the barriers to implementation, eliminating delays, and promoting collaboration, cloud services can provide huge advantages to governments across the world. This has already been demonstrated by the United States of America, who in 2008, led a concerted effort to move their entire government onto the Google email client and other cloud-based software.

Right in the first phase of cloud adoption, governments can achieve multiple milestones:
1. Government cloud

Cloud adoption can convert the traditional rigid public services into flexible e-solutions for its citizens, thus enabling the renewal of existing information infrastructure and allowing more agility in the delivery of services. 
Customer support models utilised by private companies can be replicated for the host of services provided by government agencies. Imagine booking your railway ticket by talking to a chatbot?

These solutions will facilitate the shift from existing legacy systems to a central cloud solution. For the accommodation of required physical infrastructure, multiple geo locations can be considered to manage the public data and information systems in an integrated manner with sufficient backups. Currently, the majority of these clouds are used for storage purposes but this trend would change to introduce its more advanced offerings.
2. Centralised data embassy

Governments can use cloud storage capabilities to create centralised data centres as an alternative to physical data banks, which are inefficient and costly. Such data centres can be used to store vital state information and protect them against physical and cyberattacks.

Apart from providing an additional layer of security through backups, it also performs other critical functions. Data classification models, as designed by the government, can be employed via these data centres, to safeguard sensitive data with critical levels of protection as well as to tag relevant data that can be analysed to understand public feedback.
3. E-voting

Voting is amongst the most important aspects of a healthy and functioning democracy. Considering the magnitude of its impact, it is essential that each and every eligible citizen gets to cast their vote seamlessly and conveniently. 
However, 100% turnout is often hampered by scenarios such as inaccessible residences or nationals staying abroad. One of the solutions currently being discussed to address this issue is remote E-voting.

E-voting is a unique solution that enables the engagement of the public in the process of governance, by making the voting activity very convenient and simple. It allows eligible voters to put in their choices through any internet-connected computer anywhere in the world. In fact, Estonia began discussing remote E-voting back in 2001 and went on to conduct its first Internet election in 2007.
4. Digital Cabinet

Cloud adoption can be implemented to create a multi-user database that collates real-time information relevant to elected officials, such as discussing agenda items and details. In-house voting, as well as motions, could be automated via simple digital checkbox mechanisms to streamline decision making, saving considerable time.

Cloud adoption can also unlock the capability of remote participation, allowing cabinet officials to work securely from anywhere through their internet-connected devices.  The London Borough of Hackneys initiated the rollout of digital workspaces back in 2018, which allowed the said council's 4000 members to be able to start working remotely during the UK lockdown in March 2020.
Like any new innovation, the successful deployment of cloud solutions in developing countries requires political consensus and financial support. 
However, the cost-effectiveness and operational efficiencies of cloud computing solutions can slightly tilt the balance in their favour.  Public institutions can reap the benefits of a digital society in ensuring the well-being and sustenance of their citizens.
To know more about this, get on-call with our cloud experts at 0800-084-3663 or drop an email at [email protected]

Olivia is an outgoing person who enjoys writing, is an SEO enthusiast, and often interacts with others in intellectual conversations. She enjoys listening to music in her free time. Connect with her on Linkedin
https://www.acefone.com/blog/wp-content/uploads/2021/07/how-you-run-an-entire-government-using-cloud-communication.jpg
376
737
Olivia Trott
https://www.acefone.com/blog/images_acefone/logo.png
Olivia Trott
2021-07-27 14:02:32
2023-02-27 11:20:08
Country In The Cloud: Here's How You Run An Entire Government Using Cloud Communication