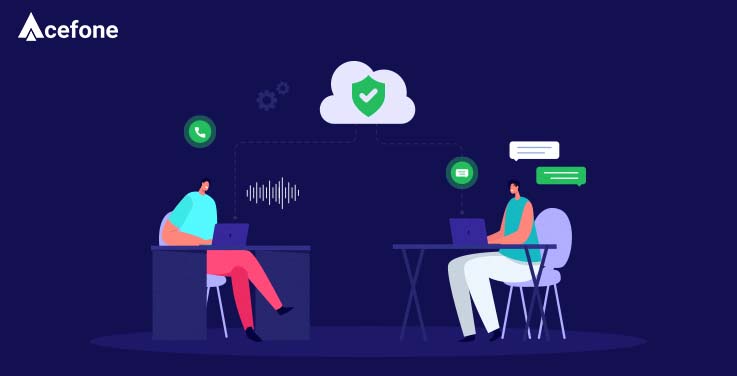 Voice over Internet Protocol (VoIP) has transformed the way businesses interact with their customers. The interactions have become seamless and more convenient for both consumers and service providers.
And with features like call recording, monitoring, call redirection, etc., you not only enhance your business communications but also boost productivity.
In layman terms, VoIP is an online communication tool that handles inbound and outbound calls over the Internet. It converts analogue voice signals into digital data packets and transmits the signal via the Internet through your VoIP provider.  
According to Finances Online, VoIP tech can help reduce phone bills by up to 30% and save 90% on international calls. And, research by global newswire states that the VoIP market is projected to grow by $55 billion by 2025. 
However, hundreds of businesses are still sceptical about deploying VoIP services due to the myths associated with the technology.
This blog breaks down some common myths about VoIP and helps you make a decision. 

VoIP is expensive
Fact: VoIP is highly cost-efficient and cheaper than traditional phone services. 
Today, governments and private firms have a monopoly over telephony charges, making it unfair for small and medium-sized businesses.  
However, VoIP helps companies improve their call quality, save hardware purchases and communication costs by eliminating maintenance fees. Additionally, VoIP is ideal for making long-distance calls as it uses an existing Internet connection and does not require any additional hardware or a separate system. 
In fact, the cost per minute of VoIP is lower than that of an analogue phone system and can reduce communication costs by up to 50%.
VoIP is not reliable
The most crucial aspect to seek while opting for VoIP services is reliability because disruption to your phone system would be catastrophic. 
Businesses cannot afford any downtime due to loss of data as it results in lost business opportunities and damaged brand image. 
Landline phones are prone to interruptions due to natural disasters, power outages, and bad weather conditions. And sometimes phone companies won't be able to restore services quickly. 
Meanwhile, if you have a reliable internet connection, then VoIP is ideal for business communication. If your Internet goes down, you can forward calls to your laptop or phones connected to the Wi-Fi until the connection is reestablished. 
VoIP is not secure
Data security is a primary concern for businesses of all scales and sizes. Risks such as call interceptions, caller ID spoofing, and Denial of Service (DoS) attacks haunt corporations. 
But fret not, VoIP is much more secure than any traditional phone service.
Today VoIP service providers are more resilient to security threats. They offer detailed calls logs, call monitoring, and call encryption. 
Additionally, the servers are monitored regularly and have policies to protect your customer's data irrespective of the size of your business. 
Moreover, VoIP provides end-to-end encryption to ensure nobody can break into calls and listen to your conversations. 
VoIP is only ideal for big businesses
Here's a fact—VoIP is perfect for small, medium, and large-scale organisations. 
It is a common misconception that VoIP is just a large business solution. On the contrary, small and medium scale organisations can utilise VoIP features that offer more flexibility and mobility. 
The remote working feature allows agents to use their office phone number from any phone. Similarly, you can use the find me feature to route all incoming calls to your preferred office phone numbers. 
Put simply, VoIP allows small businesses to maintain competitiveness by providing excellent customer service at low operational costs. 
VoIP voice quality is substandard
Call quality is a crucial metric in converting callers into clients. If your callers cannot listen to your representatives clearly, chances are you will lose business. 
VoIP offers 100 kilobits per second of bandwidth with a decent Internet connection. Therefore, VoIP calls sound significantly better than traditional phone systems. 
Many of the VoIP handsets offer noise cancellation technology that automatically improves the call quality and customer experience. And, with a business class, voice optimised, and high bandwidth broadband connection, the calls on VoIP are crystal clear. 
VoIP is difficult to install and manage
VoIP is a new technology, but it is not complex to install and manage your phone system. 
In fact, VoIP is relatively simple to operate and can be installed within minutes.
All you need is a fast Internet connection and a reliable service provider that offers features based on your business requirements and voila! 
The VoIP service provider handles the setup and installation of your system. They manage the updates, technological upgrades and ensure maintenance through the cloud. 
VoIP won't let you keep your existing number
According to Federal Communications Commission (FCC) Regulations, you can use a new or keep your existing phone number. 
Businesses can take their assigned number anywhere and access their account from any device in the world. All they need is to log into the system and make and receive phone calls from personal or company laptops, cell phones, or desktops that are all VoIP compatible. 
VoIP phone service providers allow you to port your number free of cost as long as your company isn't relocating to another state. You can run all the procedures from your phone once you have set up the system correctly.
Conclusion
VoIP systems have become a no-brainer for businesses to stay competitive. It is a versatile communication solution that offers numerous benefits and various business features.
Essentially, VoIP helps you improve customer experience, boost employee morale and add professionalism to your company. 
This complete guide elaborates on some of the common misconceptions associated with VoIP and justifies why you should be choosing them. 
If you require a VoIP-based solution for your business, you can contact us at 0800-084-3663 or send an email to [email protected]. 

Saurabh is a content writer at Acefone. He is a fan of standup comedy, football, and Hindu mythology. He is fond of travelling to unexplored places, meeting new people, and having newer experiences that enrich his soul. Connect with him on Linkedin
https://www.acefone.com/blog/wp-content/uploads/2021/12/debunking-VoIP-myths-and-misconceptions.jpg
376
737
Saurabh Sharma
https://www.acefone.com/blog/images_acefone/logo.png
Saurabh Sharma
2021-12-23 08:29:58
2023-02-17 11:43:52
Debunking VoIP Myths and Misconceptions