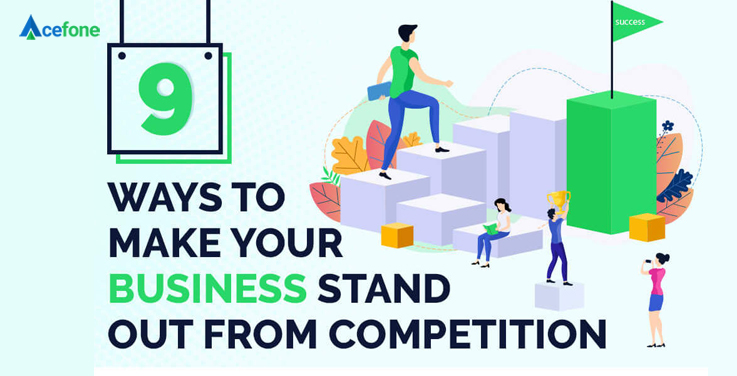 Do you think that you will stand out from your competitors by following the same business strategy as theirs'? There are thousands of businesses that offer the same products or services like yours. But the challenge is, how can you make your business stand out from your competitors? What extra mile can you go for your customers so that they choose you?
If you want to start a business and are afraid of its survival or if you already have a business but can't figure out how to stand firm against your competitors, this infographic will help you.

Let's explore in detail.
1. Be Different from Others
In order to innovate, the first thing that you should do is to focus on what additional features you can add to your products or services that others are already providing.
Ask yourself a question – Why would people choose your business over the established and well-known brands?
If you have to offer the same as others, then there will be no differentiating factor. Lack of individuality or uniqueness is one of the reasons why many businesses fail.  Your unique individuality will grab customer's attention towards you.
2. Excellent Customer Service
HubSpot research states that 93% of customers are more likely to repurchase with companies that offer excellent customer service.
Customers are more likely to be a client of a business that delivers 24/7 excellent customer support. It is completely false if one thinks that a business requires customer service only for sales. Your customers will need support even after they will buy product or service from you.
Cloud-based contact centres help deliver personalised assistance to the customers before purchase and can address the after-sales issues.
3. Connect with your Customers
Every business looks for a steady customer base; thus, it is essential to connect and start communication with your probable customers, and it is equally important to stay connected with existing customers as well.
Social media is a great platform for you to stay connected with customers. Respond to comments immediately as it will show that you value their thoughts and suggestions. If a comment is negative, understand the customer issue empathetically.
Also, cloud communication such as hosted phone system and free phone numbers can give you the better mobility and flexibility to better connect with your customers.
4. Identify your Audience
If you run a service-based business and you are targeting everyone, then you are actually serving no one. For a business of this type, it is necessary that you narrow down your target audience and focus on the right audience.
Hence, clearly define your target audience so that you don't waste your time and efforts on customers who don't fall in the domain of your business.
5. Stick to What you Claim
Offering guarantee attracts customers, but you have to be careful with it, do not make false promises if you are not confident about your potential already. When you fail to fulfil your commitments, customers will lose trust in you, and you also lose a loyal customer.
Sometimes when you fail to meet the claims you make, for example, if you claim a one-day delivery and aren't able to do so, then it's better to reach out to the customer and honestly accept your fault. There are fewer chances that the customer might continue with your services but ignoring and lying will make the condition even worse.
6. Introduce Valuable Deals
We all are familiar with the power; the word "SALE" has on us. Words like discount, limited, guaranteed, and free attracts customers. Provide your customers with valuable deals that they can't turn down.
Create valuable deals that the customers will enjoy and simultaneously ensuring that your business still makes a profit.
7. Pricing Matters
As much as the quality of a product or service matters, so does value for money matters. It is not about offering your products or services at a lower price than your competitor's, but what matters is: Is it worth the price?
If your services are as good as your competitors and you are offering them at a better price, then customers will not let go off this deal.
8. Be Innovative
The best way to stand out from others and get attention is by discovering or innovating new technology, products, or services. Trust your employees and give them a chance to come up with new ideas.
Assign research work to them, who knows if one might suggest a brilliant idea. To be innovative, you have to come out of your comfort zone. A spark for learning and discovering should be present in a business. Innovation does not mean discovering; it can be an idea that brings something new on the table, which adds value to the product or service.
Sharing a little from your profit can help change the world. Many businesses have started donating a part of their revenue to social causes. This also makes customers want to join you in a good cause by purchasing products from your business. 
What do you think about these tips? Please share in the comment section below.

Swastika Dhakal is working with the Digital Marketing team at Acefone. She is interested in technology and likes to write on it. She loves to explore historical places, as well.
https://www.acefone.com/blog/wp-content/uploads/2020/01/business-stand-out-from-competition.jpg
376
737
Swastika Dhakal
https://www.acefone.com/blog/images_acefone/logo.png
Swastika Dhakal
2019-11-18 14:34:50
2023-03-20 12:19:54
Top 9 Customer Service Methods To Make Your Business Stand Out