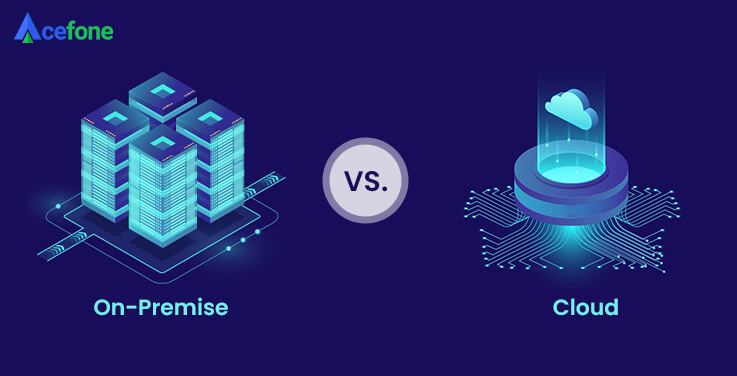 In recent times, business flexibility has become more vital than ever. The rapid, overnight changes in the scale, functionality and quality of work is a tough pill to swallow. Owners and staff alike are working in unprecedented conditions. But they all know one thing: this change will follow them in the post-COVID-19 world too. 
Adaptability is the way to navigating these uncharted waters.
Cloud centres, for instance, faced a bigger challenge than most businesses did. They are inherently office-based, loaded with infrastructure and operate traditionally.  COVID-19 has made many businesses question this way of working and the need for an on-premise contact centre. 
Enter cloud contact centres. Based entirely on the Internet, these centres offer the opportunity of working remotely, while widening the business' reach and accelerating its customer experience. In this article, we will compare these two types of contact centres under a range of elements. 
If you are undecided if a cloud contact centre is worth the investment, read on. This just might be the solution you were looking for. 
1. Flexibility
An important element to consider when thinking about your contact centre is flexibility. In that regard, a cloud contact centre is a great choice. As the name suggests, cloud contact centres are hosted remotely so there isn't any need for physical infrastructure. Your staff can work from anywhere via any Internet-enabled device. 
In times of a crisis, a remote working option ensures that operations continue to run smoothly. 
On-premise contact centres don't offer such privileges. Your remote working station won't have access to all the features, you may be unable to mask your calls and even leave private data exposed. 
2. Cost
Cost is always a concern and should be too. If you already have an on-premise contact centre, you may be wary of shifting to the cloud. But fret not for it has many cost benefits in the long run. 
Setting up an on-premise centre is costly and they need constant maintenance. You will end up spending a lot on fees for an engineer or dedicated in-house support staff. A cloud contact centre, on the other hand, incurs no maintenance costs for updates or fixes; their support package includes everything.  
Cloud contact solutions also eliminate the need for premises, as staff can work from anywhere they like. You will save a large amount of money on the costs associated with a physical office.
3. Ease of management
Traditional cloud systems can store very little information, nothing except call logging times and the number of calls made. A manager won't have any key information if there aren't additional programmes to monitor performance. Of course, the more programmes needed to manage performance, the easier it will be to make mistakes or overlook something important. 
A cloud contact centre can save the manager's precious time and resources by making monitoring performance easier, without any additional software. They can access a large range of analytics. For instance, Acefone's portal is easy to use and gives plenty of information on individual agent performance, call waiting time, offers call recordings and much more. 
Managers can, thus, train their agents more effectively and keep a close eye on everything with just a few clicks.
4. Scalability
You aim to grow. When your business grows, your contact centre should too. Cloud contact centres offer the option of scalability; instantly and at a minimal cost. You can add as many phone lines as you need and even hire staff globally to manage it all. 
A global workforce means avenues for new customers from around the world—without any hefty investment in hardware too.
This isn't an option for traditional solutions. Scaling operations means expanding on location, adding more support staff, and incurring infrastructure costs. More often than not, this could hold your business back. 
While both solutions have their merits depending on business needs, a cloud contact centre offers the room to grow and ensures seamless operations throughout. In the middle of a pandemic, a cloud centre is god-sent. 
If you'd like to find out more about which contact centre solution you should choose for your business, call our team on 0800-084-3663.

Olivia is an outgoing person who enjoys writing, is an SEO enthusiast, and often interacts with others in intellectual conversations. She enjoys listening to music in her free time. Connect with her on Linkedin
https://www.acefone.com/blog/wp-content/uploads/2020/10/on-premise-vs-cloud-contact-centre.jpg
376
737
Olivia Trott
https://www.acefone.com/blog/images_acefone/logo.png
Olivia Trott
2020-10-23 04:10:02
2022-04-26 06:26:22
On-Premise Contact Centre Vs Cloud Contact Centre—Here's What Works Best For You