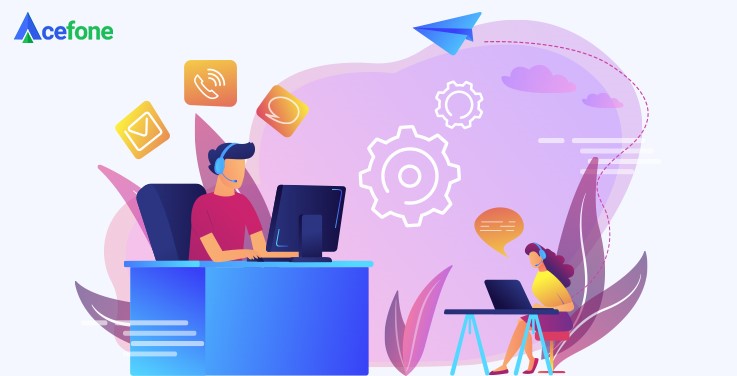 Contact centres are one of the most important components of customer service. That said, it is generally known that running, or even working at, call centres is not an easy feat. For startups, managing a contact centre can be even tougher.
With long odd work hours and low pay scales, agents find it difficult to continue working at contact centres for long periods. This results in an attrition rate much higher than other forms of workplaces. This does not bode well for any business, let alone one that is in the nascent stages.
Additionally, businesses often set up their call centres in haste, hoping to get started quickly and gather more leads. While call centres allow customers to better interact with your business, a poorly set-up call centre will do the opposite of the intended outcome.
This is because modern customers desire premium quality customer service irrespective of the size of your organisation. Thus, the onus of offering quality services falls on you and your management.
Major reasons new contact centres struggle
When businesses set up their contact centres, they can face a range of challenges and issues. Some of these are:
1.Outdated tech
This is one of the most overlooked issues. Businesses, especially startups, in a rush to activate contact centres at minimum costs often deploy out-of-date technologies. Not only does this severely impact the working of contact centres, but you will also miss out on valuable data insights from customer queries.
2.High attrition rates
As mentioned above, call centres are one of the most difficult places to work at. The constant pressure of maintaining targets, frustrated customers and being on the phone all day can take a severe mental toll on any individual. All of this results in either a demotivated workforce or high attrition rates.
3.Lack of training
While all contact centres train their agents about the company's product and services, this is not where the learning should stop. Agent training should include a robust framework of how to answer customer queries, and how to engage in discussions.
Managers must remember that, at the end of the day, all the effort will pay off and bring in good results not just for the team but for the business as well.
4.Low funds
Since businesses feel contact centres can run on simple tools and an average quality workforce, they tend to get the least funding. This is one of the major reasons why new contact centres fail to garner much traction.
Thus, investing in training, quality agents and technology will result in better performance and the delivery of top-notch customer experiences.
5.Poor management
Strategic management of any department is crucial for its success. Without a proper direction and goal in sight, teams work in the dark. Thus, businesses need to manage these centres and their employees like they manage the rest of their organisation. This means it is important for managers to set aside tangible goals for support representatives and constantly monitor their performance.
Contact centres are often the primary contact for customers, thus, businesses need to get it right from the very get-go. Here are a few tips you can implement to mitigate the challenges and ensure success for your new contact centre.
1.Invest in new tech
Contact centres must be run with up-to-date technologies. Not only does this augment their overall productivity and efficiency, but it also allows agents to provide better customer service.
While hardware like modern desktops and phone systems are necessary, proper communication tools must be added to the arsenal as well. These can include a unified communications system, a smart IVR or better call routing and call forwarding methods.
Keeping pace with the technological advancement of the modern world will greatly improve your agents' ability to have better conversations.
2.Get on the cloud
The world is moving to the cloud. While the pandemic has surely fast-tracked this move, the time of legacy storage and phone systems had already been passing. More and more companies are shifting from traditional phone systems to cloud telephony. Not only does this save on CapEx, but your centres can be up and running instantly.
Cloud communication also provides a host of personalised services at lower operational costs. These services can include hosted phone systems, auto-attendants, call recordings, real-time call monitoring, and analytical reports among many others.
3.Set goals and KPIs
Parkinson's law states that "work expands so as to fill the time available for completion". Thus, it is important for managers to define achievable goals for their team members. This will help them fulfil their duties in a better fashion and reach out to more quality leads.
Managers must also employ tools to track the performance of contact centre agents. With cloud communications, you get a range of tools and metrics to measure team performance. These can include first call resolution, average handling time, customer satisfaction score, among others.
Based on their performance, you can modify or switch their responsibilities, design training sessions and more.
4.Train your agents
No consumer likes to talk to an agent who does not know the products and services well. Thus, training your agents about your offerings can improve their ability to resolve customer queries.
This will also enable them to significantly reduce their time spent on each call as they will be more confident and better prepared to guide the customer instead of referring back to the manual repeatedly.
5.Curb Attrition Rates
Many businesses might feel that attrition rates are beyond their control. However, this thinking is one of the few reasons new contact centres end up failing. Your agents are like your family. If you treat them with respect, they will make lifetime bonds with you.
Thus, to encourage agents to continue working with your contact centre, you should employ strategies to curb burnouts. Starting with employee recognition programmes is a good way to boost the morale of your team and encourage them to strive for better results.
Even investing in new technologies can reduce the monotony of redundant and routine tasks they have to conduct on a regular basis.
To sum up
An efficient call centre can be a major boost to a business. Not only does it let you connect with existing customers, but it can help you expand your reach with features like voice and SMS broadcasting. Thus, businesses must look to invest well in their centres and improve their overall customer service.
If you are thinking of launching your own contact centre, then look no further. With Acefone's personalised cloud communication solutions, you can get your contact centre set up in no time. Interested? Then reach out to us at [email protected] or simply call us at 0800-084-3663.

Karan is a communications graduate with a passion for film and writing and is on an indefinite journey to search for and capture stories from around the world. He is currently exploring the world of content marketing to bring to life the products and services we use every day. Connect with him on Linkedin
https://www.acefone.com/blog/wp-content/uploads/2021/07/5-tips-to-set-up-a-successful-contact-centre.jpg
376
737
Karan Beniwal
https://www.acefone.com/blog/images_acefone/logo.png
Karan Beniwal
2021-07-14 05:58:31
2023-03-21 08:00:51
Starting A New Contact Centre? A 5 Point Checklist That Will Keep Your Centre From Failing