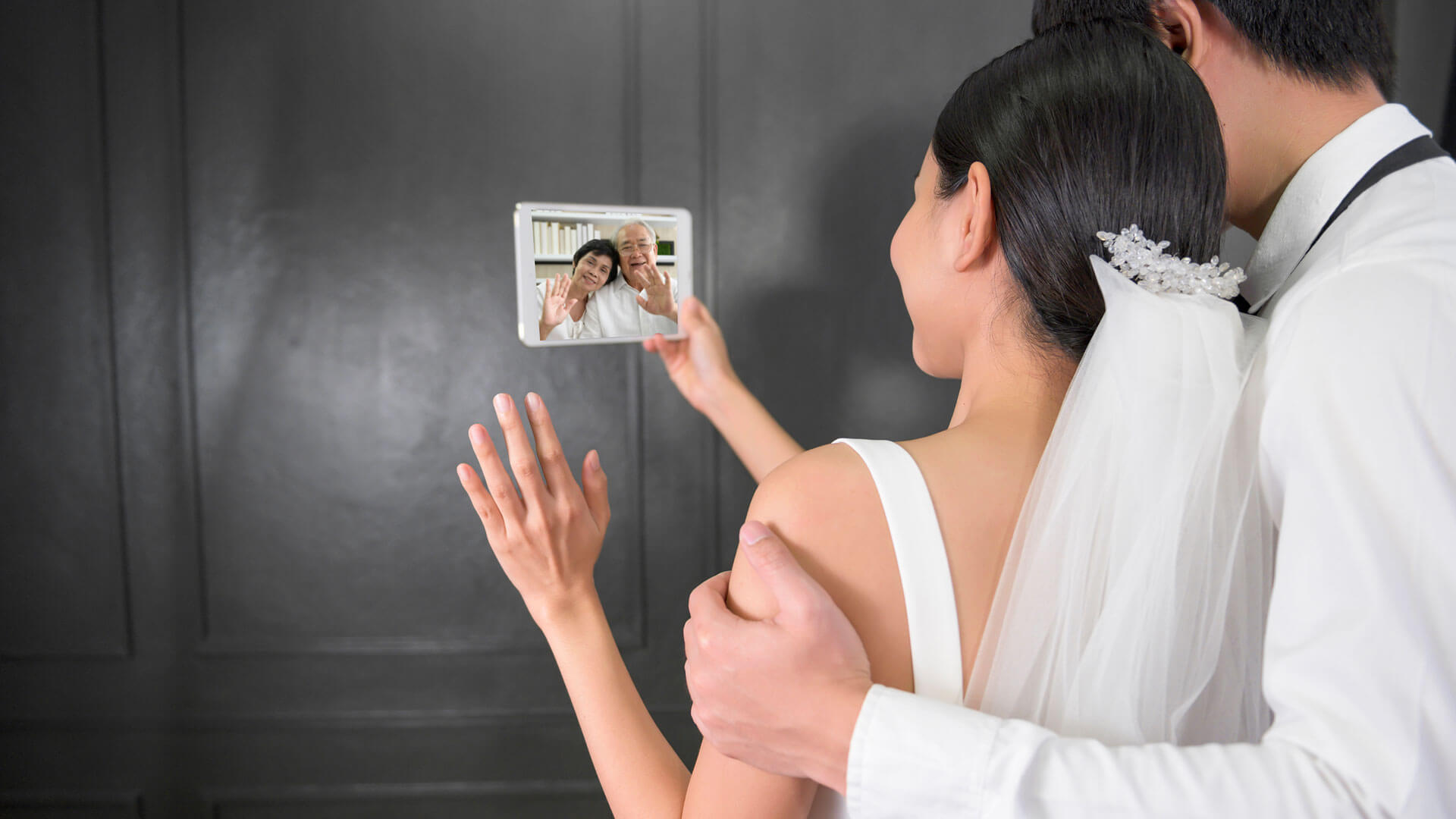 The COVID-19 pandemic has certainly taken a toll on the way we lead our lives. Weddings are no exception to this. 
With the priority being social distancing, organising once-in-a-lifetime celebrations like a wedding can become tedious. 
If you are someone who wants to strike the right balance; take ample precautions and not lose the spirit of your big celebration, then planning on the cloud is the best thing you can do. 
But how does cloud communication help you? Let us understand these. 
Cloud communication is an internet-based system that allows you to store your data on a centralised repository, independent of your local storage. This communication system is hosted by a third-party service provider and can be accessed over public networks.
Having explained this, what is the connection between a cloud communication system and planning your wedding? 
Well, ideally a wedding involves systematic scheduling of events including shortlisting of the guest list, menu selection, venue selection, arrangements for guest accommodation…the list goes on and on. 
During a pandemic, however, this list becomes even longer. Ensuring social distancing, safety, and hygiene of everyone attending becomes a big task. 
With cloud communication, you can host a virtual wedding with zero human contact—the most important factor that needs to be considered. 
Here, we have compiled a few significant points on how your wedding planning on the cloud can make your special day all the more blissful and memorable. Check them out right away!
Better accessibility to data
As mentioned above, a wedding involves lots of planning which means an abundance of data that needs to be handled. When you plan your wedding on the cloud, there are several tools available that can help you categorise your data based on priority. 
Moreover, you may have to travel for your wedding which means you may not be able to access your device throughout. Does that mean you should put your wedding planning on hold? No, you deserve much more!
Planning your wedding on the cloud enables centralised access to data. This means you can access your data from anywhere across the globe irrespective of the timing and location. You can easily narrow down your wedding invites, virtually, while you are shopping for your various outfits. Now that is some serious multitasking.
Proper planning is what you need for the success of your wedding day. An improper plan can ruin the fun of the day and leave you more stressed than ever. Doesn't that sound hard? Cloud communication comes with state-of-the-art tools and software that help you set reminders and figure out your priorities. 
You can shortlist caterers, event managers, and photographers and compare them on the go to pick the best of your special day. 
Cloud can help you create an online checklist of things you have already done and what you need to do. You can plan the entire event from a single screen.  This kind of clear-cut categorisation can help you eliminate errors and the possibility of missing details.
Ideally, you may have your friends and family members to help you plan for your big day. In that case, your online wedding information will need constant updates and the ability to work on the same page simultaneously. For example, you may be busy finalising the decorations and theme while your family may be zeroing in on the menu for the different events. 
Any confusion may be irreparable. Your cloud planner can help you with providing simultaneous access to files. When you update the status of the decoration as 'to be finalised', your family (wherever they are located) can access it. Again, edits and information transfer are made easy through the cloud thereby boosting collaboration, the key to planning any special occasion. 
One of the biggest challenges while planning your wedding is inviting guests. Usually, you will need to visit every guest personally and invite them to your wedding. However, the pandemic has made travelling and socialising close to impossible.
Cloud can help you overcome this difficulty. You can freeze your guest list on the cloud, create an online invite, and simply send personalised e-invites to your near and dear ones. 
You may call over your guests in person to confirm their attendance. This way, you can not only invite your guests but also get in touch with your relatives and friends easily. 
There is a myriad of options to create your e-invite. You may choose to play with colours and fonts to suit your theme for the day. These options to design your invite are user-friendly and usually do not need technical help to use them.
Now that you have taken care of the guest list and invites, the next question is how do your guests attend your wedding? 
With the government imposing strict regulations to restrict crowding in public places, a huge gathering for your wedding may result in serious legal consequences. 
Cloud can again come to your rescue. You can come up with a list of close family members and friends to attend your wedding physically and open the option of live streaming for the rest of your guests. This may sound a bit odd but is a great way to have everyone together and be safe too. 
Cloud comes with live streaming compatibility that can help your guests attend your wedding from the comfort of their home while maintaining utmost health safety-most important. 
With several competent cloud service providers available in the market, you may choose any one of them to provide uninterrupted live streaming so that no one misses out.
Though you can allow people to attend your wedding through live streaming, your guests may still want to know a bit more about your upcoming nuptials. Cloud communication can help you develop your wedding website with exclusive details. 
The website can contain information about the bride and groom offering a deeper insight into their journey or could include fun segments like the bridal party or even an itinerary.
You can share information about how you planned your wedding or details about your wedding theme if you intend to set one. You can also choose to post personal pictures from your engagement party or other related events. All these options give you a chance to create a better bond with your guests and involve them in your happiness even during these testing and tough times.
You may have friends and relatives who will like to surprise you on your special day despite the pandemic. After all the government does allow a limited number of people for special occasions. In that case, your guests can get information about the venue and timings of the function from an exclusive FAQ page on your website.
Again, not everybody is tech-savvy. Your guests may have issues connecting over your wedding streaming online or maybe curious to know about how it works. An elaborate FAQ page will detail this information without having you to attend and clarify queries over call every time.
A wedding is an exclusive, special occasion. The memories of your wedding will be something you'll cherish forever. Wouldn't you like to share it with your close friends? 
Planning your wedding on the cloud can help you send pictures to your guest list almost immediately after the occasion. Moreover, this capability helps you catch up with friends and relatives who may not have been able to directly come or attend your wedding online. 
So many benefits of planning your wedding on the cloud? But will it cost a fortune? Absolutely not! You will only need to finalise your cloud provider and check for options you will need to plan your day. Your cloud service provider will take complete charge of the infrastructure and maintenance of the system till your wedding is done successfully.
All you have to do is choose wisely, utilise the options provided, and enjoy your day to the fullest possible at minimum costs!
Parting words
A wedding is an occasion to celebrate and connect with your close ones. However, the current pandemic scenario has made it difficult to even think about networking with people. Cloud communication capabilities can back your preparedness for your special day. Hopefully, the above-mentioned points will offer a peek into a few ways about how the cloud can help you plan your wedding during this pandemic.

Olivia is an outgoing person who enjoys writing, is an SEO enthusiast, and often interacts with others in intellectual conversations. She enjoys listening to music in her free time. Connect with her on Linkedin
https://www.acefone.com/blog/wp-content/uploads/2020/12/Wedding-In-The-Time-Of-Pandemic-How-Cloud-Communications-Can-Help-You-In-Planning-.jpg
1080
1920
Olivia Trott
https://www.acefone.com/blog/images_acefone/logo.png
Olivia Trott
2020-12-23 11:46:20
2023-03-24 11:08:00
Wedding In The Time Of Pandemic: How Cloud Communications Can Help You In Planning?